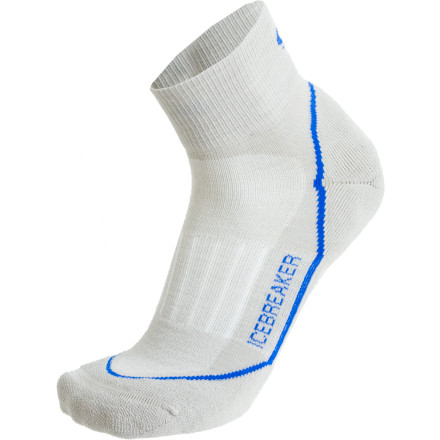 The Icebreaker Run Lite Men's Mini Sock keeps you comfortable and cool on hot runs. With extra support on the Achilles and the instep and light cushioning, this merino wool sock will have your feet thanking you after mile ten instead of cramping up and pouting like a 3-year-old.
Without a doubt, the best running socks ever invented. I did an 18 mile training run in 78 degree 80% humidity temperatures and not a single blister. Impressive in that when I was done, I was able to wring them out and measured 1/3 cup of sweat!! I will note that they are on the "thicker" side, weight wise but they are my marathon sock of choice!
My feet got wet in 50 degree weather with these yet my feet stayed warm. In the heat they do a great job of wicking sweat away and I don't get blisters.
These socks are amazingly addictive. I've been wearing them for several years now and they actually keep getting better! As a Diabetic I highly recommend them for anyone with feet problems. These allow you to keep walking and help with healing.
The most comfortable sock I own to run in. No hot spots/rubbing on the foot and just really comfortable even after miles on the trail.