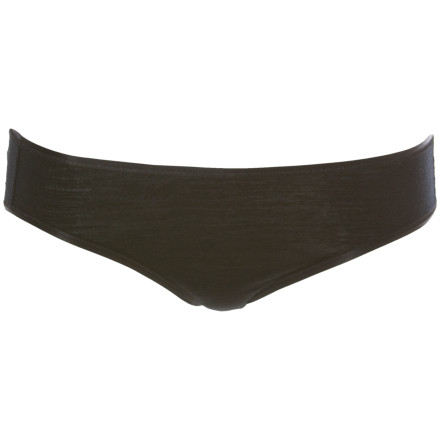 Detail Images
Share your thoughts
What do you think of the
Icebreaker
Nature Bikini Underwear - Women's
? Share a...
my ladies butt looks awesome in these! she loves the merino comfort! if you have never worn merino undies then give them a try you won't go back!
I took two pairs of Icebreaker underwear with me on a month-long hike. One was boy-cut and the other was a brief. Both were terrific! I never had a problem with them riding up or bunching. Even though showers were scarce, the underwear was fine. I wouldn't recommend a light-colored underwear for such a venture.
Great fit for a bikini-style underwear
Love the fit of these. Not too tight around the waistband and of course, wool is a great material for base layers. Will buy more when the budget allows!
Love these! Can wear the wool ALL DAY and it's great. My other favorites are the Patagonia Active Hipster briefs, which I actually think are more comfy at first because they have a -slightly higher- rise and that awesomely smooth waist band, HOWEVER, I feel the need to take those off at some point after wearing the synthetics all day. The Icebreakers are different/better in that respect and makes them awesome for all day ski tours, hiking, and traveling.
Better alternative to synthetic fabric
I love this underwear. This is what I use for travel instead anything synthetic. The polyester underwear always gets too stinky for me, and I usually have to throw them out. These are great because they still dry really quickly, they breath well (so nice on the plane!), and they pack light. I only have a few since they're a bit expensive, but I think they're worth it.
Love them! The fit was great and they are cute too. They feel wonderful, not itchy and they dry fast.
They don't smell, and they are comfy. Good for running, working... they do run a little big.
icebreaker does it again.
I love these as much as i love my many other icebreaker peices. the best part is that they are fully functional, yet not horribly ugly! nice work Icebreaker.
Got these for my girlfriend last Christmas, and they are so cute. She seems happy with them too, they are warm and fit well. They don't itch, and have a cute pattern. They may even end up in the stocking again this Christmas.
Ordered the extra small as that is usually what I wear in Icebreaker bottoms but these were just too tight so have exchanged for size small which is perfect. Am stocking up while these are on sale as they are my favorite undies. If they hold up as well as the other Icebreaker clothing I have then I will be wearing these for years!
These have become my "Everydays"
Easily getting 3 days use before need washing (backpacking, hut2hut skiing, etc.). They do take a while to dry, but if you put them on while still damp your body heat dries them out fairly quickly. I just make sure I always have 1 fresh pair to put on. My hips are 38 inches, I can wear a large but got XL in case of shrinkage, no shrinking as yet after 4 machine washes on delicate, hang to air dry. Bought them for outdoor activities but am now wearing them everyday. Downside is their cost, I can only afford when on sale, but, totally worth it, am budgeting for more.
These underwear are so comfortable and they feel great against my skin. They are great for everyday use or technical activities. The one small problem I would say is they don't dry very quickly compared to synthetics like Patagonia's Capilene so they aren't the best for traveling or camping if you are gone long enough to have to wash stuff.
I am slowly but surely switching much of my family's clothing to natural fibers -- better or us and the environment. Most of our sport wear is now merino wool (smartwool & icebreaker) because it breathes so well. I tried one pair of these underwear first just to see if they would fit right and be comfy on my more sensitive parts. They are my fav's now! I just ordered 3 more. I will definitely be building a collection of these!
Has anyone who is sensitive to wool tried...
Has anyone who is sensitive to wool tried these? I've read all the reviews which say that they're not itchy, but some people just aren't bothered by wool to begin with. I would like to know if anyone who normally has a problem with wool has tried these, and what they think.
I'm not allergic to wool or anything but I usually have to wear a cotton t-shirt underneath a wool sweater to control the itch factor. And I have never, ever had a problem with merino. Literally all of my ski baselayers, head to toe, are merino.
Great fit, great style, great comfort - I love them, I wish I could afford for every pair of my underwear to be these!
OH MY GOD, I love them. Oh wait, I bought them for a female friend of mine, if forgot. But she does indeed love them. Says they are comfy and seem like they will last. Oh, and they are extremely cute too. They definitely do run big, so size down one size. Enjoy, they are worth the duckets.
I was amazed at how comfy these merino undies are. They are super soft and the fit is perfect. I wore them in the heat of summer and they regulated. Wearing them in the winter under my long underwear they provide an amazing amount of warmth and breathability. I did find they run a little big so I went down a size. Get em!