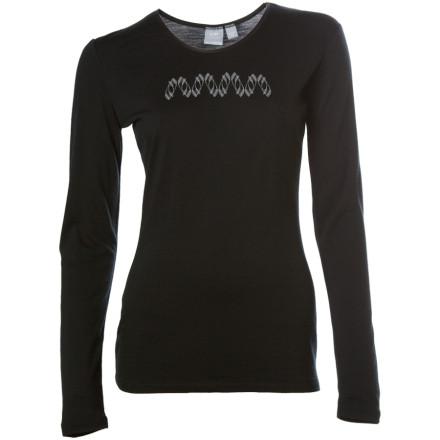 Detail Images
No matter how many times you wear the Icebreaker Women's Nature 200 Scoop Top as a base layer, its slim fit and soft merino wool fabric make it almost impossible to change out of.
Top features an flattering scoop neck for a versatile look
Merino wool's natural fibers provide excellent insulation in the cold and resist accumulating odors
Unlike traditional, long-cut wool fibers, merino wool's fine-cut fibers are soft to the touch
Merino wool fabric balances internal breathability and temperature regulation so you stay comfortable without overheating
Icebreaker makes its products in a way that supports New Zealand farmers, ensures overall welfare of the sheep, and promotes sustainable manufacturing practices
Lg sleeve Icebreaker Nature 200 scoop
A soft but substantial long sleeve tee that I expect to wear for years. Good casual but quality for any wear.
I love this shirt. I would wear it every day, but I do actually take it off to wash it after 4 or 5 days. I love that it keeps me warm, doesn't stink, is shaped nicely, fits like I want it to.
I wear this top under my scrubs to work & it keeps me warm all night long. When things get busy I don't overheat. This shirt keeps me warm or cool as needed without getting stinky. Regarding fit, this shirt is slim fit. I usually wear a medium in tops, I have this top in a medium which is a tight fit. I ordered a large this time & its not tight but not baggy either so I would recommend sizing up 1 size if you don't want a skin tight fit.
Love icebreaker fabric in general. This one is more of a baselayer (versus some of the v-necks that hang more loosely)--this one is fitted, not tailored like some of the others in their line. But still nice.
Not itchy. I am usually a medium, but in icebreaker shirts I have both med and large The large's are not huge. I don't find a very big difference between the sizes. Agreed survives the dryer well.
Icebreaker Nature 200 Scoop Top - Long-Sleeve - Women's.
the neck line is flattering and it fits snug to your body but not too snug. I usually wear small in regular clothes but anything form fitting I order a size up and this was just right. The color is nice too.
I love the Nature Scoops - comfy and awesome...
I love the Nature Scoops - comfy and awesome subtle design elements - along with the Ultra fine V necks and 260 zips, etc. Can someone describe the color Divine/Laurel? Is it a brown, a very dark eggplant or something else? I have a color corrected monitor and it's still hard to understand the color undertone. Thanks for your help in advance.
The Divine/Laurel (who the hell picks these cryptic color names?) is a dark eggplant purple color--definitely not a brown. I guess its like dark purple mixed with a bit of slate grey, if that makes any sense---its a very subtle purple.
Too tight in the armpits. If you have any kind of shoulders at all, don't buy a small.
Comfy, and it works in the office as well
I 've loved Icebreaker ever since I was introduced to it by a friend that worked in Antartica put me on to it. I've used it in trips to the snow and in the tropics. These pieces have range!

This particular style is great in that it isn't as clingy as the other more technical ranges. I just wish Icebreaker would put out more "relaxed fit" items fo those of us that live in cold climates and want to stay both warm and stylish.

I've received many compliments on this top at work. Main reason I wear it to work (I work in Adin in the Govt), is that the air-con is temperamental and can go from boiling to freezin in the matter of 30 min. With these tops.. I don't have to worry about bringing 4 layers to work to maybe have to put on at some point.

I love it!
Icebreaker Nature Lite Scoop Top
Great tran-seasonal top! Wore it alone at 40 F. and as an under-layer at 20 F during a trip from Alaska to Oregon. It was very comfortable, looked great, and eliminated many clothing changes.
This top is not only warm and very comfy it has cute styling as well. On super cold days it might be best to wear another layer beneath because of the scoop neck. Really soft, and provides warmth and comfort as it says.