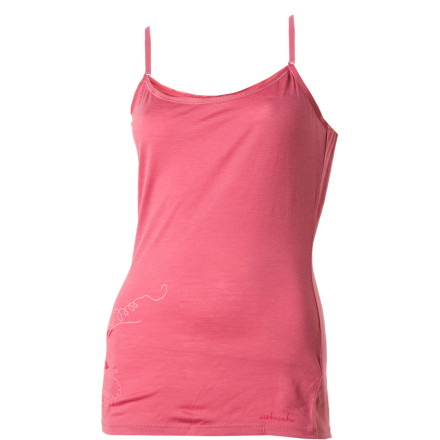 Detail Images
The Icebreaker Women's Nature Ultralite Cami is an ideal next-to-skin layer because its merino wool fabric is an excellent thermoregulator that helps you stay comfortable in warm and cool weather alike. Merino wool breathes well and pulls moisture away from your skin to keep you dry when it's hot, and this soft wool insulates so you don't get chilled when the sun sets. Icebreaker's merino wool doesn't itch, nor does it hold onto body odor, so you can wear this comfortable camisole all day. The pigment print gives this slim-fit top a flattering feminine look. Match the Ultralite Cami with the Hipsters or Boy Shorts.
why do they fix when they ain't broke??
I have the original nature cami from like 6+ years ago and that one keeps on going like the energizer bunny.

I have this version in black, and the material they use for the strap and the seam at the top has stretched out so that it puckers outward now. I've only had it for a couple of months and probably 5 washes maximum. This one will definitely not last nearly as long as the older one (the strap and seam was made of merino wool).

Honestly, why do companies try to "improve" on something that is perfectly fine and in the process make them inferior??

p.s. unlike the previous reviewer, it should be stressed that this does NOT have a shelf bra.
Perfect layering camisole
Not the softest thing in the universe, but not scratchy either. It's a little thin, so I'll wear the black one alone sometimes but not the white one. Perfect for under a cardigan or a long-sleeve wool shirt.
I have this top in more then one color. They are amazing for travelling because they are so lightweight. They fit wonderfully.
I normally wear an XS in Icebreaker shirts, but this top seems a bit baggy. Because of that it doesn't give me any support at all and I usually have to wear a bra anyways with this top despite the built-in bra shelf. Bummer
a perfect base layer to keep me warm - not itchy at all. Love that wool! I got the MD (I'm 5'5" 120lbs) and I'd say SM would have been better for a snug fit- but MD works, just a hair baggy.
Does this have any built in support?
Does this have any built in support?
The mint color is beautiful. Just got the Candy as well, which is actually almost orange and a lot brighter than on my display -- I suppose you could call it Coral. (My favorite IB Nature color remains Venus!)
Best travel cami ever. EVER.
Merino wool next to your skin? No problem, if it's Icebreaker Ultralite. These are simply the best camisoles I've ever had for travel. Not only do they really help you regulate your body temperature, not only do they truly go for weeks without having to be washed (they refuse to pick up odor), and not only do they make you feel like you're wearing something special, they have adjustable straps. This means that, when you're traveling, you can adjust the neckline higher and lower. I'm pretty busty, and I travel to a lot of places where showing cleavage just isn't a good idea. This is perfect. It's better than the three cami's I have that have built-in bras but are still cut too low. They're great for layering, especially under other merino wool pieces. Hope Backcountry keeps these cami's in stock!