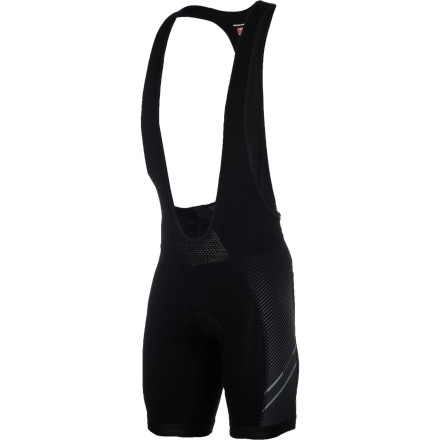 Detail Images
Many brands use synthetic blends for their cycling apparel due to the lightweight, breathable nature of the fabrics. But a few companies are out there building technical clothing from blends of merino wool, as its natural properties align with the exact specifications cyclists demand from their outerwear. Icebreaker knows that when wool is purposefully applied to cycling apparel paneling, the results are naturally better than the synthetic competitors. With the new Link Bib Shorts, you receive the advanced technical know-how of Icebreaker's development team built right into every pair.
The Link uses a blend of merino wool, nylon, and Lycra to achieve absolute freedom of movement while on the bike. Icebreaker's merino combines the best qualities of traditional wool, synthetics and cotton. It's soft and doesn't itch, it's warm in the cold and cool in the heat, and it breathes. People have been drawn to these natural properties of merino for years, and now you receive them built directly into the paneling of your riding shorts. Additionally, this lightweight merino blend pulls moisture vapor to the surface of the fabric, where it quickly evaporates -- It can absorb up to 30% of its own weight in moisture before you even start to feel wet. And one of the best characteristics of this material is that it naturally resists odor, keeping you dry and fresh much longer than synthetic fabrics. The bib portions also incorporate merino into the eyelet bib upper, providing added ventilation where you need it most.
In the fit department, Icebreaker designed the Link Bib Shorts using eight anatomic fabric panels that mimic the cycling position. This means that the multi-paneled pattern is curved, which allows for a full-range of movement without any fabric pinching or chafing. The bib portion follows this design, utilizing a large curved back panel and straps that move with you as you ride.
The Link uses an Italian chamois that absorbs road vibrations and wicks moisture away from your skin to reduce the fatigue and discomfort in the saddle. This chamois uses a multi-density foam with continuously variable thickness at the highly-sensitive ischial zone, which moves to a moderate thickness at the perineum pressure regions. The insert tapers to a minimal density along the insert's perimeter.
The Icebreaker Link Bib Shorts are available in five sizes from Small to XX-Large and in the color Black.