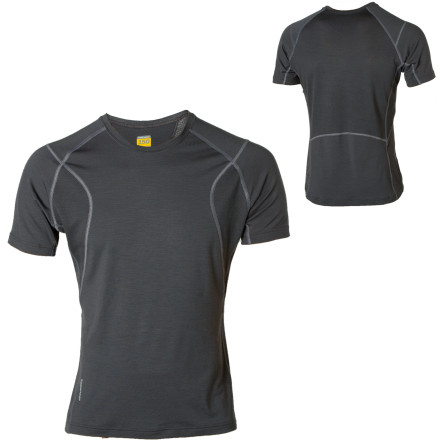 Detail Images
Icebreaker gave the Men's GT150 Velocity Crewe Short-Sleeve Shirt an athletic cut that moves with you during athletic activity. The 150g New Zealand Merino wool wicks moisture, breathes, and resists odor better than synthetic fabrics.
Liked it so much I bought three
By far my favorite shirt I have ever owned! Great in the heat or in the cold. Runs a bit slim, which can be great for active outdoors.
Are the seams reflective or just the...
Are the seams reflective or just the Icebreaker logo? (or none?)
Just the logo, the seams are normal stitching.
It's a base layer..what do you want?
Feels nice, wool is soft. Breathes well, and holds heat in too, go figure.

Fit, I am a thinner 5'11" 165lbs dude. Med fits well, nice athletic cut with out being too tight/form fitting. Length is good, not too long but hangs just past the waist of my pants, and I were those kinda low.

Slightly roomier cut that the Stoic brand merion wool t-shirt (SIC0048) so if you want a man-boobs sticking out kinda look (or just need some soild tight baselayer too :) go with Stoic, if you like a slightly roomier cut, get this!
I have recently been converting most of my t-shirts over to wool and this is the best shirt of the bunch. I'm kind of a small fit guy and the small is a perfect fit and is even flattering. The material does what all Icebreaker shirts do: I can wear it for days and days and not stink and not even feel like it needs to be washed. I wear them under my work uniform, and can then just keep on wearing it when I go for a jog afterward. The flat stitched seems take a little breaking in as they felt kind of rough at first, but after a few days they were fine.

I'm now considering buying another of these shirts in a different color.
Can't go wrong with this shirt, mesh panel on the back really lets the back breath, will keep you warm on those cloudy day and keep you cool on those long hot hikes, prefect for running or just casual wear, 6'2" and a large has a athletic fit so size up if you want a little extra room, again love the shirt a bit pricey for a t-shirt but its worth it
Nice cut, excellent performance
Thank you Icebreaker for making "athletic cuts" for men. I live in the same Vermont town as a prominent US wool clothing company, but their performance shirts are too boxy for me. I wear the GT150 on 25 mile trail runs and as a racing top, on hot days and in the rain. (I wear the 180 in the snow) It doesn't flop around and it is so light you never notice it. At 6'2" 160lbs. I find a Large to be a perfect fit.
I only wear icebreaker running now. Soft, light, breathable yet keeps you warm if clouds roll through and the temperature drops. Just a great versatile running shirt. The softness is huge after miles on a trail, no rubbing. You can apply whatever treatments you want to a synthetic for better performance/odor control but the all natural Merino takes the cake.
Love this shirt. Wear it for all my workouts and warm-weather runs. Love that I don't have to wash it! Feels comfortable, breathes incredibly well, doesn't hold moisture, and look stylish. Only wearing Icebreaker from now on!
Icebreaker simply the best
Can't say how big a fan I am of all of Icebreaker's products and especially this one. I commute daily with their 320 lineup and rarely wash it. Does not smell. I put it to the test a few weeks ago. Ran 10 hilly miles to a BBQ/party in humid weather. After getting there dripping wet, I let myself and the shirt air dry and no stink.

Went so far to solicit opinions on the stink factor and all agreed. Nothing beats Merino wool and Icebreaker Merino Wool rules.
Generally nice...a bit itchy
The shirt fits well (XL - 6'4", 215lbs) but the mesh panels are itchy to me. The other merino wool shirts I own don't have the mesh panels and I find them much more comfortable. I also don't notice the mesh panels increasing airflow/breathing compared to my shirts without them.
I read previous reviews and decided to get a large (5'10" 165 lbs) based on those reviews. It fits a bit loose, probably would have been ok with a medium. The 150 Apollo Crew fits better but this shirt does have a cool design. I mainly use it at the gym to work out. Have not tried it outdoors yet.
I practically live in wool tees in winter, but have wanted something that breathes a little more. The body mapping fabric that is incorporated into this shirt does the trick. Maybe not a top to wear out to dinner, but under heavier layers and for cold weather aerobic activities....it is perfect.
Wore the same shirt every day hiking in 90 degree heat with a 30lb pack. Came off the trail and the shirt didn't have a bit of stink on it. Amazing. Comfortable, wicks moisture, keeps you cool, dry and smelling nifty. Worth every penny. They do run a little small though. I'm usually a medium and went with a large.
like it a lot...a lot..:)
more amazing Icebreaker !!!
been cycling/pilates in this and so happy!
bit longer tail=good
merino is the stuff... in case you didn't know,BTW...
'Like a box of positives it's a plus Love"..tribe called quest
Eyelet fabric for breathability
The back panel and under the arms are a eyelet fabric that allows for about 30% more breathability. Fantastic!!