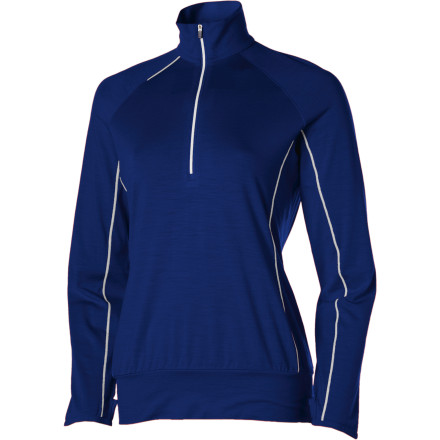 Detail Images
The cool weather might have everyone else sitting in coffee shops or trapped in gyms like hamsters on wheels. The Icebreaker Women's GT Run Rush Zip Long-Sleeve Shirt gives you the freedom to head outside and get your groove on even when the thermometer is telling you to go back inside.
Soft merino wool helps regulate your body temperature, wicks moisture, and naturally inhibits funk-creating microbes
Run-ready design won't bunch or restrict movement
Stash pocket gives you a handy place to secure your keys and some lip balm
What do you think about this product?
Have questions about this product?
I have been buying and loving icebreakers for years. this shirt, i don't love. it looks very nice on but yes, the sleeves are too short, the length is a tad too short (compared with what I'm used to with icebreaker) and the material is a little itchy! If I wear it alone it doesn't itch,but if I bundle over it, it itches, especially in the underarms. I wonder the problem is what they are using for seam thread.

I really hope this is not a cheapening of the product trend I see with clothes that are now being mass produced in CHINA.
Great style and color, but sleeves are short
I really like this shirt. It is a beautiful dark jewel blue color, and the contrasting white stitching is very sporty. However, I was surprised to find that the sleeves are shorter than the sleeves on all my other Ice Breaker long sleeve shirts. The sleeves are normally really long on IB shirts, and I like this because I'm petite, but I have long arms. If you like the extra long length of IB long sleeves, you will be disappointed by this shorter sleeve length. Also, the mock turtleneck is really, really tight. It's so tight that I would never consider zipping it all the way up, but that's OK, because the shirt looks good, and feels fine partially zipped. Overall, I would recommend ordering up to the next size. I know I wish I would have. I normally order a medium in IB long underwear shirts, and a small in IB outerwear (like this shirt.) That's why I ordered a small. I should've bought the medium.
I'm new to Merino wool tops, but have heard...
I'm new to Merino wool tops, but have heard loads of really good comments about Icebreaker products. Question is: What does GT 200 mean?
The "GT200" is an "Icebreaker" Material a : merino wool With Lycra. it's made from pure merino wool of the mountain sheeps living in the Southern Alps of New Zealand and structurally enhances it with Lycra (97% wool, 3% elastane) (200 is the weight).
I'm my self like the "Icebreaker" shirts...but it is me (:
And 200 means grams per square meter so this is a lighter weight of Icebreaker's. 150 is the lightest.