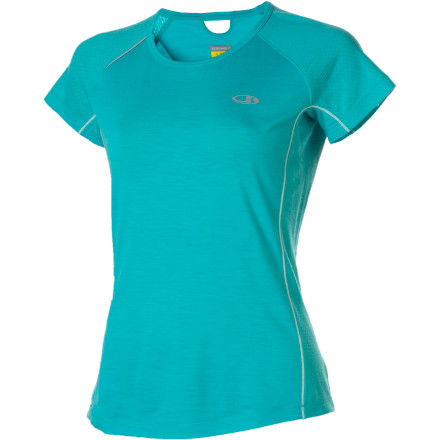 Detail Images
Evening strolls, morning runs, and everything in between all blend together into joyful memories of outdoor time, spent comfortably in your Icebreaker Women's GT 150 Rush Crewe Shirt. The natural odor-resisting, moisture-managing properties of merino wool complement its supreme softness and comfort. Icebreaker threw in a back stash pocket to hold your house key while you head out to lay down some miles.
THE perfect lightweight fitness tee
I adore this icebreaker shirt, everything about it. The fit is flattering (not as tight as their body line but still trim) and the details thoughtful. Runners will appreciate the loop at the back to keep headphones corralled, the small key pocket, the perforated/breathable panels, and the reflective piping. A beautiful shirt. I wish I had fifteen of them.
Good fabric, but poor design
Let me be clear here, I own loads of Icebreaker and I've always preferred merino to synthetics. But lately I've been really gravitating away from Icebreaker. Why? Because while the fabric is extremely desirable for outdoor pursuits, the design of this shirt (and some of their other shirts) is really not. Neck opening is way too big - yes it'll assist ventilation, but the back of my neck, and my collarbone have been sunburned because I forgot to apply loads of sunscreen in places where you'd expect a real crew neck shirt will cover. The sleeves are also like cap sleeves, covers up the shoulders and not enough for the upper back arms - I've also got sunburned there b/c I'd expect a real short sleeve shirt to cover the upper part of the arms as well. What I don't get is that must IB make all of their shirts fashionable with big necks and short short sleeves? Surely a reasonable dose of "form follows function" should ring some bell to any companies that claim to make outdoor clothing?!

To add insult to injury, they've also increase the price by $10 this season compare to the last. Really?!