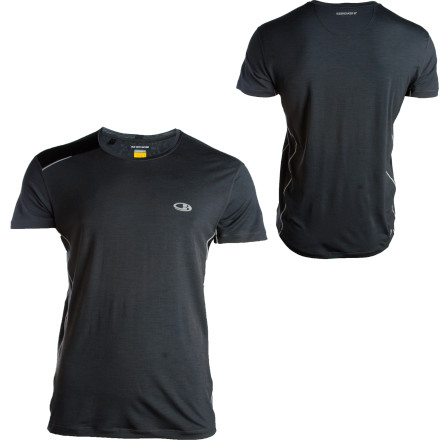 Detail Images

Community Images
Ditch your ratty-old cotton running tee; the Icebreaker Men's GT Run Ace Crewe is going to blow your mind with its stretchy Lycra and natural merino wool. In case you haven't learned who's the boss in terms of layering these days, it's the sheep, and sheep who provide merino wool specifically. Icebreaker used merino wool to create this itch-free running top that not only breathes like a champ but also provides a touch of warmth when the weather turns brisk. Eyelet panels provide an additional measure of breath-ability (as if you needed it), and to keep things modern, a back stash pocket holds a MP3 player, and a loop at the neck manages your earphone cord. Pull on this athletic-fit top and drop the hammer on a training run in the mountains?the sheep will be impressed.
I've purchased far too many high performance athletic shirts, and this one blows them all out of the water. I had it drenched in sweat yesterday, and just went over to smell it. It smells like it just came out of the washer. It also seems to wick and dry faster than anything out there. I don't think I'll ever use a different kind of t-shirt for outdoor activities.
Greatest Shirt you could get.
I bought this shirt for my husband cause i know all about the benefits of wool, he has worn it out on 4 hikes and geocaching and refuses to wash it yet cause he is amazed that it doesn't smell yet and he loves the way it feels, it really is the best shirt you could get for outdoors, don't under estimate wool, doesn't stink keeps you dry and is super soft, worth every penny, especially when at the end of one hike his expensive synthetic shirts stinks.
Can't get enough of merino wool for everyday wear and also performance apparel. I honestly don't know why anyone would ever wear a synthetic after putting on a merino shirt to run in. It breathes better than synthetics, doesn't drape on you like a tarp when it gets sweaty, doesn't stink after wearing, and is super soft. If you run/bike/hike, you need to try merino wool.
I use this shirt for running and working out and it has performed flawlessly. It is probably one of my lightest shirts I own yet it is still durable too. It is soft and I have never had a problem with it being itchy.

Icebreaker sure knows how to make great clothing and this shirt is no different from the rest. If you want an awesome shirt for running or exercising than buy this one!
I own quite a bit of Icebreaker clothes that I use for running and it's always great stuff. Just got this top and I expect it to perform just as well as everything else Icebreaker as far as temperature and odor control, which is excellent. I got a size small and it's true to size and fits well, but I don't think it's quite athletic fit as claimed (compared to the size of some of their base layers).

I'm guilty of some times accidentally putting some of their underwear or thin tops through the dryer, so some of my thinner Icebreaker garments have developed holes within a year or two. So, be careful and keep this out of the dryer!