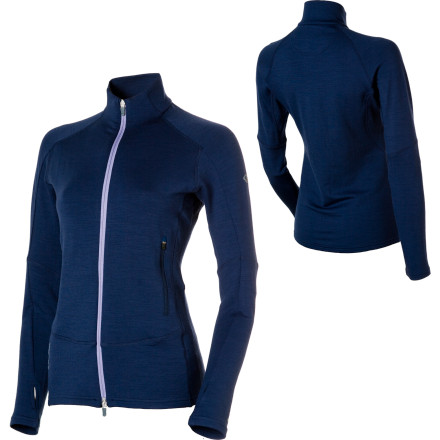 Detail Images
Wore it out, I wore it so much!
I did manage to wear this out, the elbows totally ripped on me. But, I still love this. It is a great layer for running, hiking, and skiing. I love wearing a tank under this, and using it as a jacket layer. It does fit more snug, but I didn't need to size up. Love the colour, and weight.
Great product Thumbholes still too short
So I tried on icebreaker item and was hooked i needed more. I bought this item and love it. The fit is on the tighter side its definitely made for active or performance type sports. Im 5"5 and generally wear a small (Canadian small no offense) fits amazingly except i've been finding that icebreaker's thumb-holes fit a bit short on me, they need to make their sleeves longer! Im a 32 around the bust and it fits snug so if your lucky and well endowed maybe a med the neck is super tight too. They need to make more full zip sweaters!
I got this off SAC and fell in love with it immediately. I am 5'4" and 130 lbs, small fits me like it was custom made for layering. I did not find it itchy, but soooo cozy! It is not super thick but plenty warm, and I think I am in love. Love the color-java/cranberry, smooth and not too crazy. My new favorite ever!
I absolutely heart this jacket. The fit is fantastic. I'm 5'6", 140lbs and curvy and I got the Small. I have a longer torso and the bottom of this jacket goes 3/4 of the way over my backside. The thumb holes are a little intense, perhaps because the arms could be just a bit longer for me, but I still love it! Super cozy.
This was a lot lighter than I expected from the description and reviews. It has a great cut and I like the two way zipper (although it does stick and is hard to unzip all the way). the color (java) is cool more like a plum than a brown, and the zippered high pockets are a plus. There is a weird seam at the elbow that could be bulky or irritating under things and I actually found the wool a bit itchy. For $75 I wanted something a little heavier.
I added this amazing jacket to my icebreaker collection when I found it on sac for a great deal! At full price, its a little expensive, but the quality is unbeatable. The previous reviewer was right on that that java/cranberry color is more like a charcoal grey/plum color. It is definitely one of their more athletic/slim fitting jackets as well, I have several others in an XS an this might be the most form fitting. If you are looking to layer with it, might buy a size up from your normal icebreaker size. Definitely purchase this jacket, especially if you find it on sale, you won't regret it!
Love EVERYTHING by Icebreaker!!!
OK first off i got this for my girlfriend for Christmas so i myself have not worn it but i do own a bunch of Icebreaker gear and it really is the best. Well she totally LOVED it and has gotten lots of compliments on it which kills me now because she dumped me on new years day... apparently Icebreaker's amazing quality isn't quite good enough to save a failing relationship, or maybe she was just lame ; p LMAO
This is a great midweight piece from Icebreaker. I've been looking for a full zip merino wool jacket for awhile and glad I ran across this one. Nice slimming fit. Size was hard to decide..I tried both XS and Small and both fit. I wanted it to fit like a jacket so I could put one layer underneat so I went with the small. The extra small fit more like a "top" than a jacket but was nice too if that is want you would want it for. Zipper is two way which is great....ventilation panels under the arm area....pockets up high for access when a pack is on. The color combo of Java with the cranberry accents is actually very nice...looks great with black bottoms and with jeans too. Java is a deep plum-like gray...hard to explain but very nice.
What color is the java? Tough to tell...
What color is the java? Tough to tell whether it has some brown or grey to it?
Java is more of a very deep dark plum. You ask whether it lends itself to grey or brown and I would say it's more on the dark plum gray side than plum brown. It's a beautiful color...looks great with black. I don't know why they call it Java...a little deceiving since it doesn't seem to have brown in it. I like it so much that I have 4 different styles of Icebreaker in Java.
I own this one in java and it is a grey color.
Perfect for all almost all weather!
I love Icebreaker and I love this top. I wear this bicycling for five days of the week and with the cool weather, it has been perfect. Layer it with a good rain jacket and it works for those snowy days too. I like the higher placed pockets so that my pack straps don't prevent the use of them. This has been perfect from my two snows I've worn it to rain and just really cold mornings. I love it!