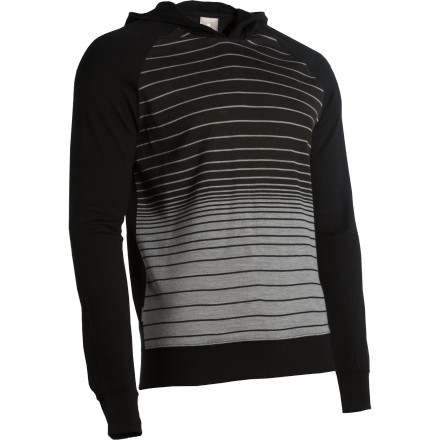 Detail Images
You enjoy the comfort and performance of merino wool when you don woolen wear for your weekend skis, climbs, or runs; if you want to enjoy this pleasure every day, pick up the lightweight Icebreaker Men's Eclipse Hooded Sweatshirt. Crafted from pure New Zealand merino wool, the Eclipse hoody offers the same exceptional thermal regulation that you enjoy in your technical wear (basically, it keeps you cool when it's warm and warm when it's cool). It also naturally resists odors, and to top it off, it features sophisticated urban style that's right at home in any setting, so you just might be tempted to wear it 24/7.
Comfy/SLIM/Natural
Gender:

Male

Familiarity:

I've used it several times
Love this piece. Soft and warm without being itchy.



Beware: Does not fit like a traditional hoody.

Fits thinner and slimmer, more like a shirt.

You'll have no problem if you know what going into it.



5'9"- 131 lbs
Like they say super comfy. I'm 5'9" 170ish with a semi-athletic build, albeit with a little extra around the middle. I got a medium and the fit is pretty decent. It's got long sleeves and long body and would seem to be a more ideal fit for someone around 6' who is a bit skinny but it bunches up for me without looking too stupid. It will serve as a nice underlayer or pleasant long sleeve to peel down to when inside. Like the rest, the hood is close fitting but stretchy, no need for a cord. You could put a shirt under it, but it makes more sense as a next-to-skin item, although it'll show off your love handles :)
This thing looks way better in real life than what the pics display. I got the Stealth colour, which is a super subtle navy with perfectly blended striping on the front. It's a high quality, super convenient and practical hoody. I'm 5'9", 150 lbs and I got the medium; the arms' length is perfect, but the waist is just maybe a little short if I wanted extra coverage over my jeans. Also, the wrists are too loose and not resilient enough -- If you've ever owned a cheap cotton long sleeve t-shirt, you'll know what I mean when I say the wrists will eventually get looser and looser. It feels the same with the Eclipse hoody. In the end however, this piece is pretty much perfect for everyday street wear or layering.

I got this on SAC for $65 which is an excellent price. The full $140 original price would've been too steep for me in my opinion.

Here are some other points that might help you make your purchase:
- There are no thumb loops
- There are no drawstrings for the hood
- The waist might be a little short (although it's extremely minimal & based on personal preference)
- Made in China

I'll be keeping this one for sure. A very good looking piece.
Super comfy and silky. This is probably the best feeling merino I've ever felt, it feels more like poly than wool. I didn't end up keeping it because the fit wasn't quite what I wanted and the stripes on the front are like a screen-printed graphic, which I felt might peel/crack over time. I will definitely be keeping an eye out for a different Icebreaker piece though.