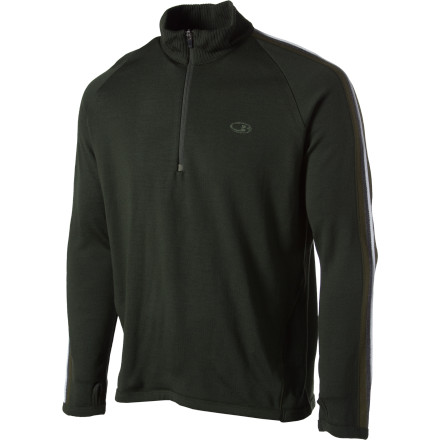 Detail Images
Ski hard and play harder in the urban-inspired Icebreaker Men's LTD320 Coronet Top. The Sport Top's 320 merino wool keeps you warm in the pow but won't stink for the après ski party. Icebreaker added flair by including an enhanced collar and alpine-inspired thumb holes. Once you slip on the New Zealand wool, you'll wonder how you ever got by with synthetic layers. It is the Coronet's hip, retro style, however, that will make it a pullover you'll wear well beyond the mountain.
Share your thoughts
What do you think of the
Icebreaker
SportLTD 320 Coronet Top - Long-Sleeve - Men's
? Share a...
I got the Twister gray version of this. It's nice and quite weighty, however, the fit is unorthodox.

The width of the body is wider than normal, yet the waist is short. The arms are ridiculously wide. Why?

I thought this would've been perfect as a standalone sweater for the night out, but the cut makes it look too awkward.

I guess this would only be suitable as a heavyweight underwear piece. It is not snug at all and doesn't look as good as my other Icereaker pieces.

Good durability, poor fit.
Great item. Note re: "ink" color
As with all icebreaker stuff, this is great. Sizing seems about the same as their other stuff, and pretty similar to most other stuff too. (I'm 6'1" and 200lbs, fit XL with a little extra room or L fairly snug). Take note if you're looking at the color "ink" - It has stripes on the sleeves like the others, and they are green and a shade of slightly lighter blue. You can't see the green ones in the photos.
I got this on SAC for something like 55% off, and I was hesitant at that price. Don't get me wrong, this is a superb piece of clothing, but I'm not sure that at full price this gives you as much bang for your buck as other stuff would.
Quality but a little too heavy
This is one of the heavier Merino layers that Icebreaker do. I would say that while it is of very high quality, I find that I hardly ever use it as it is too damn warm ! The thinner options are more useful in my opinion. No, it does not itch, Yes, it will last as the quality is high and no, you will not stink after a hard day sweating. Merino is the way to go but consider your needs carefully before buying a piece this heavy.
Great wool shirt for the winter
The first time I touched this sweater I knew it was a keeper - the wool is amazingly soft and comfortable. I find the Coronet sweater to be very classy. On several occasions I've worn this to work (casual dress days), and then kept it on to go skiing afterwards. I would second the reviewer's opinion below that this works great as a heavyweight long underwear top. If it's above freezing and not too windy, I can get away with wearing this sweater over a light baselayer and under a gore-tex jacket. The thumbloops on this sweater are a big plus for me to keep the sweater in place under other layers. While I personally like the style of thumbloops that Icebreaker uses, I can see where other people might find them to be a little too bulky; for example - I would not want to try having the thumbloops pulled over my thumb while I was out mountain biking. Of the several Icebreaker pieces that I own, this is easily my favorite for a heavyweight layer when skiing.
Unanswered Question
Hi, will you have this is a small any time...
Hi, will you have this is a small any time soon?Thanks. Al
I wear this almost every time I go skiing and it works great. It's also nice for the apre ski since it looks good. Super smooth, never itched me once. Bought it in the blue color, on sale for $75 and think it's well worth it as a heavy weight long underwear top.
The only down side is that it's starting to pile on the upper back and shoulder straps from backpack wear. Oh it's also annoying to dry wool stuff in a dorm room where large flat surfaces are rare.
Icebreaker LTD320 Coronet Sport Top - Long-Sleeve - Men's
Merino wool is the shiz to start with. This piece is a great design. It fits very well with a relaxed fit, not a snug fit like the other icebreaker stuff. this works great for a one under layer system with a shell for medium cold days and would also look great just for around town with the old school ski sweater race strips down the arm.
This is one of the most versatile sweaters you will ever buy. I just got back from a long weekend in San Fran and I wore this thing nearly every day. It worked for bike riding in the early morning cold, walking around town in the rain, and going out to dinner at night - and it never smells from sweat. I own two of these and can't recommend them enought. They are very pricey, but well worth the $$. I really think owning a 320 weight long sleeve, 190 weight long sleeve and a couple ultra light tees give you every combination of layering you need for camping in three seasons.
Not too much as an outdoor piece
If you looking for a good layer, stick with Bodyfit 260. As far as this sweater, it's lot more expensive, a bit too large to use as layer under technical shell and just a good looking wool sweater, no reason pay so much just for name Icebreaker. Overall, comfortable, more city use than outdoor.