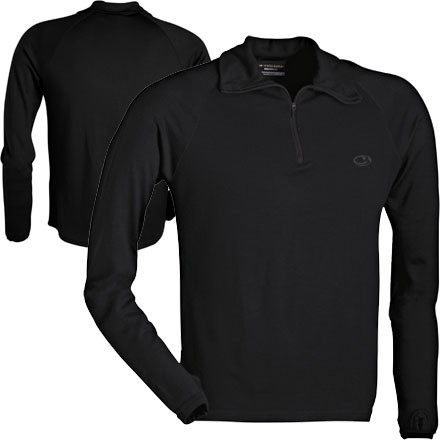 Detail Images
Very nice piece of layering, that's all about it, collar is tight and too high up in your chin, so if you have short neck, beware. Very warm just under a shell, dries quick, not bulky. Doesn't hold odor. try before buy.
I bought this for my boyfriend. He works outdoors, in rural Alaska, and being warm but comfortable is a must. It's a good fit, holds up well, and keeps him warm. He loves anything Merino wool.

He also looks great in this shirt on a casual night out!
If you have not made the switch from poly-pro to merino wool yet then you are missing out. I have been so happy with my Icebreaker base layer. Long gone are the days of stinky polypropelene. It used to be that if I even thought about sweating my synthetic baselayers would reek. I just got this insulating piece and have worn 5 times without washing and still can not smell a thing. Also it is very soft for wool. Very comfortable, highly recomended.
I will have to say the fit of this piece is great. I'm 6'2" 205 and 75in wingspan and the XL fit is perfect. It hugs the body but not too tight and obviously works great for layering. Usually shirts are always too short in the armlength but this bodytech XL fit great. The merino wool is not itchy as advertised. I haven't used it yet but plan to in a week for a camping trip. Thanks again.
Best Piece of Base Layer I Have
I made the switch to merino wool base layers last year, and I'll never go back to synthetics. I use this top for everything from skiing (with only a shell on top) to bicycling (under a short-sleeve cycling jersey) to climbing (with and without a shell). I don't notice that it wicks any better than synthetics because, with me, I sweat so much, I overwhelm the wicking capabilities of any garment. The difference, though, is that I can stay warm with just the base layer on, even when I'm drenched in sweat. And the thumb loopholes help with sliding on additional layers over the top, as well as providing additional coverage on the back of your hand. All this with no Capilene funk!!
, ☃bcs_badge_alumni_label☃
Icebreaker MW zip
After using this for ~ 2 weeks backcountry skiing, I have been quite impressed at its performance. I find it to be a little itchy while sweating (especially between my back and ski pack), though sweat also does not seem to feel as "clammy" with wool vs my other synthetic baselayers. It regulates body temperature much better than my Capilene mid-weights, and is much more enjoyable to wear around the house than synthetics as well. I initially had reservations about using wool baselayers, though this piece has convinced me otherwise.
Great garment. Very nice to wear alone or layered with other IceBreaker products. It has the hallmark of a great item of clothing--you are unaware of its presence but quite aware of feeling nice and snug.
Very comfortable. No nasty smell like synthetics. Wicks excellently. The thumb holes are a nice touch!
So so soft and warm and yet cool
I tried the Slalom and Technical T but this was the softest of the three, so I stuck with this one. Still using it after three weeks. Finally washed it yesterday and it seems even softer. It is warm enough for cool mornings and not too warm for uphill climbs. This top is the best and my favorite out of all the polyester high-tech tops that I have. Wish I could afford to buy more.
I bought the Icebreaker Tech Top for myself this past year. It's very expensive. I want to think its worth it but I haven't owned it for long enough. I can say that it works as described in that it hides stenches. For example, I usually stink after exercising, but I wore the shirt three times running then wore it on an overnight camping trip and it never stank at all. It was also definitely warm. So, if you want to splurge, it is worth it. If not, save up for it.
Excellent winter baselayer
I have transitioned to merino wool the past few years, and this Body Tech Top from Icebreaker is a critical base layer for cold weather.

The high adjustable top is perfect for the cold, windy days and if it gets warm you just unzip and open 'er up. The wicking is excellent and if you get a little 'damp', the wool protects you with this miracle natural fiber. One suggestion: they should move to flat seams! At this price level, I don't understand why they do not. This is my second Body Tech Top and well worth the dollars! Double thumbs up recommendation!
I first encountered the name of Icebreaker wool clothing when I was in New Zealand. It was pissing down at the campground at the base of the Mount Cook glacier. A DOC worker was there and she was relatively cheerful for how cold and rainy it was at the time. She proceeded to tell me her secret...Icebreaker.

The next town of decent size (Dunedin) I found an outdoor shop and dropped some coin on an Icebreaker T-shirt. From there, I was sold. Multiple days of riding and I never itched and it didn't really stink. When I hit the west coast and was pummeled with rain, I was always warm with that base layer.

Fast forward to me back in the States doing daily road bike training rides in the Pacific Northwest. I knew I wanted Icebreaker and this site carried it. I now wear the tech top on every ride. No itching, no stink, stays warm even during the last 21 straight days of rain.

Buy it! You won't regret your Icebreaker.
This Icebreaker top is excellent — warm when wet, relatively durable, low body odor (even after several days), and comfortable. One of the best products on the market.