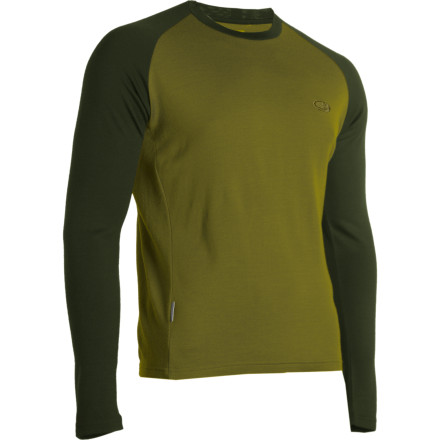 Detail Images

Community Images
The Icebreaker Men's 2-Tone Long-Sleeve BodyFit260 Crew offers some much-needed style in base layer fashion, not to mention it's made of 100% Merino, the best natural fiber for temperature regulation in the world. Merino has some incredible advantages over synthetic fabrics: it keeps its heat-retaining properties when wet, prevents body odor build-up better than any chemical treatment, offers expedition-weight warmth at half the bulk, and rivals many synthetics in breathability. Use the Icebreaker Crew as a base layer when skiing or as a shirt for cool fall and spring activities. Make no mistake, merino is not the wool of yesterday—though it has wool's incredible heat-retaining qualities and breathability, it lacks the scratchiness and discomfort you remember from years ago.
Ideal for layering
Gender:

Male

Familiarity:

I've used it several times
Another nice shirt from Icebreaker. The merino wool is warm and comfortable. I'll probably buy another color.
what you want
Gender:

Male

Familiarity:

I've put it through the wringer
I have three of these now and continue to beat them up all year long... working outside, skiing, mountain biking, dry-suit diving, I hardly ever take them off and they don't even stink too badly. I wasn't a fan of thumb holes at first but now I use them all the time.
I bought this product for when I run or exercise in cool weather. I like the feel of the wool much better than the plastic wicking products. Wicking ability is just short to on par with the likes of under armor and similar products. It will get wet under heavy sweating but it's a far cry from the soggy wet of cotton. This heavier version does a nice job of insulating even with a mild breeze and allows me to go without a light jacket or sweatshirt. For me, the fit is snug and the sleeves are long which personally I prefer. It also does not stink as bad as the plastic wicking clothes which is a plus.

On the minus side, it is on the expensive side and wool tends not to hold up as well under washing. So far so good though but time will tell. Then neck seemed a little smaller/tighter than it needed to be and I find that I often stretch the fabric by the neck a bit when taking it on and off.

In summary, it is a very good product that I am happy to use and I would recommend to others.

I'm about 6' tall and 195 lbs
Would wear these everyday and everywhere if I could. Performs extremely well in winter conditions and are great for apres activities. A plus for this shirt is that it actually looks decent unlike most of the other long underwear. Merino is the best hands down, doesn't hold stench, dries extremely quick and most importantly you stay warm when the shirt is wet.
Super warm top! I am 6'0' 200lbs with 45-47inch chest. I bought a large and it worked well in temps 15f-30f. I used it as a base layer with a down jacket. I could have gone in much colder wether with no problems. It was too warm with a jacket at 30f. I wore it by itself many times throughout the day when it wasn't windy and was still warm. I used it while I was doing photography in yellowstone. Not itchy and wore it several days in a row. I would by again with no hesitation.
It's pricey, but I love this thing. The 260 is deceptive. It looks like a baseball shirt and feels a bit heavy. When you first put it on, you think, "I don't think this is all that warm." But it will prove you wrong. The fit is excellent and the raglan sleeves are my favorite design aspect.

But as a photojournalist, I was out shooting a family story on the rim of Canyon de Chelly in 20 degree sleet with a punishing wind and it got me through and never felt soaked. I bought two more after that. It even works great for Nordic skiing baselayer. Unlike every single Smartwool shirt I have, there have been ZERO seam unravels. The stitching is really top notch.

For cleaning, I cold wash gentle cycle and hang dry on my pull up bar.
SmartWool NTS Midweight Crew - Men's and...
SmartWool NTS Midweight Crew - Men's and this Crew . Which one size larger?
Smartwool runs larger than Icebreaker. Most Icebreaker pieces are slim cut.
Unanswered Question
Hi,I'm 182cm 85KG, what size is good to...
Hi,I'm 182cm 85KG, what size is good to me?
I have brought patagonia Capilene 3 crew for M, and SmartWool NTS Lightweight Zip Top for L(http://www.backcountry.com/smartwool-nts-lightweight-1-4-zip-top-mens), so can you tell me what size is good to me in icebreaker?
Hi,I'm 182cm 85KG, what size is good to...
Hi,I'm 182cm 85KG, what size is good to me?
I would go with a medium for a snugger fit or a large for a looser fit.
Another size question. I am 5'11 and a...
Another size question. I am 5'11 and a skinny 145 lbs. I am looking for something that isn't gigantic on me but still is long in the sleeves. I have yet to try on anything icebreaker, does anyone know if the small is long in the sleeves?
You'll want to go with the medium, otherwise it will be too short in length. They shrink a little in the wash, just fyi. Make sure you never put it in the dryer, and it is best to lay it flat on a towel when you dry it. Hang drying it will make it stretch out more. AWESOME shirts by the way. I highly recommend them.
This thing is heavy (11.5 oz), so if you are looking for something lightweight and warm for hiking, a down sweater or some synthetic equivalent might be a better option. Besides that, I'm pretty sure it's nice.
The great thing about the 260 is versatility. It works as a baselayer, it's great-looking casual outerwear, and it's an ideal mid-layer too. This shirt breathes well enough to be comfortable at 65° or so, but gets pretty toasty if it's warmer.

If you want the 260 to fit very snug as a dedicated baselayer, order your usual size. If you want more flexible use as I mentioned above, order a size larger. I am 6'5" and 250lbs, and wear an XL in almost every brand, but I much prefer the XXL Icebreaker stuff. The XL fits almost like a compression layer.

Great product - don't hesitate to pick a few up if you're undecided.
when it saids country of origin does that...
when it saids country of origin does that mean it is MADE there?
I believe the merino wool is from New Zealand, but the shirt is probably made in China.
Yes, but Backcounty does not always list this information correctly.
Awesome material; but sizing is off
The feel of of these Icebreaker BodyFit clothes is amazingly comfortable, soft and warm.

I tried the BodyFit 150's; these 260's are much better for me in these colder New England temperatures. I've been using them for a few weeks and have found them great for everyday.

But watch out for the sizing! I'm 5'10" and consider myself pretty average if a little slim. The sizing chart suggest size medium. But size medium was too big. I had to return them for size small. I didn't like paying for return shipping for this mistake.

Size small is working out well, though it's not a snug as I expected. Guess I need to work out much more and build up my chest, arms and legs to fill out the BodyFit.

If size small is good for average me, what size are the many people smaller than me going to wear?!
im 6ft and approx 170 lbs broad shouldered...
im 6ft and approx 170 lbs broad shouldered long limbs. i have a med ibex indie crew that fits me perfectly not tight and loose. What would be the size that would give me the fit small or medium. Dont want too tight. Thanks...
You've probably bought one by now, or completely given up hope on anyone ever answering this question, but...
I'm about your size 6' 175lb and I wear a medium. It's snug, but not restrictive. I like it that way because I wear it as a base layer anyways.
This shirt is great. It's not as tight as the Oasis shirt but that makes it more comfortable. My con is that it is available only in a very limited number of colors :-(
GREAT LOOK, GOOD FUNCTION
I love this mid weight base layer. I wear it as a second layer over my Capilene Base. It is my nod to ski lodge style while providing great warmth on the slopes. Awesome shirt. I highly recommend. Follow sizing guidelines on the BackCountry site for best fit. Worked well for me!
Great shirt for lots of things
This is a nice all-purpose shirt. I bought it in a size large, and it fits for me like a typical long sleeve T-shirt. While the blue is not as bright as the picture on backcountry.com's website appears (not necessarily a bad thing), my wife gives this shirt the thumbs up for being a nice looking, casual, non-technical appearing shirt that can be worn around the house or out and about. This is a 260 weight shirt, so it runs on the warm side, making it good for use fall through spring, but definitely not in the summer. One nice thing is that there are are no seams over the top of the shoulders, so this shirt is great when carrying a backpack.

All of the typical pros about icebreaker wool shirts are true for this: stink free, itch free and washable. Just don't stick it in the dryer. My only complaint about wool clothing in general (not this shirt in particular) is that wool does take a relatively long time to dry - certainly longer than synthetic polypro clothing.
No itch and XL fits me at 6'1"" and 200 lbs.