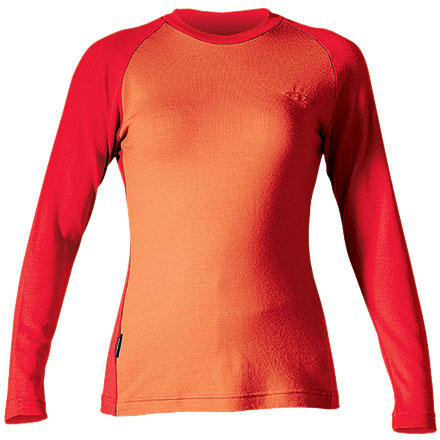 , ☃bcs_badge_alumni_label☃
Sheep are Gr-8
I first saw Icebreaker when I was over in New Zealand and was traveling around. It looked so luxurious, but I couldn't necessarily afford to pick up a shirt. I've finally gotten, not one, but two Icebreaker pieces and absolutely love them. They don't stink, are soft, have a flattering fit, and all around work for skiing and running. I've been very pleased and am all but converted to wool under layers.
Icebreaker Bodyfit Long-Sleeve Crew
You can wear this piece pretty much anywhere. I wear it as an under layer snowboarding and it keeps me super warm, but still wicks away moisture. The bodyfit weight is also great to wear running on colder days. Does a great job of helping regulate body temperature. It's not scratchy at all, and holds its shape really well, but doesn't hold odor. I'd recommend merino to anyone!
, ☃bcs_badge_alumni_label☃
Sweet!
Best under layer I have found yet. After three days of snowboarding, this shirt smelled nowhere near as bad as my synthetics do. It also did not fit like a potato sack, as some under-layers do. It fit the shape of my body, but was not restrictive, and it was also long enough to tuck in.
Warm, nice look, sleeves to short...
It's true that my arms are freakishly long, but the sleeves on this sucker are freakishly short! Other than that, super cozy, comfortable next to skin, and looks good!
, ☃bcs_badge_alumni_label☃
wear it everywhere
After four days of backpacking, hiking, layering, and sleeping in this shirt, it did indeed stay almost odor free—light years ahead of synthetics. It's warm but as light as a thick T-shirt with a feminine cut, and the fire/mango color is super cute! After machine washing and hang drying, the size stayed exactly the same. I'm super diggin' that it's high performance and looks great casually too.
My favorite cool-weather running top
I love my Icebreaker top, and wish I had more. I run outdoors year round in Minnesota, and my Icebreaker has stood the test. All the claims made about this product are true. It is an essential for all outdoor enthusiasts, especially those in my neck of the woods.
The Icebreaker Bodyfit L/S Crew is a great base layer for hiking, skiing, etc. with a figure-flattering fit. The wool is not itchy and it keeps odor and wetness at bay. This is a great layer to wear when going from any outdoor activity to the office or other social outing when there's no time to get cleaned-up.
This is gorgeous! the colors are really beautiful, and the wool is really soft -- I have been wearing it almost daily when I get home in the evenings. Will definitely search out more of their products.
Icebreaker's snug, warm version of an undershirt is terrific. I've worn it as a base layer while hiking and while at the office. Doesn't smell like polypro, and is wonderfully warm. It's not scratchy and Icebreaker does a nice job with the fit.