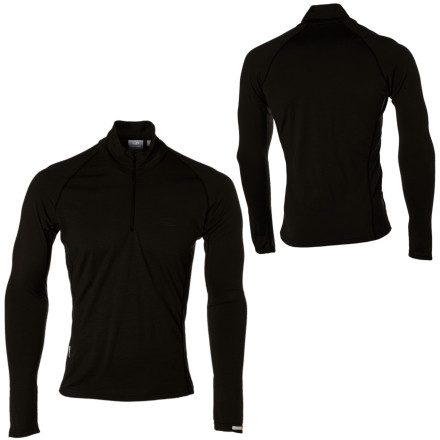 Detail Images
The Icebreaker Men's BodyFit Mondo Zip Top is not to be confused with a turtleneck. Sure, this versatile top has a high neck, but no turtle has a zip. This feature lets you regulate your temperature and/or show some chest hair. Rawr. Icebreaker's itchless 200-weight merino wool expertly manages moisture, resists odor, and offers great mid-weight insulation for autumn mountain biking or winter layering. Raglan sleeves feel comfortable under a pack, the slim fit reduces bulk, and flat sewn stitching reduces pressure points.
Great shirt, but go with Stoic.
Gender:

Male

Familiarity:

I've put it through the wringer

Fit:

Runs small
This is a great shirt. Merino is hands down the best thing to have against your skin. The lightest weight possible is preferable in my mind. If you need more warmth, layer some kind of synthetic over it (fleece, primaloft or down... if you're into down) as that is better insulation for the weight and merino does hold onto moisture more than synthetics. The flaws on this shirt are the neck zipper isn't long enough, the sleeves dont have thumb loops and the torso isn't long enough. The stoic zip neck merino shirt with a chest pocket and thumb loops is a more functional product and can generally be found for the same or less money. It rocks...go get it. In my experience, this shirt runs small. I'm a 42" suit coat size, 33" waist, 6', 180#. I get an XL and eventually it's a bit small on me. I'm an L in most tops including stoic.
This is my go to baselayer for all conditions. It is very light and warm. It keeps me dry and is a loosely fitted shirt. Great for most conditions.
Tight and Light!
Familiarity:

I've put it through the wringer
This is a great baselayer! It is extremely lightweight and warm at the same time. It is warm up until about -10. The wicking material keeps you very dry and it also drys very fast. It is very nicely fitting, it is not extremely tight but it is not baggy like a XXL tall-tee.
Initial review
Gender:

Male

Familiarity:

I've used it once or twice and have initial impressions
I am 5 feet 11 inches, 156 pounds.

I bought a size "S".



This shirt is close to skin-tight. Which is fine for me as i meant to use this as a base layer.

The length of the arms are just perfect. It rests at the end of my wrists.



Unfortunately this also means that i will have to suck in my tummy if i choose to walk around with just this top.




Sheep are hot
Gender:

Male

Familiarity:

I've used it several times
Or at least they are warm. I use this for the close to freezing bouldering temps. Mobility is great and no stank
First, I should say I own several comparable shirts from Pata_nia & Sm_rt Wo_ol. I'm 6'1" & 170 lbs and this one fit's me very well in a large (medium was tiny, not even close), better than the SW one which is a little short and large in the body for a large. I wanted to love it, however the deal-breaker for me is that it is the itchiest of the three by far. To be fair, the Pat. one is 20% polyester, but the SW one (which is 100% merino) is by far the softest of them all. Ended up returning this as I felt I wouldn't wear it when I have others which are more comfortable.
Icebreaker BodyFit 200 Mondo 1/4-Zip Top - Men's
This is a gift to my husband and he loves it. The 200 weight is thicker so it is not torn easily and it is warmer.
Write your question here...What size should...
Write your question here...What size should i go with? I'm 6'2" and fairly thin. Thanks
I'd give medium a shot. At your height, a small will be too short in the sleeves and a large will hang loose unless you're barrel chested.
I am 6'0" athletic build and the large is perfect for me.
I am 6'3" 175 pounds, broad shoulders, skinny waist and neck, long arms. The medium did not fit well, the length on the midsection was too short for me, tight in the shoulders, but the arms were plenty long. Please folks, suggest base layers for similar builds!
Does anyone have any experience skiing in...
Does anyone have any experience skiing in the Icebreaker BodyFit 200 Mondo? How do they hold up? I used an I/O Bio last winter and an Arc'teryx Phase AR. The I/O Bio was undoubtedly more comfortable but the bottom started to develop a hole after skiing in it twice - seriously? Of course the Arc'teryx Phase AR, a synthetic, was super-durable, warm, comfortable but not exactly like the merino. I think I'm leaning towards the Arc'teryx Phase AR or maybe the Arc'teryx Rho LTW. Thoughts?
...then again one Arc'teryx Rho LTW is about $130, this is $68 in black XL, which is 52% the cost of the Arc'teryx - so one could almost buy two of these for one Rho LTW! But the Phase AR is close in price and probably twice as durable, and it's probably 85-95% as comfortable. I hate the idea that I'm dropping $70 knowing it's going to get holes and need repair or to replace it in 1-2 ski season while another option will last 3-4 seasons.
I ski 20+ days a year and have had the Bodyfit 200 crew for 2 years. No problems so far. In fact I'm getting another set of tops and bottoms for week long trips
I think you will be pleasantly surprised with the durability of Icebreaker. If you develop holes with in the first year (and it is due to a fabric problem) you can return the top.
Merino is expensive and 200 wt is on the thin side. I believe 260 weight is considerably more durable and warmer (the warmer part is not usually a good thing). My advice is stay away from merino if you have cats (you'll forget, pick one up and then kiss your favorite merino shirt goodby). And don't wear merino when you will be bushwacking through scrub oak, which can be hard to predict. Or you can learn to live with holes.

I probably have 15 days on a Mondo zip and the waist seam is unravelling a little, but it's not a big deal. No holes yet. Cats completely ruined another brand of merino shirt, but I'm sure this is not brand specific.
Like my IceBreaker leg thermals this top is equally as excellent.

During a lengthy excursion in Banff, AB, Canada in conditions with wind-chill as low as -36° F I was kept warm at the skin protected by a fleece layer and a good Northern Face guide jacket.

In warmer conditions the product worked equally well during a full day of play in temps between 16° F and 28° F.

I found the product fit well, stretched and moved with my body as needed and was easy to put on and later remove.

Overall in the conditions described above I rate the product a 10 of 10.
Been great for snowboarding, rock-climbing, walking around being a tourist!
This is my first official base layer of any sort (and first icebreaker product) and I've been wearing it consistently since I got it about a month ago while on a fishing trip to Eli, Minnesota (splurged and got it full-price whereas the wife got a rediculously expensive (for us being poor people) North Face pull-over sweater thingy - no tech, just style for her). The fishing certainly sucked (2 walleye, a small mouth bass, and 1 small Northern - just enough for a fish fry for four), but the BodyFit 200 kept me nice and warm with only my Salomon softshell over it most of the time, even though the last three days of fishing on the open water meant 50 degree weather and 30 mph winds. Brrr! Don't regret buying...get it on SAC or Backcountry if you can. Color (dark brown for me) looks great. The size medium fits all 6'2'' and 156lbs of me awesome (think roadie riding jersey fit) - not even too tight under the arms. Plenty of stretch for getting into and out of. Washed it for the first time this morning and it came out looking great (regular detergent with like colors in cool/cold water - hang dry). And like I said, I just washed it for the first time after a month and stink it did not - my wife never said a thing. Never had anything wool comfortable enough that I'd choose to wear it next to my skin. Especially loved the "baa-code" that lets you meet the sheep that donated it's winter coat to help make the shirt - though I haven't met "Smeagol" as I shall name the spry New Zealand sheepy who was my donor. All in all - keeps you warm or cool (and comfortable) as needed.
I have this top in Camo and really like it a lot. The fit is great, close to the body without being too small looking or tight feeling, and yet allows great mobility during activities. I use mine for running, biking, hiking and it looks good enough to just wear around. The zipper is great for ventilation if you start to feel warm. Only thing is you really need to follow the care instructions to make it last and continue to look good.
Second favorite icebreaker shirt behind the oasis crew. Very versatile and the zipper provides good ventilation. I have had no problem with quality, have more than 10 shirts and only one have a small hole on the elbow. Icebreaker is expensive, but it does a great job managing moisture and controlling body odor.
Durability Does Not Align With Premium Price
I bought two of these shirts in winter 2008/2009. I loved them. I soon after bought Altitude crew shirts, superfine t-shirts, and leggings. I became a merino wool slut. Unfortunately, the durability on the Icebreaker products is terrible. Both of my BodyFit200 shirts have half a dozen very small random holes after just one ski season. We followed the instructions not to over-wash them and never put them in a dryer. This was our third Icebreaker product to do this (my wife's Nature Lite shirt and Altitude zip-top previously did this), while none of my other merino wool products have done this (DC, SmartWool, Ibex, ExOfficio). Icebreaker refused to replace them under any kind of warranty. Net-net: these things are awesome while they last, but at these premium prices, they should last a helluva lot longer.
Awesome cool weather base layer
This thing does exactly what it's supposed to... I just wore it every day on a 5 day backpacking trip and it kept me dry on the way up, and warm on the way down and at night. Its comfortable and the zip top is key for releasing heat on a tough climb. At night or on the slopes it's great as a base layer. Can't say enough about this thing... After 5 days in the wilderness, I come home and my wife says it smells clean. Pretty amazing!
Excellent - Caused me to Buy 5 other Icebreaker Products!
I have used this top twice while backpacking. The first time was a day hike in about 60-65F weather. The breeze cut thorugh it and kept me just the right temp. When I stopped my back was a little wet from the backpack and sweating, but I was very comfortable while lounging and enjoying the scenery. The second trip it was 40-50F. This time I had a full 50 lb pack for a quick overnighter. While hiking it was perfect. The zip allowed me to control my temp and I never overheated, but felt comfortable. When making camp I was fine and when the wind kicked up added a MH Power Stretch and hat. I couldn't believe I was still warm. I needed nothing else. I am 6', 170#, 33 in waist, and the large is perfect. I have worn it in public on the way to hiking and was at first a little self conscious, but as I get older I don't give a rat's A$$ anymore. My wife says it just shows that I am fit and will even be seen with me, so it must be fine. I also bought a 260 and assorted leggings based on my great experience with the 200. It hasn't been cold enough to wear them out, although I did wear the lightweight leggings for PJs and I was very warm. I'm sold on icebreaker.
Cool Weather Baselayer Extraordinaire
Perfect weight for fall temps. (40s-50s). Under a wind shell a great combination for hiking, maybe a little warm for running. Icebreaker merino is super soft. Doesn't hold odor. Wicks well and dries fast and doesn't feel clammy even when drenched in sweat. Cut is very athletic, as in skin tight, so if you like something looser, go with Smart Wool. It's stretchy though, so not uncomfortably tight. I just wouldn't wear it around town. A little too revealing for that. Slim is good work working out though. The collar height is nice, not so high that the zipper rubs under the chin. I like the raglan sleeves too (i.e. no seams, flat or not, on shoulders to chafe under pack straps). The zip could be maybe and inch or two deeper for more venting.