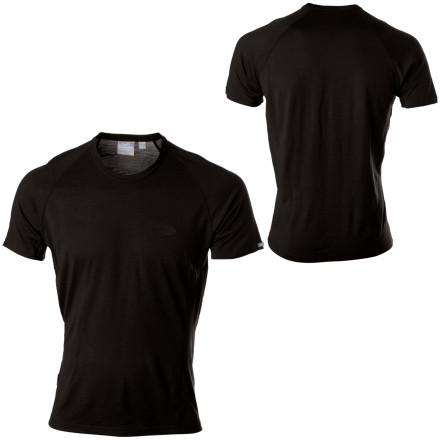 Detail Images
Don't let the weight of the world get you down—pull on your slim-fitting Icebreaker Men's BodyFit150 Atlas Short-Sleeve T-Shirt and get out of the city. Regardless of whether you choose trail running, rock climbing, or backpacking to burn off stress, the Atlas performance top prevents that sweaty, boggy feeling. This top's soft, non-itchy merino wool pulls moisture from your skin and lets it evaporate. New Zealand merino also helps regulate your body temperature so you don't overheat or get chilled while you exert or rest. Raglan sleeves and flatlock seams on this crewneck prevent chafing.
As with all Icebreaker, this shirt is awesome. It is definitely a NTS fit like the entire Bodyfit line so if you want a looser fit DEFINITELY size up one size, if not two. Other than that, great tshirt.
size S is a great fit for small guys
My husband is a trim, short guy, and it seems everything is made for bigger and growing Americans. As usual, the Icebreaker quality is excellent. The shirt is soft and sturdy.
nothing fancy, just a good base layer
there's not much to write about this top. It's a short sleeve base layer. Provided it functions as you'd expect there should be no problems.
- Size is true
- It's very comfy
- Great to run in, great to be lazy in
- Good with layering
- Merino wool = win
Unanswered Question
Im a chick but I want a little looser...
Im a chick but I want a little looser fit/longer sleeve. my bust is 36 and I have only an A cup so I am thinking this shirt might be good. however...anyone else out there got comments?
Icebreaker bodyfit 150 atlas short sleeve
Love the shape and feel. Went up a size for the inevitable shrinkage.
Bought this for my husband...he loves it. Icebreaker is everything it says...no itch, no stink and a nice fit.
Very Light and Comfortable!
Got this shirt for my backpacking trip and have used it a number of times, it is GREAT absorbs sweat, dries quickly, and doesnt hold any odor. However I found the first time I sweat in it the smell was a little "different" not bad just different however once I washed it once it was gone. As well if you are wearing this shirt as a t-shirt go up a from your normal size, if as a base layer your normal size will work fine.
Perfect base layer for any outdoor aerobic sport in 40-70 degree temperature range. True to slim fit so works well under another shirt or bike jersey. Just finished wearing for 4 continuous days kayaking the Green River in Utah with no body odor, could have worn for 4 more!
i wanted to love this shirt so much. i wanted all the good things wool brings. and it wasn't bad. but in the end i couldn't justify a $34 undershirt. it fits tight, i got an xxl - 6'4 230 w a 47 chest and it was a little short in the body and definitely fitted everywhere else. it was a little itchier than i had expected, but nothing horrible. maybe if i layered more, it would be perfect, but i just don't have a need for it. not something i'd wear to the gym or to play ball in, and i don't ski or climb enough to make it worth the cost.
typical ic quality,but like other reviewers have said,this is tight fitting style like most ic stuff.
Amazing shirt made out of top notch quality wool.

Like other posters have said, go a Size up. I like my shirts tight but even going a size up gives a VERY snug fit.

Go a size up and buy it. You won't regret.
If my boyfriend has a 200 oasis in a medium...
If my boyfriend has a 200 oasis in a medium and it fits just about perfect, then would a large in this be too big as i've been told and read that this shirt fits a bit more snug?
Depends. If he's wearing this as a shirt, go up. If he's wearing it as an undershirt (similar to the oasis 200), stick with the MED.
Great shirt that does everything it is supposed to: no itch, no smell, no chafing. This is a slim fit shirt so be aware that if you have a bigger upper body you'll probably want to size up.
Definitely one of the most comfortable shirts out there. The one critique of this shirt is that it is a little tight, so if your a large you might consider an XL
Backpacked in the White mountains for several days, this shirt was great. Packed up real small. It has an athletic cut, so a beer belly will be stretching the material. But i wasnt there to make a fashion statement. Great wicking and kept the sun off
I have several natural colour skin 200 t...
I have several natural colour skin 200 t shirts. I want more. I can't find any on this site. Anybody out there know where I can get this gear in light colour so that I can continue to wear it under my business shirts?
, ☃bcs_badge_alumni_label☃
In the 200 weight there are two options from Icebreaker that come close to matching your description although none of these options are spot on. First, there is the Bodyfit 200 series however this is only offered in Black, Loden, and Thunder (or black, green and blue) and not any type of "natural" or light color. This is the same case for the Spring 2009 product going forward as well. Second, there is the GT220 (it is slightly heavier than the 200) and this is only offered in Black, Ink and Nickel (or black, navy and silver). Silver is the lightest color of the three, but it certainly is not "natural" or white. If you look into lighter weight merinos there are a few options for "undershirts" in a 150 weight. It is part of Icebreaker's "Nature and the Beast" line. In this line there are several options that come in a Bone color way (which may be the natural color you are referring to). Check out this SKU on Backcountry.com and see if this is more in line of what you are looking for: ICE0293. (You can type this SKU in the search bar). Hope this helps!
Much better than synthetics. Warm, dries fast, comfortable, doesn't smell.
Great quality; excellent shirt
Great light weight, well made shirt. I'm sold on wool. I've worn this shirt a couple of times on hot, California days and it was much more comfortable than cotton. I sized up to a large, and fit was loose but not baggy. However, the shirt made it into the dryer (despite clear instructions from Icebreaker to the contrary) and, while it was none the worse for the experience, it did shrink some (but it now actually fits a bit better). Icebreaker is fantastic and this site shipped quickly.
This was one of my first real performance t shirts, so I didn't really know what to expect but all of the reviews on icebreaker stuff were good so I decided to try this out. The fit is great, not too snug but not loose either. I can run, ride my bike, or anything else in this shirt and it doesn't smell even after several uses without a wash. It breathes great and keeps me cool too. I'm very impressed and will definitely stick with wool.