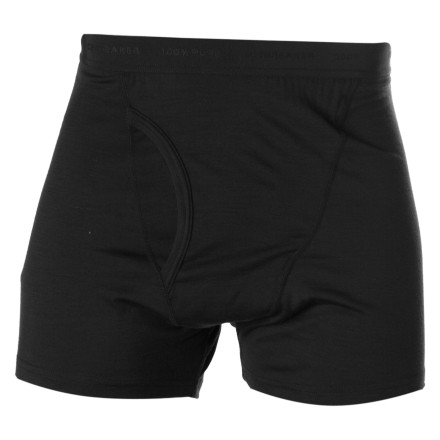 Detail Images
Wool boxer briefs? That's right. The Icebreaker Men's BodyFit150 Boxer Brief gives you all the benefits of merino wool minus the itch. This pair of underwear resists odor, breathes like no other, and is so lightweight you'll hardly notice you're wearing them. The Icebreaker Boxer Brief has a soft elastic waistband and a gusseted crotch for comfort. Icebreaker eliminates the back and side seams to cut down on chafing, which makes these boxers great for workouts, the trail, or everyday.
Purchased 2 pairs , used them last weekend to a trip to PA. there so soft and comfortable. Looking forward to hiking with in them in a few weeks. Can't go wrong with these.
Only boxer I wear. They will show wear and tear after multiple years of use, but having 5-6 of these will keep you going forever. Super lightweight, never smell. Perfect.
The only underwear for me.
Ice Breaker wool is so comfortable. The 150s are great for everyday wear and in hot weather. They simply regulate heat and the wool is nice and soft. Thoroughly impressed and I won't wear anything other underwear now.
Very soft and comfortable. I use them anytime I need underwear in the backcountry. Dries fast and won't stink no matter how long you wear it unless you poop your pants. The flat seams are way better than some other Merino boxer briefs I've tried like Minus 33 which has all kinds of annoying seams and an uncomfy waistband. My only complaint is the elastic band on the icebreaker folds over in the middle really easily cause I'm not the most athletic build.
These stay in place and the Merino wool is incredibly soft.
OK, Maybe Should have Sized Down
These seem like quality briefs - the fabric is really nice and I have no problem with the elastic/waist band. The only negative for me is the fit and found the 'body fit' was fairly lose on me, and not like the boxer brief fit I like and was expecting from the description. I'm a size large in all other underwear but maybe I should have tried mediums. This is my third type of IceBreaker underwear and while I LOVE all of their other items I may have to reconsider before trying their underwear again.
These are great underpants. The merino wool is super soft, and after a full day of skiing or hiking doesn't stink for about 3 days (although you still might want to change them). Highly recommend.
Stay away from 150 weight for daily use
I own both 150 and 200 weight IB briefs and t-shirts. I use them daily at work, 12+ hours at a time for the past two years (EMS). Everything said about merino wool comfort, wicking, and b.o. control properties is true. I love it!

The briefs fit next to skin, but not tight. The legs are shorter than most boxers I've owned.

My biggest knock is durability of the lighter fabric (150 weight). I've pulled off both the lightweight briefs and t-shirts and had my fingers go through the fabric, requiring repair (stitched them up and still in use).

Also, the brief's waist band rolls or folds up on you. I prefer Smartwool's band that is wrapped in fabric.
How nice are those boxer... do not hesitate, this is heaven for your butt. Fit and warm at state of the art. !

Serge
, ☃bcs_badge_alumni_label☃
mmm soft
Soft and non itchy merino. Got these for my boyfriend and accidentally dried them last night in the machine and they are fine. Super soft and non itchy and worth the money. However, if you do wear them for a few years expect them to wear out like everything else, they aren't indestructible.
cozzzy, for those long, long, yukon winters.
Keep the boys snug as a bug! Warm too.
A beautiful design, satifying form and funtion.
Not only do these boxer briefs perform in all conditions, they're also my 'hoping to get lucky' go to briefs. They keep me dry and do an awesome job with keeping the odor down on those long backcountry trips. I've had them two years, wear them all the time, and they still look and feel great. Best feature of all, these are the only boxers I have that my ass doesn't care to chew on. Wedge-free, odor-free, long-lasting and sexy? A+ from me.

FYI: I haven't had a problem with the waist band like others have mentioned. I think they're super comfy.
Icebreaker Bodyfit/150 Boxer
Too tight a waist band. Boxers should feel as if one is not wearing anything. These are just too tight in the waist. They fit but the elastic has too much resistance and is constantly triying to constrict around the waist. This makes them uncomfortable and unacceptable.
These are great undies. I ran an anti-stink experiment. These lasted 4 days (with no athletic activity) before they started to smell like taint. And they're pretty comfortable. That being said, I totally understand why people have complained about the waistband cutting into them. It's really sharp on the top edge. I wasn't overly irritated by them, but I noticed the sharp edge a couple of times.

My biggest complaint is with the length. These are supposed to be BOXER briefs, not just briefs. The inseam is like 1" - 2". They're practically just briefs with a little extra fabric. But everything combined still earns these 4 stars. Maybe after my 23 day trip in Ireland with 3 pairs of undies (ewww) I'll change my tune.
Best. Boxer-briefs. Ever.
These are the only underwear that I want to put on.

They are soft and wear fairly tight to the skin, but do not 'grip' like other nylon/wicking boxer-briefs tend to. They stretch out a bit as I wear them, so they are incredibly comfortable all day long - arguably more comfortable than cotton!

The best part is because they are merino, they don't retain any scent. So I can wear a pair for three-four days while traveling with no unpleasant odors!

Despite what other reviews may say, the waistband is not noticeable to me, and is very comfortable.
Great fabric. Not so great cut
This is my first experience with merino wool and Icebreaker. The fabric is amazing. Soft and doesn't hold the odor just as advertised. Unfortunately though, they do ride up.
...is always a bit tighter than i'd like. i should have probably gone w the xxl, but xl boxers/boxer briefs have always fit right, if not a little baggy. and honestly, these would be perfect if it wasn't for the waist band. other reviews are right, it is cheap and uncomfortable. it feels like it is digging into my waist. but the merino is so soft...i just may keep them
No good. They have a stiff and plastic like waist band and they unfortunately changed the 200 weight boxers to the same from the soft one.

The rise on the boxers of both weights is much to high. They come up like "mom" pants and stick out of most pants or shorts over an inch. For the price you should get better quality as well. They tear and wear out very fast.
I bought two pairs and kept one. I have never been a huge boxer brief fan but I love merino wool so I figured I would try them. They are comfortable when I am wearing really loose pants otherwise they ride up and are bothersome. They are adequate but I won't buy anymore. I didn't have any problems with the elastic like some other guys did though.