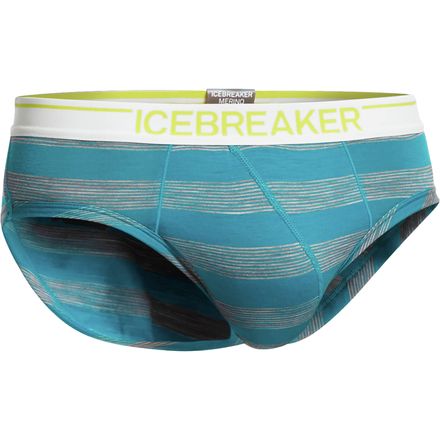 Detail Images
The Icebreaker BodyFit 150-Ultralite Anatomica Brief regulates body temperature and naturally resists odor for all-day comfort whether you're on the trail or off it. Flatlock seams reduce bulk when you have a lot of layers on cold days.

96% merino wool, 4% Lycra
Slim fit
Flatlock seams
Closed contour pouch
Feels Great
Familiarity:

I've used it once or twice and have initial impressions

Fit:

True to size
I'm usually between sizes S & M and so it's always a toss-up when buying an unfamiliar brand. This is the first Icebreaker product I've used and I've found it very comfortable. I plan on using it for hiking and other outdoor activities, but I've mostly just worn it around the house. I don't feel any pinching, tugging, scratching, or the like. Some have commented on the leg holes being tight-- I have average thighs and I haven't had a problem with that. If you've got similar features, I think these would work great for you although I have as yet to test out the durability aspect.
Super awesome briefs! Brief life though.
Familiarity:

I've put it through the wringer

Fit:

True to size
Ok, so these are pretty much a win. They're super comfortable, no ride up and they are wedgie free for the most part. They are moisture wicking so no swamp butt; and after 4 days in the backcountry sans shower.. your nethers are kept odor free by the awesomeness of the merino. The fit is good, the fabric feels supreme and the cut is great too. The only complaint is durrability. Ive had them for 4 months, used them moderately and the crotch has already torn out at the seam leaving a large hole in the taint area. So aside from the durability issue these are a win, but for the price I would look for something that would last a bit longer.
Jury Still Out
Familiarity:

I've used it once or twice and have initial impressions

Fit:

True to size
I normally wear a medium in briefs so I bought medium in the Icebreaker brief. Everything is fine except the leg openings are tight. I'm used to wearing ExOfficio Give-N-Go Sport Mesh brief and I much prefer the fit of the ExOfficio. Maybe as time goes on these will hopefully loosen up a touch.
Do they ever ride up? The Icebreaker boxer briefs seem prone to that.
These will not ride up- they fit as true briefs will. Tight and snug!
Very nice and easy to clean
Familiarity:

I've put it through the wringer

Fit:

True to size
Okay, here is what I have found...The performance of these is just out right amazing you can beat them. They dry super fast if you need to give them a quick wash or if your like me and some time just want to jump in a ice cold river on a cold day. Just give them a quick wring and you are ready to go. The only reason I ma giving these a 4 star rating is the giant tag that came attached with the force of a thousand elephants. It is a huge pain to have to deal with the tag. cut mine out but the way they sewed it into the ban still left a sharp stop so I popped the threads and sewed it back. Its a huge design flaw ..
More please
Familiarity:

I've put it through the wringer

Fit:

True to size
I got these for the hubs to wear while hiking around the forest all summer long. He usually sticks with what he knows which are cotton briefs. After a week of wearing these he asked me were I got them and if I could buy him more. They have been through the wash several times now and do not look any worse for wear.
100% convert, all hail icebreaker briefs
Familiarity:

I've used it several times

Fit:

True to size
I have been a boxer guy most of my life, so I was very hesitant to try these briefs. I tried some patagonia capilene briefs last year and was not really impressed, but these icebreaker briefs have simply blown me away with how comfortable they are. I am honestly not sure I can ever go back to my old boxers. I just ordered a second pair of these. After a weekend of rock climbing at Indian creek last week, these briefs kept my junk dry, well supported, and comfortable in my harness. I took them on a tour up Scotties Bowl this morning, and once again, dry, well supported and comfortable all the way up. I can not wait to go trail running with them once the snow starts to melt away. All hail Icebreaker briefs. Sizing is spot on. They have no fly, but I actually prefer it that way. The fly on briefs is always too small to be useful anyway, so this keeps it more simple. Just make sure you do not put them in the dryer. Washing by hand in the shower works very well, and they dry over night no problem. Would be great for a long backpacking trip.
Love Them!
Familiarity:

I've put it through the wringer

Fit:

True to size
The underwear that icebreaker continues to come up with is awesome! These are really comfortable and I can barely tell I even have them on. If you want a piece of underwear that will get you through the day without any discomfort get these now and I promise you won't be disappointed.
Wooly Manties
Familiarity:

I've put it through the wringer

Fit:

True to size
This was my first pair of merino underwear so I can't give a great comparison to other Icebreaker underwear or those from other brands. What I can say is that I love these things.



When these come up in my underwear rotation, my brain does a fist pump. These things are crazy comfortable. I won't buy cotton underwear anymore. Definitely worth the extra $$.
Why are these getting worse and worse?
Familiarity:

I've put it through the wringer

Fit:

Runs small
Icebreaker had a homerun with the Beast 150 briefs, but they are not getting any points with these. Even the previous version of the Anatomica briefs were a few steps above these rags. The material is thinner, if fits tighter than previous years of the same size, which stretches the already too thin fabric. Which means they probably also won't last as long. The leg holes are noticeably smaller (in terms of circumference) as well, so they pinch my beefy cycling legs the way the previous incarnations never did. Though I need more underwear, I won't buy any more pairs of these unless I can find the old versions (or even some Beasts). Let's just hope that Icebreaker realizes their myriad mistakes and goes back to the best thing they ever did...Beast, Beast, Beast.
The Best of the Best
Familiarity:

I've put it through the wringer

Fit:

True to size
Comfort, Good Looks, Washes up and dries in minutes, Wears like steel, and I look dam smart in them. Yea OK I will admit it, I now feel stupid in white cotton, I feel like a baby in diapers. So when I take a shower I wash these in the sink, put them on a nail over the heater or put the dryer on them and if not full dry it doesn't matter I will not ware anything else. I think you will agree if you try them. They will not carry any odors even if they are on for a very long time. I will not say how long is long, I do have a little bit of pride, not much but a bit. Proud to ware these tho, no matter who she is. I seldom put them though the winger, I hand wash them almost every time.