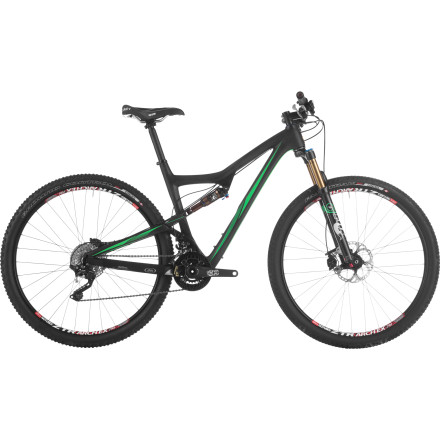 Detail Images
The identity of 29in trail bikes has never been much of a mystery: they're stable, reliable, and not always as quick as you'd like. Ibis, not content with the status quo, decided to change things up, and to that end introduced the Ripley, a killer carbon-fiber trail bike with the stability of classic 29er and the liveliness of a zapped rabbit.
Making a bike as nimble as the Ripley requires a few things: a killer suspension, the perfect geometry, and a light weight. If it was easy to get all three things in a single package, more people would do it, so the fact that Ibis figured it out as a testament to its know-how and stick-to-itiveness. Using plenty of complicated technological fandangling, Ibis was able to design a frame that weighs a WHOPPING five pounds, while maintaining the strength to be ridden hard.
To get the suspension dialed in, the company enlisted the help of suspension guru Dave Weagle, the designer of the original DW-Link. The result is a suspension setup that's responsive, nimble, and strong on the climbs, thanks to the suspension design and the inclusion of a Fox FLOAT CTD Adjust Kashima rear shock with 120mm of travel. Ibis paired the shock up with a Fox FLOAT 32 CTD G2 Fork, also with 120mm travel, to crush virtually anything short of rampaging downhill rides.
With the guts of the Ripley set up to perfection, Ibis set about outfitting it to provide top-shelf everything else. To that end, this build comes with Shimano Deore XT shifters and derailleurs, Ibis Lo-Fi Carbon handlebars, and an Ibis-branded stem, saddle, and seatpost. The Stan's ZTR Arch EX wheelset is shoed with Specialized Ground Control 2BR and Fast Trak 2BT tires in the front and rear, respectively, and the e.thirteen cranks drive two chainrings, one with 24 teeth and one with 34. A nine-speed Shimano XT cassette gets you easily through the gears.
Carbon fiber frame
Fox FLOAT CTD Adjust Kashima rear shock
Fox FLOAT 32 CTD G2 fork
Shimano Deore XT shifters and derailleurs
Stan's ZTR Arch EX wheels
Specialized Ground Control 2BR front and Fast Trak 2BT rear tires
Ibis Lo-Fi Carbon handlebars
Ibis stem, saddle, and seatpost