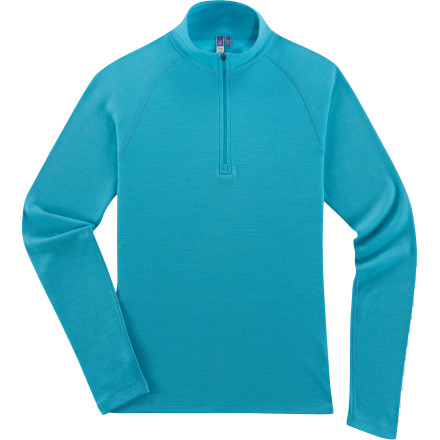 Detail Images
Smrtwool & Icebrkr too long? Pick this!
I got this shirt by mistake (Backcountry sent the box for the black Ibex woolie I ordered, but someone had put a salsa zephyr in the box)



Really nice shirt. Densely woven fabric but not too heavy to wear in a slightly cool office. (it's their 18.5 yarn in a 230 weight) Body skimming, but not tight. The zipper is beautifully finished with a soft lining so it's actually comfortable to zip all the way up. The salsa is a nice tomato red that looks stunning with grays and blacks.



Unlike Smartwool and Icebreaker, this shirt is hip length with a straight hem, so it doesn't drop down over your butt. The sleeves are long enough to reach my hand, but don't cover my hand to the thumb joint like the other brands. To clarify: this doesn't run short, it just doesn't run really long.



Despite being classified as underwear, I'd definitely wear this to work as a light sweater. It's very flattering. Highly recommended for layering or using as a shirt... especially if the other brands are just too long for you.
I'm concerned about wear on this shirt,...
I'm concerned about wear on this shirt, how long has anyone been using this item?
My wife has had hers for six months. It looks like it just came out of the packaging. It is a tough little sweater.
Most understated outperforming shirt ever
I bought the crew neck version. Got it 2 months ago, in the universal black color, and have been living in it, wearing it to work, running, as a base layer when hiking. It's not too big to wear alone, and not too small to wear over another shirt (probably because it stretches well). It's extremely soft. I've washed it twice, and the fabric feels tough and shows no sign of wear. However, I did notice that there is a very very small hole on the sleeve. But hopefully it won't get much bigger. The other thing is that black color tends to attract all the dust & fuss. So keep a roller handy. This is the second shirt from Ibex that I'll live in for a long time (if the hole doesn't get much bigger).
This is so soft and light. I'll wear it most next summer wilderness kayak/camping on Lake Superior as my warm layer at night. Really comfortable
It doesn't get better than this
I've had a Zepher for a few years now, and I wear it more than any other piece of clothing. On cool summer evenings; as a lightweight sweater spring and fall; as a layering layer in winter. One of the things I appreciate most is that the sleeves are long enough.

Can't say enough good things about it.
I just came back from a trip to Yosemite, and I wore this top on every outing! It's stylish and warm and very lightweight! Looks awesome with boarding pants. I didn't even need a top layer -just a jacket to keep toasty. After the slopes, this top looks great just as a top.