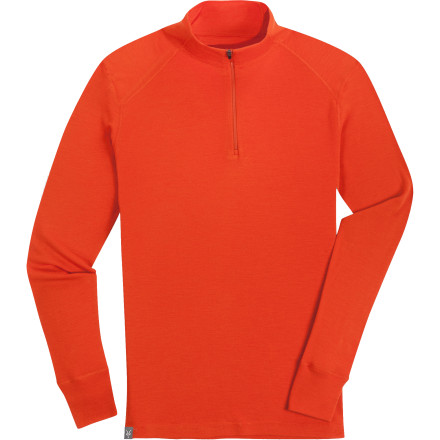 Detail Images

Community Images
Zip up the Ibex Men's Woolies Zip T-Neck to tackle the steep and deep and then keep it on for that après ski party with friends. When you skin up on your next ski tour, the New Zealand merino wool pulls moisture from your skin and distributes it to the surface of the fabric so it can evaporate faster. Plus, wool has natural antimicrobial properties so you won't stink at that party. Flatlock seams in this mid-layer ensure you stay chafe-free, and you can throw this in the wash no problem.
Incredible!
Familiarity:

I've put it through the wringer

Fit:

True to size
I specifically bought this for a ski/snowshoeing trip to Colorado coming up and thought I'd test it out first. I wore this under a Gore Alp-X 2.0 Windstopper jacket mountain biking on a 35 degree day and before the end of the ride I was almost too warm. I am 5'10" and weigh 148 lbs. and bought the small. It fits like a glove. Close to the skin, comfy, stretchy, quite warm for it's weight, and the sleeves are long too. Also I could wear this piece all week and it wouldn't stink.
the best baselayer
Familiarity:

I've put it through the wringer

Fit:

True to size
This is the perfect shirt for any hard activity in the winter. Fit tight to skin with 1/4 zipper to allow for ventilation. Easy to layer and care for. Just the best...



my only thing is that zipper is never comfortable on my giant adam's apple.
Great skiing base layer
Familiarity:

I've put it through the wringer

Fit:

True to size
I wear this ski touring and Nordic skiing and love it. I'm 6'1" ~150lbs and the small is a great snug fit, good arm length as well.
Hi, I'm 5'11" 137 lbs. I don't know if I...
Hi,

I'm 5'11" 137 lbs. I don't know if I should order medium or small. Which one would you recomend me?



Thank you.
With your height you'll probably be looking at a medium. It won't fit as tight around the chest and waist, but nothing is worse than arms that are too short. There is a size chart with all the relevant measurements up near the size selection. Best of luck!
I'm 6', 146 and wear a medium but have small in I/O Bio and Patagonia lighter weight zip shirts. All three have long enough sleeves for my 6' wingspan. I use the lighter ones cycling mostly.

You should be fine in size small.
Ibex Woolies rock!
Familiarity:

I've put it through the wringer

Fit:

True to size
So comfortable, and such a great fit. Its super soft too!




Are you going to get in any new colors...
Are you going to get in any new colors soon?
Hey there, currently we don't have a back-order for other colors, sorry for the bad news.
my best winter shirt
Gender:

Male

Familiarity:

I've put it through the wringer
Skiing, cooling my heels in the cold, this is merino luxury. Whether on the ski lift or in the lodge at Aspen you'll be best dressed and comfortable all day. Worn this for 6 years and still good as new. Even wear it as a sweater at times.
I have had many wool pieces before but now have been as comfortable and lasted as long as my Woolies have!! This garment feature a uniques rib knit to it that allows it to conform to your body and offer an amazing fit.
by far the best base layer ever, washes great keeps you warm when you ski those cold days and keeps you dry I love it and would recomend for any winter sport
Smell great, breathe well
this shirt doesn't smell no matter what, i can go a week of training hard in it every day, and it will still smell alright at the end when i finally get around to cleaning it...breathes great, perfect baselayer
Amazing top. It does a great job by itself into the 50s, then I add an extra layer if it gets any colder. It's form fitting, and stays that way even after several runs. As with all merino products, it keeps me dry. The sleeves are a good length, and the zipper doesn't dig into the skin like others do. I'm 5'11" 185lbs. and the medium fits tight the way a baselayer should.
best cold weather shirt
Gender:

Male

Familiarity:

I've put it through the wringer

Fit:

True to size
I wear it skiing every cold day and thruout the cold weather. Perfect weight for -10F or above. I'm never hot or cold in this, perfect tempratrature regulation in the lodge or on the lift. Ibex is the best in merino wool quality. Very stylish.

These 2 shirts are now about 8 years old and show no wear.
This is another phenom piece of Ibex gear. It never stinks, it never rides up, hasn't piled, regulatets temps great. I haven't checked the durability of it too much cause it hasn't been warmer than 25 here for months and I've only worn it as a baselayer and not an outer, but if its like any other Ibex, it'll rock. One quazi complaint: it is very hard for me to zip the zipper all the way. I'm 6' & 150 lbs. I don't have a linebacker neck, yet it is not easy to zip it all the way up, and when I do, its tight on my throat. No matter, I'll zip the next layer. But it'd be nice to have a slightly larger neck. Also, it isn't the most insulating. NTS mid is definitely the way to go in real cold temps.
Great product. Very form fitting. Bought XL for my husband (6;4", 195lbs) but too small. Ended up giving to my son (6'1", 180lbs). Warm. Comfortable.
Son loves the 1/4 zip neck style. Comparable to Smartwool NTS midweight only slightly thinner.
looks killer, nice business looks. t-necks are under rated.
how tight is the fit, would it work on the...
how tight is the fit, would it work on the bike at all?
This is meant for use as a base layer type of clothing, so it should work fine on the bike.
Smartwool, Eat Your Heart Out
Having been somewhat disappointed with the massive amount of pilling on my Smartwool NTS I decided to give Ibex a shot. The first time I put it on, I already knew I would love it. It's like hugs all over my body...and who doesn't love those. It fit perfectly for a base layer, not overly tight, no dead space, and just comfy overall. Scratchy? I have not had any problems, pilling...nope. Durability, I don't know if it will hold up to a whipper on some rocks, but I am sure it will. What's great about it is that its built athletically. I have long arms and its perfect. All I have to say is...hell yeah to this guy.
Natural Antimicrobial Properties are Real
this has been a great multi-purpose long sleeve for me. it's great for winter running. but i think i've worn it most for ski mountaineering. solid piece. had i not just tested the "natural antimicrobial properties" of wool i would have thought that was BS. however, this weekend i ski toured saturday and soaked the shirt to the bone. then woke up on sunday and put it back on for running.. and really, it didn't stink AT ALL. kind of amazing.the only knock on this shirt is that it could be more durable... but that is what you get with a lightweight shirt i suppose.
I have this and the matching pants. It is always my go-to baselayer. It handles heat and moisture better than any of my synthetics, but it's most redeeming factor is found in merino wool's ability to handle odor in ways synthetics normally can't. I use this baselayer for ice climbing, skiing and winter backpacking. It's comfortable (not scratchy at all) and non-restrictive, even though it's not a loose fit. I can't say enough times how impressed I am with this product.