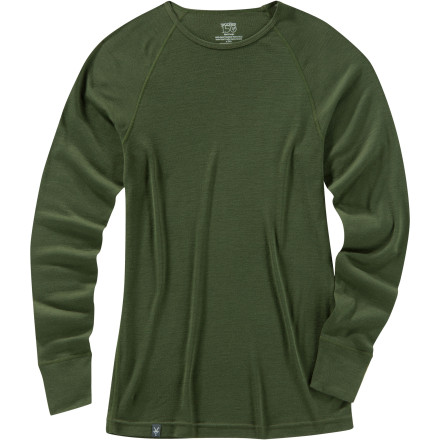 Detail Images

Community Images
Layer the Ibex Men Woolies Crew Long-Sleeve Shirt under other layers in the winter, or wear it by itself for cool weather aerobic activities. This form fitting merino wool shirt does everything a first layer should. This Ibex crew-neck shirt wicks moisture and if it does get wet, it doesn't feel cold and clammy like most synthetics. On backpacking trips or ski tours, the Woolie Crew Shirt's flatlock seams lie flat and won't chafe under pack straps. Once you arrive home, you won't have to change shirts—the Woolies Crew's lightweight Merino naturally prevents funky odors.
small and thin
Familiarity:

I returned this product before using it

Fit:

Runs small
really lightweight, i liked the feel but a M was incredibly small/tight on me. 5'9 140 with a somewhat built upper-body, will be exchanging for an L or possibly even XL. I generally wear M in shirts but the M was VERY tight/small.
Great baselayer
Familiarity:

I've used it once or twice and have initial impressions

Fit:

True to size
Used with a Craft active extreme crew and a Fox racing long sleeve mountain bike jersey. Spent six hours on the trail in 30-34 degree temps. No overheating and no cold. Sizes run pretty true. Large works well for me. Six two 175-180 lbs.
Disappointed
Familiarity:

I've used it once or twice and have initial impressions

Fit:

True to size
I bought this based on the description that it was a mid-weight base layer. But when I received it, it was a woolies 150 crew. 150g/m2 which is considered a lightweight base layer by most other company standards, and found it to be way to light for me as a base layer. I would recommend changing the description to a lightweight instead of mid-weight. If you like Ibex and want a more true mid-weight, go for the 220 crew instead
Awesome Baselayer!
Familiarity:

I've put it through the wringer

Fit:

True to size
Finally have a wool base layer and I really like it. It seems like this shirt gives much more warmth than it would seem at first. I have been warm in 20 degree weather with this and a flannel shirt on, considering getting the heavier weight for winter backpacking gear. I think this shirt is perfect for late fall and early spring trips, though that isn't to say it isn't good for warmer periods(+60F) of the year. I think when it is warmer someone would be fine with only this on.
Ibex Woolies!
Familiarity:

I've put it through the wringer

Fit:

True to size
Soft, and warm, Merino wool, North American Made!
Ice Breaker's cool and all...
but this i s hands down best base layer available. The cut is perfect on this shirt: super stretchy so it fits everyone, enough length in the sleeves so it wont ride up, but not too much extra so it wont bunch up, extra length at the waist so you can tuck it in and it stays put (like a base layer should). i have two of the 150s and have been totally psyched. get the 220 if you're a cold person.
Just used this on a three day tour of kings peak never took it off and it smelled great on day three. Fits close to skin but not tight like spandex which I prefer if I am wearing for an extended period of time as it feels like your skin can breath better.
Love It!
Gender:

Male

Familiarity:

I've used it once or twice and have initial impressions
Fit is true, feels great next to skin, feels dryer than synthetic when wet,No smell after three days in the uintas
Awesome wool crew
Gender:

Male

Familiarity:

I've used it several times
My husband wore this skiing in Colorado for 4 days. He loves it and another Ibex short-sleeve woolie. He said it was the perfect layer and the orange color was hot. He is a sweathog, and he did say it smelled a little bit. But he still prefers it over synthetic, plastic clothes and is willing to rinse the shirt for another day of wear. Great, great shirt.
SNUG AND WARM
Gender:

Male

Familiarity:

I've used it once or twice and have initial impressions
I used this as a baselayer when I was out mountain biking and it was low 30s out (light icy rain/snow). the other articles of clothing were a dri fit t shirt, and a windbreaker. I could have gone down to just this and the t shirt once I warmed up.

Don't be fooled by the picture of this item it is form fitting. I am 6'2" 200lbs (athletic/muscular) and a large was on the verge of being TOO snug. Was a little bit itchy when I first put it on, but I have pretty sensitive skin. Did what it is meant for.
The Best
Gender:

Male

Familiarity:

I've used it several times
I own Patagonia and SmartWool undershirts;they are quite good. But the Ibex Woolies 150 is my favorite. Great around the house or on the trail.
I love the Ibex products, think that wool is the superlative base material, and that Ibex is the superlative producer of wool clothing. The woolies fit like a snug base layer, so consider sizing up.
Get Backcountry $20 Discount Code(More than $50 Order),Get in: http://www.eoutdoor.tk
These rock. Not a bit itchy, not a bit smelly after four years, not a bit worn or frayed. Just everything I could hope for in a baselayer. I've worn it as a baselayer in everything from brutally cold Wisconsin January storms to a single layer for some cool northern Minnesota October paddling, and stayed dry each time. You can't go wrong with something this versitile. One of the only pieces of gear I (or my dad, who has the same one) have owned that don't get stinky after a couple years of abuse. It is hard to find wrong with Ibex, even for the price. I wish I had wool instead of hair.
I recently purchased the Ibex Woolie Crew and I am very pleased with it. I am a sweat hog. I mean I sweat tying my shoes or putting on my ski boots!. I know it sounds disgusting but it's true. Consequently I need a base layer that absorbs all that perspiration and still keeps me somewhat dry. I've tried all the synthetics (Patagonia's capilene, UnderArmors whatever they call it, and none of it works for me. Sure it feels good and I'm of coarse dry to start out, with but after 5 minutes of strenuous hiking or skiing I'm wet from within and clammy. Not a good feeling).

The Ibex Woolie Crew is both functional and stylish. I would recommend it to anyone. The only caveat I would have is that Backcountry listed this particular model as "Midweight." It, in fact, is "Lightweight" at 18 microns in thickness of the individual fibers that comprise the shirt. Anyone considering purchasing this garment should bear this in mind. I usually wear a IceBreaker 200 as a base layer for winter skiing and thought I was buying a comparable weight garment in this Ibex Woolie Crew. However, I have now used this shirt to do some backcountry skinning in moderate temperatures and it worked great. I look forward to purchasing more Ibex wool garment as the need arises. And, hey, you can never have enough gear, right?
Great lite wool base layer.
First Ibex's stuff rocks.

Now this base layer is great compared to other base layers. Ultimately its a shirt so there is not too much variance within lite base layer shirts so while this shirt is great I wouldn't say is light years beyond anything else out there.

It is very light weight but Ibex's stuff is pretty rugged so I expect it to last a while. Its wool, my favorite, and not super itchy as merino of this price should be.

Fit is snug.
First off, let me mention that unlike many of the customers at this site, my cold weather gear is used for long treks to the bus stop, long waits for the bus, and long bus rides with no heat. I have about 0 tolerance for the cold. I am a librarian and have a need to dress appropriately (not looking like a homeless guy with 30 bulging layers) for the library, this requires thin and warm clothes. This shirt is awesome for all of the above situations. It is very comfortable to wear by itself around the apartment, whether or not the heat is working - it doesn't get too warm if the heat picks up, and it keeps me sufficiently warm when the heat (generally) does not kick on. I still haven't gotten the whole "wearing pants" thing down yet, though, so if they make similar leggings, that would be great. Also, it works well for shoveling snow - I wear this, a t-shirt, and a light jacket. It keeps me from overheating and freezing. Also, it comes in black, which is necessary.
I like its athletic cut, I like that it isn't itchy (though I don't wear it as a base layer- I put it over a capilene medium crew), I like that it's light, and I like that it's a natural material. All that said - this shirt is VERY warm. If you're going to be active, don't wear this unless it is very, very cold out. I live and play in Vermont and I wouldn't wear this for an aerobic activity if it were more than 10 degrees.
True to size, comfortable fit, but itchy. Don't consider myself the sensitive type but could not get over the itchy feeling of the merino wool. I own other top brand wool products but had have never felt the itchiness to this degree.
Bottomline, not for those that are itch averse.