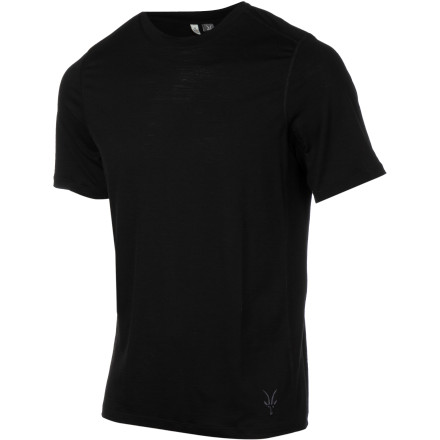 Detail Images
Ditch your sweaty cotton tee for the cool and breathable Ibex Men's U-Sixty T-Shirt made of merino wool. Finely knit merino naturally wicks moisture away from your skin on hot days, resists odor, and feels itch-free. Reach for this relaxed fit performance shirt when you're feeling adventurous and you don't have time to consider whether cotton is up to the task or not.
Great product
Familiarity:

I've put it through the wringer

Fit:

True to size
This is my new go-to t-shirt. Love wool clothing, as it stays relatively stink-free for days of wearing, and I find Ibex products better made than other merino clothes companies such as Icebreaker.
Unanswered Question
Should I expect this shirt to shrink when I wash it, or does it keep its size?
My go to T-Shirt
Gender:

Male

Familiarity:

I've put it through the wringer
I was hesitant to drop the cash for the shirt, but I managed to get it on sale. It instantly became a favorite. The fit is baggier than I normally wear and a bit boxy. Its soft and light. I've worn this relaxing, hiking, and biking. It wicks away moisture perfectly and is great on muggy days. My only complaint is that due to the thinness of the product, it is more susceptible to tears and punctures than your traditional synthetic or cotton. Its a great alternative to the more expensive Ibex T's
I really wanted to like this shirt a lot, so much that I would buy more. I would describe the fit as regular, not tight or athletic. The fabric feels good, but I would say it is a little warmer than the synthetic fabrics (without synthetic fabric stink). But the cut in the shoulders was a little weird. It was almost like there was some extra fabric and it is made for someone with massive trap muscles or something. The other downside is that when this shirt gets wet (i.e. sweat) it smells like a wet dog, or more appropriately, a wet sheep. This is one of the few shirts made in the U.S., which is the primary reason why I picked it over others. I don't mind paying a little extra for U.S. made products, but they have to work. I can get over the smell and it seems to go away after a while (or maybe my stink just overcomes it), but the weird fit just does not work for me. Other than that, the fabric is comfortable and no matter how much I sweat, once it dries, it smells relatively fresh (don't worry, I wash it anyway). I have also hand washed this shirt in a hotel sink and in a regular washer and it has held up well. Maybe mine had a defect in manufacturer, who knows. But I give it a slightly warm recommendation, as long as you can return it. As for mine, I kept it, works wells enough, but not enough to buy another.
I travel a lot, for long 7-14 days at a time. This shirt packs great, comes out of the suitcase great. Wears for days and still feels clean against skin. As far as itchiness goes on a scale of 1-10 I give it an 8. Not unbearable but not bad at all and in the heat I feels better against my skin than cotton. Sizing was true in my case.
I noticed there are 46 reviews and several...
I noticed there are 46 reviews and several pics for the Icebreaker SuperFine Tech Lite T-Shirt and none for this T-shirt. However, I've seen this Ibex shirt in person and it's a very high quality shirt. What differentiates this shirt from the Icebreaker T-Shirt? What I'm looking for is comfort level (softness, zero-itch), warmth, and durability for skiing and backpacking. Any thoughts would be greatly appreciated.
I've worn the long sleeve version of this and it's fantastic. No itch. Very comfortable across a wide range of temperatures. It wicks away sweat and dries quickly. All the stuff you want it to do it does well.
I am hooked on wool. I switched from Icebreaker (and SmartWool) to Ibex about a year ago because Ibex makes their clothes in the US. (No political rant here, but it seems like a good idea to support American jobs.) In my experience, all three companies use very nice wool -- the fabrics are super. The U-Sixty is what Ibex calls their 18.5 micron. They make a (more expensive) finer gauge called 17.5, but I don't know how this compares to the Icebreaker.
Imo Icebreaker is the better known of the two brands, but I have found Ibex to have the same quality and some cool materials and ideas that Icebreaker has never tried. I love both brands and have way too much in my wardrobe. You might say I'm addicted.
Ibex has better seam detail than Icebreaker (flatter, less bulky), and has a hanging loop so that unlike Icebreaker you are not stressing the fabric material directly on a hook. Other than that, both Ibex and Icebreaker are great merino tshirts
I have a light smartwool T and it got a hole in just one washing - read the reviews, same for many. I have an ibex lightweight zip neck, wear it just about every day and it just keeps on going, just really impressive. May not be the absolute minimum of itch, but its close. Icebreaker is the best known, but they are suuuuuuuuch slimes: their youtube videos of French people in facilities with French names with just the briefest momentary shots of 100% asian people in the background show you that they outsource to china and >>>cover it up<<< with no scruples. You can excuse made in China if you want I suppose, but their misleading marketing materials are reprehensible. *I* would never buy them, never ever trust them to stand behind my clothes.