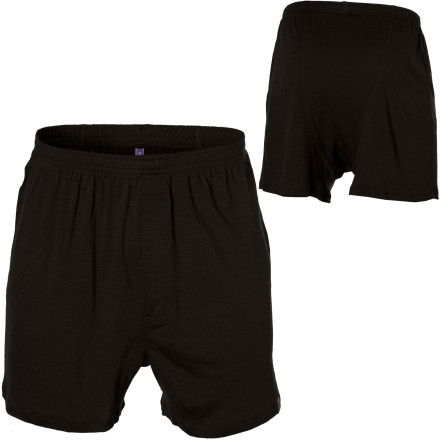 Detail Images
kinda long for boxers and a bit tight in the waist for the size. Nice material just be aware they run long and tight waisted.
super comfy and breath great. the perfect boxer for chilling in. i have yet to wear them to the gym or bball, but i'd imagine they'd do fine
Don't get grossed out by this, but it's true. I wore these for three days with no funk. After washing them, I wore them for 5 trips to the gym and a hike, no funk. On hikes I find they are very comfortable and breathe well. They do ride up periodically but it's not a hassle. No more polyester trunks for me on long treks, it's all merino all the way.
The feel of these boxers is amazing. Incredibly comfortable and, being merino wool of course, naturally resists any kind of funk.

The only con is that due to the large leg holes they ride up fairly easily. Would be great for walking around, but not so much as the office where I'm sitting all day.