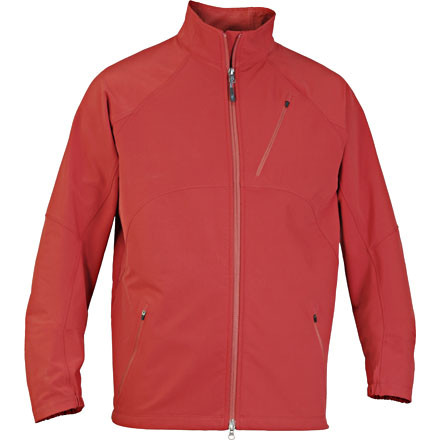 Detail Images
...especially in the body. I had to return it.
Some of the reviews go back to 2006? Is...
Some of the reviews go back to 2006? Is this just a older style or has this jacket been sitting in the warehouse since then?
Neither. Backcountry just doesn't spring clean their reviews very often. A lot of them are still applicable even with model changes.
What are the care instructions for this...
What are the care instructions for this jacket? Machine washable?
According to the manufacturer, it is machine-washable. However, it also notes that you should first attempt to remove any stains or dirt with just water & rubbing.
I got this jacket for my husband. It looks great on him. Fits perfectly, lightweight, perfect for most weather. He's used it for skiing and general activities. It folds down to almost nothing.
Outstanding softshell! I wear it rock climbing, as well as hiking and for general outdoor activity and am very impressed! Moves well with you and resists araision nicely!
Decent mild weather jacket.
I ordered this Ibex jacket on the advice from Ibex customer service that it would be weather and wind resistant (the key word is resistant). Fortunately, I had ample time to try this jacket out and bad weather cooperated during November and December in NM, CO, and UT. Unfortunately, this jacket is NOT windproof. Try holding it up and you will see daylight through the porous cloth material...that to me is a very good indicator that it is not windproof. It will shed light rain but I was afraid to subject it to heavier rains, so I tucked it under a Gore-Tex shell (my apologies to the Ibex folks) and stayed reasonably comfortable. I was surprised that it wasn't very warm when worn alone as an outer shell. Most Ibex gear is very good at temperature regulation. Sure, I could heavy-layer but my object was to find a light, windproof, warm outer jacket that didn't need bundles of layers because when I'm hiking in the high country, I want to keep things light and functional. It is a light jacket and would serve well in more moderate weather but didn't work for me during high elevation, backcountry explorations in the West. As with other Ibex clothes, it does appear to be made well. Unfortunately, unlike many of the other Ibex products, it is not made in the USA which was a downer for me.
I have been very happy with my Pingo jacket. I live in Pittsburgh, and in any week during the winter, you can get temperatures from 15 to 50. You can get sun, rain, or snow. In the short time I've had the jacket, it's proven to be great in any condition, whether I'm just going around town or exercising.
When I received my Ibex Pingo jacket a week before spring break in Crested Butte, I wasn't sure I had done the right thing. I slapped it on over a T-shirt and walked around Baltimore in 25F weather with a 15mph breeze. My friends were sure I must be freezing, but no, I was warm as toast.
I skied a really windy day in CB with 40mph gusts, high of 15F with Capilene T-shirt and a Patty zip tee and I never felt a thing (other than stoked, but that's a review of Crested Butte ;-).
The jacket looks great, it's totally comfortable and stays drier than I might have imagined. It's a good investment!
This is a great jacket. This was purchased for a friend, but I have one in a large size and I use it for everything. I was able to bike all winter in the Midwest, and I never felt a drop of rain, snow or got frozen out from the wind. It stays dry very well, and when I do sweat in it, it vents and dries very quickly. I love it, and would highly recommend all Ibex gear (I've got a bunch of it!).
Northern New England weather can be difficult...wet, windy, cold and raw. This jacket eats it up and spits it out. Easily the most versatile jacket I own. I wear it running in any weather, cross riding in the windiest, wettest conditions, and it's stylish enough for a Vermont formal wedding.
Skied in the rain; it was awesome! Skied in 10 below; it was awesome! Took a digger on my cyclocross bike; it was awesome! I have yet to wash it as the merino interior absorbs my stink. Even stacking wood won't get it dirty. Magic Pingo??? Oh so wondrous. It's not supposed to be waterproof but it is. Yet it's the most breathable piece I own. Super light-weight but oh, so warm. The best part; it looks sooo damn cool! My only complaint? Make more stuff with this special Ibex Pingo fabric, guys!