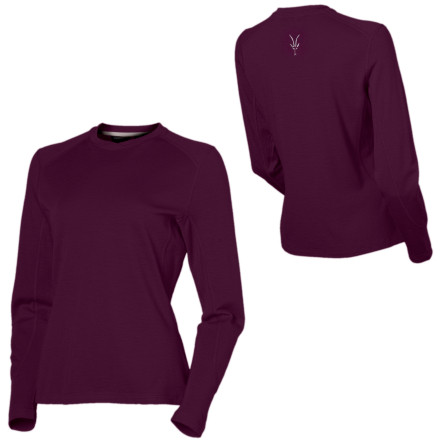 Detail Images
What do you think about this product?
Have questions about this product?
great fit, as nice as smartwool but better colors
I only wish it had the quarter zip, but I think the color's so great I can't gripe too much. Growing up in NH you'd think I'd be OK with the cold, but I wear these wool tops every day from September through April in CT. Pathetic. This one's really flattering and has those seam details that make it look classy and different. Even the crew neck is a bit different with its intersection and overlap. Size true to fit.

My only worry -- haven't washed it yet -- is that it'll shrink more than Smartwool. We'll see...I'm careful but my husband isn't; I call him the wreckless washer.
I have had 2 of these tops, in tonic and plum, now for about 2 months and have worn them a *lot*. I wear them running, travelling, and to work. Plan to wear them xc skiing. They launder well. I put them in the washing machine but not the dryer. They are so comfortable - no itch and no odor - that today I'm ordering the persimmon. And what a relief that they fit somewhat loosely.
I agree that it's not close fitting like a first layer, but an excellent 2nd layer. have a close fitting long sleeve t-neck (lite wt merino) on under it at the moment and it's perfect! with my tummy, not everything should be close fitting!!! as with merino wool, it is very soft and love the tonic (green) color.