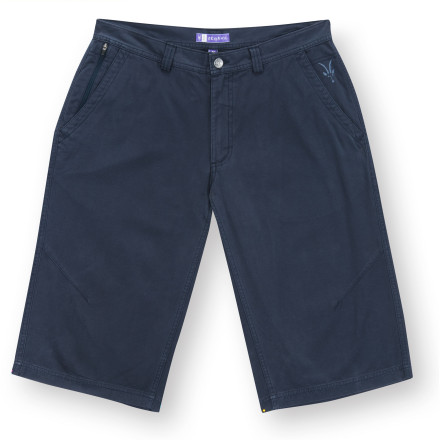 After a day of chasing bad guys around Oahu (or, more likely, surfing), pull on your Ibex Men's Five-O Long Shorts and a comfy shirt, and join your friends for a beach bonfire. These relaxed-fit shorts hit above your calves and have knee darts so you can comfortably crouch in order to build the fire.
What do you think about this product?
Have questions about this product?
Uhhhh, you need to be really tall!
I thought I was getting a real treat with these shorts, but I was sadly let down. Maybe they just aren't the right shorts for me. I'm 6'2" 190lbs, got the 36" waist, and these things were abnormally long. My girlfriend looked at me, and said... "those are weirdly long", so without a hesitation, I returned them. It may be the style in Southern Cal, but the other 49.5 states they don't fly. I gave them 3 stars b/c they actually fit my waist, the fabric was super soft, but my problem was the length. You be the judge for yourself. Highly recommend if you're 6'5" or taller.