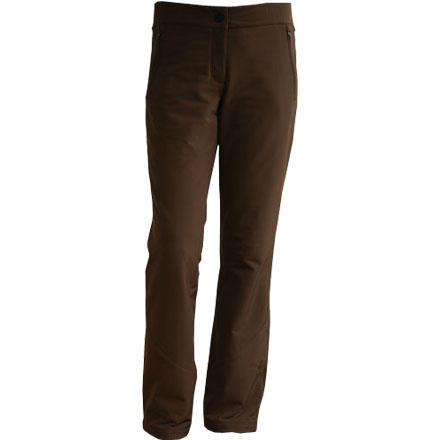 Comfortable and great looking too.
I ordered these pants to take to Europe in the fall for moderate temperatures in the mountains. Travelling with only a carryon I wanted something that could do double duty walking around in urban areas as well. These serve nicely. Not too hot just walking around, great stretch for ease of mobility. Love them!
These are fabulous pants and I now where them even when walking in cold weather. Although a little large around the waist I adjusted the velcro waist for a better fit. A real find
I've been looking for softshell pants that were warm and water resistant ready for backountry ski trips. I finally bit the bullet and tried the Alpstar pants. I'm 5 feet tall and have a 26 inch waist and the pants fit perfectly. They are warm and cozy on the inside and ready to fight the elements on the outside. They are super comfortable during activity. I couldn't have bought a better pant.
What is climawool?Are these pants...
What is climawool?Are these pants waterproof?
Best Answer
climawool = Schoeller synthetic weaves and Merino wool. they are definitely not waterproof. However, both Schoeller and merino wool are very water resistant, and they will resist snow very well. so these pants are really more for fast forward winter sports such as nordic skiing or snowshoeing.
I ordered these pants based on the positive reviews, and I do think they're nice-looking. But be warned - the waist is quite large, and there's no real way to adjust it. I absolutely couldn't wear these - sizing down wouldn't work, because the hips fit okay, but the waist gapped terribly. My waist is 10 inches smaller than my hips, so these should have fit, but they don't.
These pants are warm and comfortable. They stretch nicely when used in moderate winter activities. They look great too. The size 8 ran large (I normally wear 10's).
Definitely pleased with this pant!
This is the most versatile pant I own. I wear these to the store and I also run in them. With a pair of thin woolies underneath they perform extremely well in the 25-35 degree range and repel light precip well. They are also cut very comfy; not too tight or loose. Another quality product from IBEX.
I love these ski pants for cross country skiing, and only wish I found them sooner. They couldn't be more comfortable: lightweight, but warm, totally-move-with-me flexibility, cozy... Alone they are great for skate skiing, breathable, but warm. When classic skiing on the colder Northern Minnesota days I add a layer of long underwear and I'm super toasty. The pants have held up through bush whacking and sliding on ice on my butt. And I feel like a million bucks wearing them, they are super-flattering. In fact I wish I had a pair of jeans that fit like them... Highly recommended!
These pants are fantastic. Smooth, quiet, lightweight, flexible and warm. They're a nice change from the swishy oversize boxy pants that have been ubiquitous over the past few years. Highly recommended!