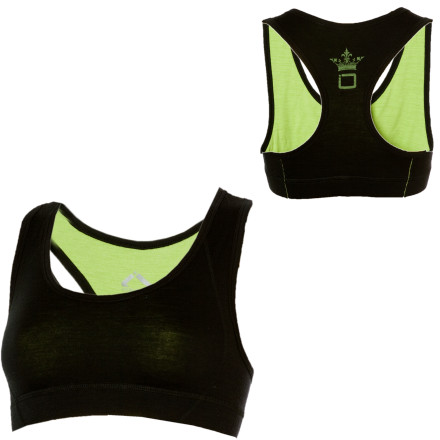 Detail Images

Community Images
We all have one lurking in our closets—a sport bra that might seem all right when you pull it out, but starts stinking of an accumulation of last season's workouts when you get active. The I/O Bio Women's Contact Top won't pull this trick on you, thanks to the natural anti-odor properties of the top's soft merino wool. This natural fabric pulls moisture away from your skin as you sweat, while temperature-regulating properties make sure you don't feel too hot or cold. A touch of elastane provides great fit and support as you go for a personal best in your next race or take on a challenging bump run.
Offers medium- impact support for A and B cups, and low-impact support for C+ cups
Surprisingly supportive sports bra made from pure merino wool, the best!
The fabric is so soft and cozy. I can wear the contact bra 6 days straight on backcountry camping trips. I also wear this bra for low impact activities at the gym such as yoga. The XS fits snugly on a petite frame.
Great cut, flattering bra, very soft
I ordered two of these bras, one blue, one black, for an upcoming backpacking trip in the Himalayas. I am a 34C or 36B depending on brands, I ordered the Large and they fit great! The material is soft and stretchy, the seams are well placed for shaping and to avoid chaffing. I would say this bra is good for medium to high impact sports for A to B cups and medium to low impact for C cup. If I get cold, the material doesn't prevent nipple show through completely, but it is minimized a little.
advise with caution for size
i was pleased with the service from backcountry, and the top was fine for what it was, however, i would caution that it does only provide the mildest support for a c-cup. It's still good for moderate activities.
I have a couple of these bras -- black with green lining and light pink with green lining. They are awesome. Perfect comfort and support for backpacking (32 B-ish) or traveling. Not like an elastic bandage. Much less compression than the synthetic/lycra bras I like to run in. I bought the XS. I noticed that there is no XS in most of the colors. Have they changed their sizing or is the XS just sold out?
In the pink not the stink
Great little bra top - super comfortable. I normally find any bra tops like these too tight around the rib cage - but this was a great fit. Packs down well, and no stink.
I'm a huge merino fan. This top is great for skiing and other cool weather activities. The fit and support levels were as expected, and I'm pleased with the finish and quality.