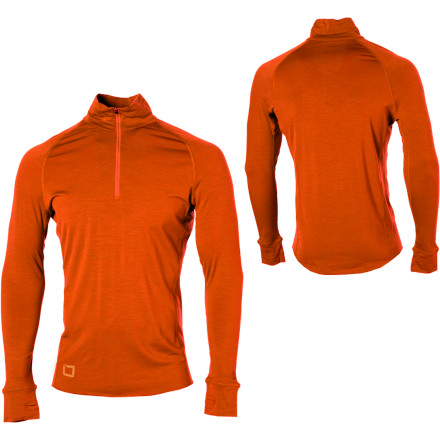 Detail Images
The 100% merino wool I/O Biocompatibles Men's Contact Half-Zip Long-Sleeve Shirt keeps you cool, dry, and smelling like a rose no matter how long you sit out beneath those radio telescopes listening for communications of the third kind. This extremely versatile base layer takes over as your favorite layering piece for anything from a warm, alpine day hike to a January morning ride through the great white deep. I/O's Enigma knit keeps things light so you can wear the Contact under a mid-layer on chilly days or alone when the sun is out. This performance base layer features friction-reducing raglan sleeves and side panels as well as I/O's signature contrast stitching.
Bought this before it got cold...

Used it for the first time as a base layer while doing a 10 mile easy run with an outdoor temp around 20 degrees...worked perfectly...

I like it so much I now wear it around the house as a base layer with something over it...it keeps me very warm...I may need to get a few more...:-)
I bought this as a gift for a friend in XL. I think he will love it for its function but I will enjoy it for its softness.
Favorite Winter Base Layer
This is my go to for winter base layers. The zipper is an awesome feature. Really nice to have it you start to get really hot when you're out backpacking, skinning, or snowshoeing and don't want to take off your shell. It's really warm and wicks away sweat. I think I have two or three of these just so I have one ready in case the others are in the laundry.
I love wool for it's wicking and wide range of temps. I found that having this zipper layer is something I cannot live without. Keep it zipped when the weather is cold and zip down when you heat up a bit when you're out back packing or climbing.
how much does this weigh?
how much does this weigh?
I would contact I/O Bio for the official answer but I felt the weight was fine for skiing.
I have the hooded version of this baselayer and it weighs a whopping 6.81 oz! So without the hood probably looking at around the 5.5-6oz range. It also is thicker fabric than my other ltwt wool baselayers so it should be more durable despite such a low weight. Should fit your lightweight goals well.
Having started out with Ibex...then Icebreaker...I have settled on I/O wool. All 3 make fine pieces, but the I/O stuff is the softest IMO. Wore this piece for 3 days skiing in Utah last weeks warm spell, under a softshell. Perfect, kept me warm and handled sweat during the changing temps. Held its shape well and did not stink. I'm 5'11'' and 180 lbs, L fits me perfectly.
I am 6'1" and weigh 190. I bought the XL and it is a good fit. Washed on warm and line dried and it seems that the arms shrunk a tiny bit. I would not want the L though, I think it would be a bit restrictive. I think that the shirt is just as soft as my icebreaker and smartwool shirts. It is about as thin as icebreaker 140.
Over a period of 4 days in Big Bend on the Outer Mountain Loop this month (January) this shirt served me well. It got up to almost 80 during the day on the Dodson and with it unzipped and the sleeves rolled up I was quite comfortable.

Between the long sleeves, thumb holes, and zip neck I was able to regulate my temperature well and by combining this with a wind shirt at times I was always comfortable on the trail.

It has a few snags in it now where it was hooked by things (everything out there seems to be prickly) but nothing created a hole. Although I was careful not to be to rough on it I couldn't always protect it and in those times it held up as well as any other shirt would have.

I started the trip at 6'2" and 200 pounds and the large fit me tight but comfortable. If you want it loose size up from what you think you need.