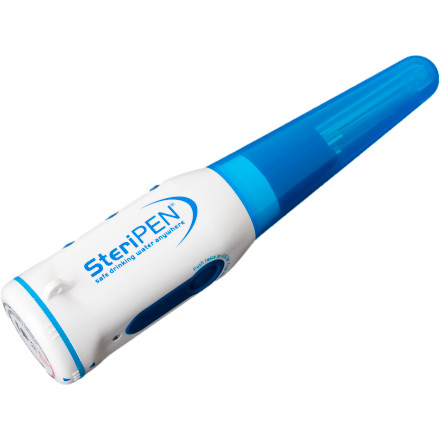 Detail Images
Using similar UV treatment techniques found in water bottling plants and hospitals, the compact Hydro Photon SteriPEN Classic provides a high-tech, foolproof way to quickly purify water anywhere around the globe. Here's how it works—dip the SteriPEN in any vessel containing up to 16oz (454g) of clear water and start stirring. When the device's sensor detects water, the germicidal UV lamp comes on and administers a 38-48 second dose, destroying 99.99% of bacteria, viruses, Giardia, and other nasty little bugs. It's that simple! No messy pumps, no gross-tasting tablets—just a UV pen that could probably double as a rave accessory.
Decent product, but only for specific purposes.
I have used this device on a 40-mile backpacking trip on the Superior Hiking Trail in northern MN. Having used Iodine, Pur-Hiker filer, and chlorine, i decided to add one more to my list with the Steri-Pen.

Pros: This will kill both crypto and viruses (big and small) with one device. After researching, I understand now that this is the only method that will for sure kill the big stuff and the small stuff in the same pass. Chlorine will kill everything but the cryptosporidium cysts, but most filters will take these out, so previously I had been using both methods in tandem. No need to do so here.

Cons: Be careful! If you are backpacking and are used to dipping your Nalgene right into the river and then purifying, you may need to reconsider your method if you are using a Steri-pen. The danger with this procedure is that the water on the threads of the bottle will not be purified. You should be cautious about pouring into your sterilizing bottle with another contaminated container. Perhaps I am being paranoid but it only takes one drop of bad water to do you in.This being the case, one advantage of the chemical and filter methods in the backcountry is that they can clean threads by holding the bottle upside down during purification and filling the threads.I also found the battery weight issue to be problematic. As you have certainly read, Alkalines are light but don't last long, and NiMH's are heavy.

Thus this device seems better suited for world travel trips in which one has access to spare batteries and weight is not so much of an issue. For the backcountry, I'll stick with my filter and a few drops of bleach. Then I don't have to worry about unclean threads or an electronic device failing.
Initially the steriPEN worked fine, except for eating batteries. After about three extended backpacks it became very unreliable. It would sterilize 2 to3 bottles and stop, nothing
could be done so it would work on other bottles from the same source. As far as stirring with it, any movement would cause the red non- sterilzation light to activate. Fortunately
Backcountry stands behind their products and I was able to return it. I purchased an MSR gravity filter which works perfectly.
This is a great little tool for some trips. I would not rely solely on any battery powered water treatment for any extended trip but its great for a trip with a buddy, group or frequently travelled trail who could back your water supply up. One could also use boiling or iodine if your water pen failed in the field. I have enjoyed using my pen and have had no problems (stirring is a pain though). If you are prefiltering your water source with some sort of a handkerchief or towel, make sure their there weren't any harsh soaps used the last time it was washed or you'll have some not so tasty but safe to drink water...
I have a 2L hydration bladder, can I use...
I have a 2L hydration bladder, can I use the steripen to sterilize it all?
Best Answer
Probably not going to be a good idea. I know it does up to 1 liter (32oz or a Nalgene sized water bottle) effectively, but it would probably be risky with 2 liters. Not only is there a possibility the amount of time would be too little, but there is also the distance the UV light can travel through the water and still be effective. I have the SterPEN Adventure and just use a single nalgene and then pour it into my bladder. The extra weight sorta sucks, but at least I know I'm safe!
Not worth the extra hassle...
The last reviewer sums up my position on the "Why carry it if you also need to carry a back-up?" It is unreliable at best.

Why do I need to have the proper salinity to have the unit work, why not have an override that will allow me to turn on the light?

Why carry all those heavy extra batteries, why not have a hand crank to charge a Li-on battery?

Filters are tried and true.
Batteries make me paranoid
While my wife and I used this for 5 weeks while backpacking across the country this past summer, we found the batteries dead at least once. Thankfully we had a backup plan, but it got me thinking: why bother with this, if you're going to carry a backup plan?

Yes, the SteriPen can purify 1L in 90 seconds and we never had any problem that appeared to be related to water, but for something this fundamental reliability is key. With a chemical treatment you know how many doses you have left. With this, you have no idea if you have 100L or 1L left, and who knows, if the button gets hit in your pack or the temps kill the batteries, your new batteries may be dead tomorrow morning.

There are plenty of chemical treatment options that can purify your water very quickly. Many are as light or lighter than this and you know exactly how much you have left.

I like the steri-pen, I really do. But if I'm going to carry a chemical backup plan, why am I carrying this in the first place?
This device is easy to opperate, effective in treating water, and is light weight. It is great for backcountry use and international travel. The only thing to keep in mind is do you want your water treatment depending on a battery?
Could you just pack things a little better?
I ordered the SteriPen and a few other items. They arrived in a box that was easily 5 times too big, and with no packing material. Granted the SteriPen comes in its own box, and is blister-packed inside that, but it does include a glass bulb, electronics, etc. So, I contacted Backcountry, they agreed it wasn't packed properly. They reminded me that I can return any item anytime for a full refund, and suggested I could wait until a problem developed and then return it. I pointed out that I didn't want to have this thing fail prematurely while on a backpacking trip, so they arranged for me to return this item, and they would send a replacement. Great. Today, the replacement arrived... this time in a box almost 2 times too big. Still no packing material. And this time one corner of the shipping box and one corner of the SteriPen box were crunched. Tired of dealing with this, I went ahead and checked to see if the SteriPen worked. It seems to work. For now. I guess I'll just have to rely on Backcountry's "forever" return policy, and hope it doesn't fail while I'm in the backcountry. Honestly, would it hurt so much to add some crumpled newspaper to your boxes to protect electronics?
i do most of my drinking out of a .5 L....
i do most of my drinking out of a .5 L. soft sided platypus bottle. would i have a problem with "stirring" or "agitating" to make sure all the water is treated properly? or is there some type of adapter cap i would need?
Best Answer
all you have to do is stir it you dont need a special top
you shouldn't have any problems with the stirring or agitation, there may be an issue with the minimum diameter of the platypus bottle top. The top should be bigger than the base of the pen in order to fully accept the steripen into the bottle. If you can fit a quarter through the top of the bottle, it should be fine.
You may have a problem with the tube that doesn't get UV'd. I'd recommend taking off the tube when using the Steri-pen, ensuring the tube is ABSOLUTELY dry and then reconnecting it - the same is true of the mouthpiece.
I have the SteriPen classic with the pre-filter and I love it. It's convenient, it's easy, and it's extremely fool proof. All you have to do is literally stick it in water and turn it on. I use NiMH rechargeable batteries and I haven't had a problem yet but I am sure to keep extras with me just in case. The prefilter works for 4 micron particles but you could always use a coffee filter if you had to. However, I must say, I have yet to use my SteriPen in cold weather or at a high elevation so my review may not be as comprehensive. Regardless, all things considered, it is well worth it.
the reviews on this website are all really...
the reviews on this website are all really positive, and it seems like people have used this thing everywhere, including nepal...it's just that looking at reviews on other websites, people have complained about the steripen not working at higher elevations or in cold weather (i'm going to kili in june, which is one place some people have mentioned it failed)...do you know if this was a design flaw that was fixed, or whether you think it's a non issue?
Best Answer
It's most likely a matter of individuals attempting to purify snow melt water. SteriPEN water purifiers effectively disinfect snow melt waters, but in some instances, the SteriPEN may not readily activate if the water is so pure that there is not enough trace mineral content to cause the water sensors to recognize that the unit is submerged in water. Very pure water is a poor electrical conductor -- the sensors may not conduct enough electricity to recognize the water. This can easily be corrected by adding a small pinch of salt, or a drop or two of some kind of electrolyte beverage to the water. If you need more info, visit SteriPEN's FAQ website, link below:
www.steripen.com/faq.html


I am interested in this purifier and I...
I am interested in this purifier and I have sigg bottle. where can you get the seal for the steripen?
Best Answer
You need the SteriPEN Sigg Bottle Adapter. I checked and backcountry does not carry it. If you google "SteriPEN Sigg Bottle Adapter" you will find a few places that carry it one is three letters and starts with an R....
Used it a total of 3 months on the road. Never got sick. Some tips, no particular order:
1. Buy one large silk neckerchief, 2 Nalgene HDPE narrowmouth bottles, 4 high-capacity AA NiMH batteries, and a wall charger. The neckerchief is your filter for "floaty stuff" and the Steripen snaps into the mouth of the Nalgenes like it was made for it, providing a watertight seal. Shake instead of stir, and no spilled water! Buy all this and never have to find bottled water in rural China again!
2. Dry it thoroughly before storing! Otherwise you'll get scale (limestone) buildup between the sensor electrodes and the pen will refuse to start.
3. With NiMH 2500mAh batteries, you can purify about 40 liters before a recharge.
4. Note that the Steripen DOES NOT remove harmful chemicals like oil or gasoline from water! To fill your water bottle safely from a source with oil or other petrochemicals floating on the top, submerge the bottle first under the water mouth down, wipe off the mouth underwater, and turn the bottle right side up to fill. Cap the bottle underwater and bring it back out.
What do you mean Angus? Don't you just...
What do you mean Angus? Don't you just hold the lamp in the bottle and let the UV purify the water?
Yes, you can use the steripen with a sigg. There was an issue that it was hard to "stir" properly since the sigg opening is too small. However this is a new sigg/steripen accessory it help with this. Its a small rubbery ring that goes over the mouth of the sigg. You insert the steripen and the ring causes a seal. Then you can turn the sigg upside down and agitate so that all the water gets treated properly. The ring is less than $3. Only possible issue you may have is that you can't see through a sigg to make sure the light stayed on. However, the steripen does have an indicator light, so this shouldn't be too much of an issue. As an added bonus, the rubbery ring is nice and soft and isn't as cold when drinking out of the sigg bottle in winter.--------------------That does indeed solve the problem. The stirring is to make sure it's all contacted sufficiently, but that would do it.
Will this product work in conjuction with...
Will this product work in conjuction with a Sigg bottle or Klean Kanteen?
It'll work, but it'll be hard to stir.
can this be used with a platy bag instead...
can this be used with a platy bag instead of a nagelene bottle? or do you need the wide mouth bottle? thank you vicky
, ☃bcs_badge_alumni_label☃
Best Answer
This does not require a wide mouth bottle and will work with a Platypus bag.
How does this work with glacier water ?...
How does this work with glacier water – in the past I've found that silty (milky-looking) glacial run-off has a tendency to clog my older pump filter. I image that the particulate matter in the water would be too fine to be filtered out by the Steripen pre-filter, but I could be wrong on that. Anyone have experience with this?
Best Answer
The pre-filter will help but may clog with fine sediment.
Yeah, the SteriPen pre-filter probably wouldn't be any more effective than your pump water filter with particulates that small. Try using a coffee filter, a handkerchief, or letting the matter settle in the bottle first (then dumping it into another container) before using the SteriPen.
Just took this to Nepal. Worked great. This is more a note that I certainly didn't see the 125 litre battery life other folks here seem to have gotten (granted I purified a litre at a time, not 16oz). On rechargeable NiMh batteries claiming a 2000mah capacity, I got 31 litres out of the first set of batteries. With the second set I brought, I had unfortunately left them loose in a plastic bag. Unknown to me at the time, as the batteries bang together in the bag (even without completing a circuit), they will slowly discharge each other (I figured this out as I was moving stuff around in the tent and saw small sparks as the batteries contacted each other). A strip of masking tape to keep 'em in line would have saved me some grief. So, I bought a set of duracell titanium alkaline batteries. They finished out the trip at 13 litres with a little gas left, but they had to 'rest' between litres for a couple of hours (the NiMh batteries would do 3 litres back to back no problem). Maybe my NiMh batteries are the problem, maybe it was zapping multiple litres in succession, but I'm not picturing 125 litres out of any set of batteries (even if they're rated 2600mah). Don't take my word for it, though, try 'em out before you go -- give 'em a full charge, and zap a litre morning and night for two or three weeks (or however you expect to use them) to see how long they'll last you. Consider buying a bunch of Propel (or similar) flavoring packets for the water, too, it makes the off taste stuff a lot easier to drink for your wife :)
My wife and I took a year off and travelled through South America(3 months), North Africa(1 month), the Middle East(1month), India(2 months), SE Asia(4 months) and China (1 month) on a tight budget. Our steriPen was probably our best buy overall. We didn't dip any water out of the Ganges or anything, but we never got sick (due to water!) through out. One thing that I think is worth mentioning too, is the fact that you aren't buying bottled water and you aren't throwing away a bunch of plastic bottles. Lastly, we used rechargeable batteries which fit both our camera and the steriPen. (The portable charger was small enough to offset the inconvenience.) In short, not only was it an effective tool, it also is incredibly efficient.
Used this on my first backpacking trip; I am very glad I did the research and bought this instead of tablets. It fits inside of a 32oz nalgene wide mouth bottle, it is very light, and worked without any issues (I tested it the first night on some fairly dirty water without incident). Pair this with the Steripen pre-filter (sold separately) for a very light weight water purification solution.