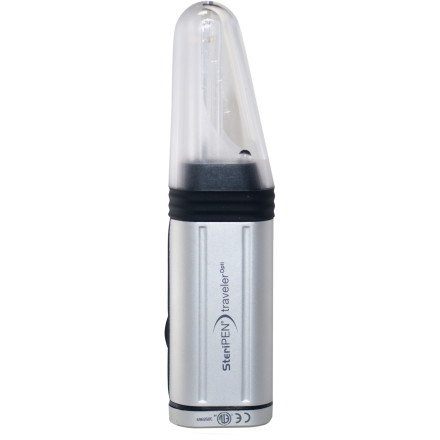 Detail Images
Know all those tourist guides who say, "Whatever you do, don't drink the water"? They've never had the Hydro Photon SteriPEN Traveler Mini Opti Water Purifier in their travel kit. The UV lamp purification system is good for up to 3000 treatments and kills 99.9% of bacteria, viruses, and protozoa in just seconds. As a bonus, the integrated LED flashlight illuminates the path to a creek or faucet when you need a drink in the middle of the night.
Kills 99.9% of bacteria, viruses, and protozoa
Purifies one liter of water in 90 seconds
Good for up to 3000 treatments
Integrated LED flashlight
Anyone have any thoughts on this product?...
Anyone have any thoughts on this product? Reliable? Does it work? Pros Cons? What are the best uses? I'm going backpacking in Alaska in July. Looking for the best option for water filtering.
Best Answer
Hey Adoraeleven,



Personally I love my SteriPEN. It's light and takes up very little space. Now I am going to get very specific on syntax because this is not a water filtering system. This is a sterilizing device and does not remove or kill anything from the water but instead it sterilizes anything that might be in the water so that it cannot reproduce in your body. Instead anything you ingest will just pass right through your body without any harm.



Also, I kinda like to double up just in case my primary water purifier fails. In your case since there should be an abundance of fresh water where you are hiking maybe bring some iodine backups.