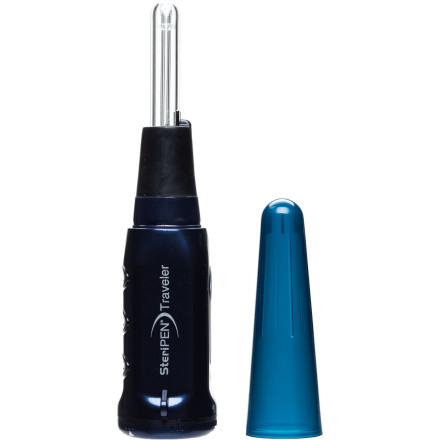 Community Images
The Hydro Photon SteriPEN Traveler 3-in-1 quickly and effortlessly sanitizes water in commercial water bottles or glasses so you can be confident that you're drinking pure, safe H20 wherever you roam. All you have to do is put the end in your drinking water, push the appropriate button and let it work its purifying magic.
Ultraviolet light purifying technology destroys 99.9% of bacteria, viruses, and protozoa without filters or pumping
Compact size and light weight lets you pack this purifying pen in a purse or small pack
Tapered neck makes forms a tight seal with the openings of commercial water bottles so you can turn the bottle upside down for quick water agitation
Multiple settings let you select either 16oz or 32oz treatments
Streamlined design is compatible with a SteriPEN FitsAll 4 micron filter adapter for times when you also need to remove particulates, too
Battery power means you never have to worry about finding an outlet when you want to clean your water
Efficient power use means you can filter up to 200 0.5L-servings of water on one set of lithium batteries (not included); alkaline batteries yield 20 to 40 uses
Good for Travel
Familiarity:

I've put it through the wringer
Great for travel, not ideal for backpacking. Don't get me wrong, it still gets the job done. If you want something that's both lighter, much smaller, and more efficient, go with the Adventurer instead. I originally purchased this for backpacking, used it for a season, and decided to upgrade. This does a great job at sterilizing water, which is why I still gave this five stars. If you don't mind the size and weight, then this is a great option and will do just fine. Keep in mind that they recommend using lithium AA batteries instead of Alkaline because lithium will last longer. Although it's cheaper initially, you'll be spending more on batteries (another reason to upgrade). Lithium batteries aren't cheap, and you go through Alkaline batteries really fast. Overall it's a great unit that I'm sure you'll be happy with.
Keep your family and yourself drinking safe water on your next trip out of the country with the SteriPEN Traveler. The economical Traveler purifies 200 half-liter servings of water on just one set of AA lithium batteries.
The Traveler.
Saved my life!
Familiarity:

I've put it through the wringer
Used it for a month while bike packing from Canada to Mexico. Made it so even when I drank from questionable water sources I never got sick and trust me, that was on a daily basis. This has become an essential whenever I go camping.
Does this traveler steriPEN have a low...
Does this traveler steriPEN have a low battery indicator?


Best Answer
This does have a low battery indicator. There a several different LED indicator patterns so to keep is simple I will just link you straight to the user guide so that you can take a look and memorize all the flashes.



http://www.steripen.com/media/wysiwyg/traveler/user-guides/traveler-user-guide-en.pdf
ultraviolet and ultra cool!
turns my eyes purple when i stick it up my nose
What does a limited lifetime warranty...
What does a limited lifetime warranty cover?
You can find their warranty info here:



http://www.steripen.com/warranty/