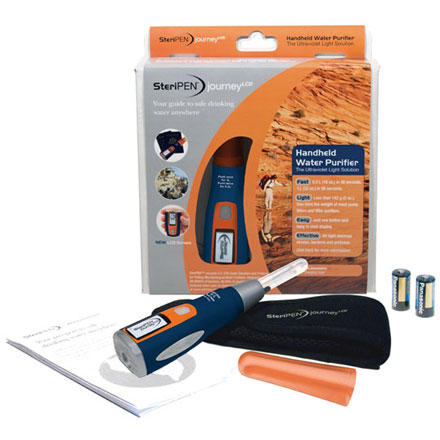 From the backcountry to backwater villages around the globe, the Hydro-Photon SteriPEN JourneyLCD Handheld Water Purifier destroys waterborne microbes. Carry the SteriPEN with you and safely drink from a Chinese tap or a stagnant pond. This purifier's UV light kills viruses, bacteria, and protozoa—including Giardia and Cryptosporidium. The lightweight JourneyLCD has a screen display that tells you dose selection (half or one liter), battery status, and countdown timer. Compared to messing with water filtration systems, tasting iodine, or boiling, using the SteriPEN is a cinch. The Journey works with Hydro-Photon's pre-filter (not included), which removes particulates, and it ships with two CR123 batteries, which will purify roughly 100 16-ounce bottles of water.
After a 1-time test at home, I was able to filter 2 liters of water before the thing went dead on me. I was on day 2 of a 7-day hike. Had to switch to Iodine tablets.
It's all about the batteries
The SteriPEN JourneyLCD requires 2 rechargeable or disposable CR123 batteries

Disposable Lithium Batteries:
- Expect about 50 cycles (1 liter treatments) before needing to replace the batteries
- Name brand batteries work best: Energizer Lithium Photo, Sanyo, Panasonic, Kodak, Duracell

Rechargeable Lithium Batteries:
- Expect about 30 cycles (1 liter treatments) before needing to recharge the batteries
- Recommend AW brand (http://www.4sevens.com/product_info.php?cPath=53&products_id=201)
- My personal tests with AW brand rechargeable batteries were 40 cycles before needing to be recharged

SteriPEN Community Blog:
Video: Battery Recommendations for SteriPEN Products
http://community.steripen.com/blog/video-battery-recommendations-for-steripen-products

Note: SteriPEN models that use four (4) AA batteries average twice the number of cycles as those that use two (2) CR123 batteries. Carrying an extra set of CR123 batteries will provide a comparable number of cycles to those models.
This is a great solo water treatment option as it is small and works really fast with little effort, however using it for a group of more then 2 is time consuming as you have to wait between bottles 2 and 3 for about a minute before it will work again. All in all a great product and the pre filter is a great addition when filtering slow moving or lake water.
Small, light, keeps you from getting sick
Unless you need to remove grit, this is the best way to clean your water. It does it perfectly and in a small and light package.
As Advertised - No Problems At All!
Just got back from a 3-day backpacking trip along the Napali coast in Hawaii. We wanted to travel light and fast, and had been looking for a way to avoid carrying too much excess water in our packs. Water along the trail is plentiful and clear, but prone to carry harmful buggies. In order to mitigate the risk of picking up Leptospirosis along the way, we opted to bring the Steripen Journey.

Was a little skeptical at first, especially with some of the other reviews on this product. We were sure to read the instructions and test the unit at home before leaving for the trip. Unit worked flawlessly at home, so decided to go with it. We brought along a few extra batteries just in case we had a similar experience as Sean Chism related in his review.

On trail, the Steripen Journey continued to work flawlessly. We devised a method of using one 'fill' container (nalgene) to fill from the stream. When filling from the streams, I would take care not to dunk the lid, and then wipe dry the inner rim and outer threads before purifying (as these are not purified during the process to my understanding). I was purifying for myself and 5 other adults. I had no problems whatsoever with the device. You have to ensure that the water sensors stay submerged during the entire purification process, or the Steripen will turn off and flash a frowny face to indicate an incomplete purification. I would stir the pen around the container as well to ensure all the water was being exposed to the light - not sure if this is necessary or not, but made me feel better about it. Once completing a purification cycle in the 'fill' container, I would dump into someone else's bottle and begin the process again until everyone's bottles were filled.

During the 30-day trip, I probably purified around 40L - 50L of water. The unit still shows full-battery life after the trip, but I'd recommend bringing an extra set of batteries in any case - even if just for peace of mind.

Overall: I loved the Steripen Journey, will definitely use again, and based on my experience with it, would recommend to any looking to lighten the load.
This thing straight up sucks!
Let me say first that I have other Steripen products. I like them, I use them, and I trust them. Now let me tell you what I think of this piece. Fisrt off my review is based off of personal experience, and my eye witness account of three other Steripen Journeys. All four units chew batteries up at the average rate of one pair per liter. At home the unit worked as it should, but the first time I took it into the field it wouldn't even treat one half liter with two new pairs of batteries. It was cool with lows in the thirties, I slept with the unit in my bag, and treated no different than my Adventure model that I have used in much colder temps without a problem for years. To top it all off when I got home I tried both pairs of batteries in the unit again, and the Steripen Journey again said the batteries were bad. Then I put both pairs into my Steripen Adventure, and both pairs worked flawlessly. I have used the Steripen Adventure without a single failure for several years now, and I would recomend it to anyone out there. the Steripen Journey on the other hand, well I wouldn't recomend it to my worst enemy.
Works, but with some limitations
I used mine for a week in Grand Canyon, and it did well. If you're spending time where relatively clear water, with easy access to a depth of 6" minumum is available, a SteriPEN may be for you. That said, the SteriPEN system has some limitations.

It's easy to contaminate your just-UVed water. It doesn't take much contact with dirty water to contaminate the batch, and using the SteriPEN with its pre-filter can present several opportunities for contamination. I found the best way to keep bottle threads clean was to pour some clean water out of the bottle.

SteriPEN does little to filter particulates, even with the pre-filter. Cloudy water may get sterilized, but then you have a bottle of sterilized, cloudy water. I also wonder at the effectiveness of UV sterilization on cloudy water. It'd probably be best to allow water to settle in a separate container prior to sterilization, just like every other water treatment method.

Low water levels make collection difficult, as does difficult access to the source. I camped on Longs Peak / Boulderfield recently, and trying to fill a bottle in that area would be very difficult. A traditional filter hose reached through the boulders fine (I used my MSR Hyperflow), but a SteriPEN user would be out of luck. Also, it's difficult to get all the way down to some water sources with a bottle in hand (undercut banks, snow, etc.) and stay dry at the same time.

Some situations definitely lend themselves to SteriPEN use. A kayaking trip would be an obvious example, as would most fishing or hiking trips that followed a good, relatively clear water source. Keeping a SteriPEN on hand to deal with urban boil orders for possible water contamination would also be a good use. If you want the cleanest water drawn from the backcountry, pairing a traditional filter with a SteriPEN will deliver, and without any chemical treatment. If you don't mind the weight of that approach, there's no better way to clean up water. Otherwise, stick with a traditional filter in the backcountry.

BTW, I found that pairing a SteriPEN pre-filter with a Nalgene wide-mouth Cantene was a great way to cut down on bulk.

UPDATE: July 26, 2011
I just returned from a canoeing trip in the Boundary Waters:
http://en.wikipedia.org/wiki/Boundary_Waters

With relatively clear, plentiful, deep water everywhere, the SteriPEN was perfect for this trip. The only problem I had was dealing with the infernal continuity contacts. I believe they're designed to protect the UV bulb by not powering it up unless it's in water, probably due to overheating. Occasionally, it failed to detect the water, so I made a "jumper" from a fishing spinner to short across the contacts once it finished powering up. The SteriPEN wouldn't start up with the jumper in place, so after powering up, I used the jumper, then stated the sterilization cycle. It worked fine, then.

I'll make a better fitting jumper before the next trip. Other than this failing (and it's potentially a serious one), it worked fine. Someone suggested adding a little salt to the water to increase conductivity, and I think we're both addressing the same problem. A better design solution would've been to include a manual override function for this protective circuit.

I still think it's a decent product, but I won't take it along without a way to address this issue. For the money, I still believe a traditional filter system would be a better, more flexible water treatment solution.
I bought this thinking it would be perfect. I read the reviews and disregarded the negatives I read thinking the reviewers must be imprperly using the steripen or if the negatives were true surely the maufacturer would have fixed any issues with this newest model. I was wrong. When the unit worked it was effortless and magical however, it mostly didn't work which made me forget about the magic I experienced when it did work. I took this out for a 6 day trip and it worked all of three quarts on the first day and that was it. I followed all instructions and even kept the pen in my pocket the whole time to keep it warm. I tried it at home after returning and it did not work on my tap water either. I added salt per the previous reviewers suggestion and all it did was create salty untreated water. I love the concept and hope they make it reliable for use in the field in the future but this is not. Water is to important to leave to chance.
Would you buy a car designed by ferrari, and built by ford. I hope not. This is a great product idea which I really want to love. However, it looks and feels like a toy from the dollar store. Poor h20 proof battery seal, (utilizes a bogus O ring) which falls off way too easily. Batteries don't last. It works only when god wants it to. I took it on a two week outdoor survival course, and it quit working after 10-14 nalgenes. I replaced it, thinking it was just a lemon. Then backpacking in So Ut with it's replacement, it quit working one day into the trip, with new batteries. For an item that will either keep your body healthy and sustained or in peril, it has been built like a chinese water pistol. The customer service was terrible the 1st go around. Now on the 2nd they seem to acknowledge a flaw and have been a bit more helpful, which is irreleavent to the fact that it is hokey pokey piece of gear. My buddy has the Adventurer model, which seems to be a little better built and had no problems over two months of periodic use on the original batteries. If you want to give one a try, don't get the journey, the frowny or smiley face is cute and all, but a green and red light on the Adventurer will tell your Pavlonian mind the same thing. Green=good red=bad
Had the same Problem, found the fix
Hi, I had the same issue with the unit not completing a cycle and receiving the dreaded frown face. The problem is the conductivity of the water was too low for the probes to recognize they are indeed in water. Perfectly distilled water does not conduct electricity, small (microscopic)dissolved particles within the water do. In essence the water was almost too clean for the unit to work, that being said I still wouldn't risk not treating the water. I just added a very small amount of juice crystals to the water in question and the unit worked without a hitch. I also tried collecting water where wave action on the lake at the shoreline would stir enough particles in the water to make the unit work, this also worked well. Please note this is only for rare instances where water is so clean that the unit won't otherwise work. For the most part you should still try to find the clearest water possible. We must both hike in the best places to have such great water. Hope this helps.
Great when working properly
Reliability has been questionable. I have used this cool gadget on two weekend backcountry trips. When it works properly it is an amazing product, however sometimes, and more often than not on my last trip, the unit would not engage properly. The light would flash on and then "frown" from LCD would appear, and yes the batteries are new a yes the water was making complete contact with the sensors. I cannnot explain why this happened, very frustrating, It may be an air bubble issue over the contacts when inserted into the Nalgene bottle. Just be mindful of this situation. Overall a cool gadget but if I was alone in the woods with only this as my lone water filter for over a couple of days I might be concerned.
Cool new product...user friendly
Saw a SteriPEN Journey model in action recently. Pretty cool. Does the same thing as the other models but adds alot more user friendly information on the small LCD screen. It counts down the time you have to wait until the water is purified and gives you information on battery life, dosage, etc. A smiley face appears if your water is ready to drink...a frowny face if not. Takes some of the guesswork out. Seems like a worthwhile upgrade to the other models for the extra information given.