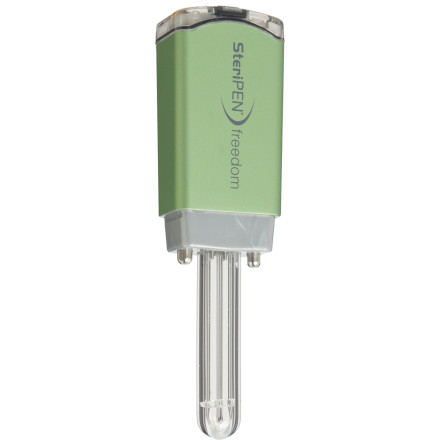 Detail Images

Community Images
Description
A pen to right your water supply.
Toss out what you knew about water purification, because the Hydro Photon SteriPEN Freedom redefines the category by packing down small inside luggage or a backpack and using a rechargeable UV light to destroy harmful bacteria, viruses, and protozoa in suspect water supplies. In 48 seconds, this pen treats up to 16-ounces of water with the touch of a button. Never worry about foreign water supplies when you're in the outdoors, on travel for business, or vacationing somewhere that's known for a lack of potable H2O.
Just remove lamp cover, immerse quartz-encased UV lamp in water, and stir for 48 seconds until automated LED indicator light lets you know water is safe
Destroys 99.9% of bacteria, viruses, and protozoa such as giardia and cryptosporidium
Provides up to 8000 0.5-liter (16oz) treatments in total
One-button operation uses LED indicators to walk you through the process easily
Recharges via USB cable to computer, AC outlet, or with a compatible solar charger (sold separately)
USB cable, AC adapter, and neoprene case included with SteriPEN
Love this thing!
Familiarity:

I've used it several times
This is a must have for back packing! Its very light weight and compact, and saves a lot of hassle carrying bigger water purifiers. Used it on a four pikes trip outside of Aspen and was able to bring just a Nalgene and this and had more then enough water from passing streams and water falls. Just stick it into the water and it automatically turns on and starts killing bacteria, viruses, and protozoa. I used it twice as long as suggested because I was a bit worried about giardia , but I had no issues. There's no way to carry enough water for 3 days of hiking so this is a great choice.
Steri with LIGHT!
Familiarity:

I've put it through the wringer
So cool! Love it!

Small, light, and effective what more would you want from a purification system!

Not only do i feel like i am a magician every chance i get to sterilize my water, but it is super effective! I have fed my steri pen water to a few of my pals and they never had any issue, needless to say i have never had any issues with sickness either.

The charge lasts for a good amount of time, it is always a smart idea to bring tablets in any situation.

I would not recommend using this in any water you cannot see through. Sediments will block the UV and you will have a bad time!

I am a believer in the Steri pen!
Not impressed
Familiarity:

I've used it several times
I charged this thing up for my backpacking trip in the Uinta's. Thankfully, I am a little skeptical so I brought some tablets in case it didn't work. The first night I was able to purify enough drinking water for the night (about 24 oz). I tried it again the next morning and the battery was too low. I'm going to give this thing another go on my next trip. But so far I am not impressed.
Got this as a backup, love it so far
It seems really well made. It charged nicely and appears to work well. I plan on doing a water test with this at school. Will update with results. I plan on using local, clear mountain stream water. NC Boone area. Will use several sources, one of which will be right past a large pasture with a lot of cattle. In the name of science I'll serve it to my girlfriend first so I can monitor the effects without prejudice. Just kidding.
Code update required.....really
Gender:

Male

Familiarity:

I've put it through the wringer
Bought this to use in Argentina and Chile for 2 months of travel so we could recharge in the field. Checked before we left home that it worked, when we arrived it would not work. (It flew from Alaska inside of a very well padded pot). After trying for several days e-mailed Steri-pen and their response was.

"Sorry you're having a problem with your Steripen. It sounds like you have a pen that needs a code update." Which is not possible overseas, so we carried the steripen for 2 months and never used it. So, returned it, as now that I am back home in Alaska I have no need for it and no trust either.
Useful Gadget
Gender:

Male

Familiarity:

I've used it once or twice and have initial impressions
I have used it a couple of times just playing with it. Bought it for my bug-out bag to use in conjunction with a filter. I plan on charging it with my Joos Orange solar charger. A solid investment to ensure safe drinking water for a long time.
How many treatments can you get off of one...
How many treatments can you get off of one charged battery. I won't be able to recharge it on my hunting trip. Thank you!
Best Answer
Hey, in the perfect world of mfr's specs, you'll get about 40 1/2 liter treatments per charge. Depending on your daily consumption (assuming you're going to drink no more than 2L per day), you should get about 10 days out of a single, full charge. Results will vary, so probably plan for no more than a week or so. You know though, if you're going to be near the car at all, something that's handy is an AC inverter for the cigarette lighter or directly off the car's battery. A fairly good one only runs about $40 at the auto parts store and can be used for charging all sorts of electronics. Hope this helps.
How many treatments can you get off of one...
How many treatments can you get off of one charged battery. I won't be able to recharge it on my hunting trip. Thank you!
You should be able to get 40 cycles out of a charge. Keep in mind that one cycle is for 0.5 Liters so if you are filling a 1 Liter bottle or 2 Liter reservoir you will need to cycle several times.