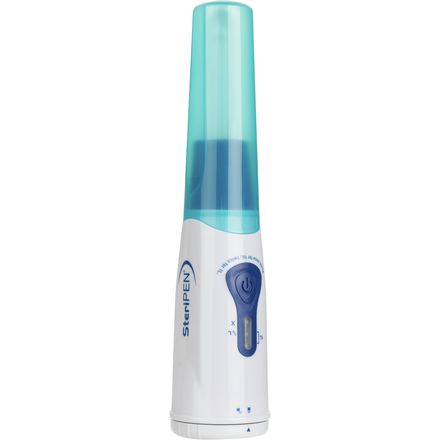 Hydro Photon Steripen Classic 3 Handheld Water Purifier w/ Prefilter Bundle Pack
View Larger Image
Detail Images

Community Images
Description
Treat the water you drink to avoid cutting your trip short or bringing home more than photos.
The Steripen Classic 3 Handheld Water Purifier with Prefilter Bundle Pack uses shortwave ultraviolet light to disinfect your backcountry drinking water. The Steripen system disrupts the DNA of harmful bacteria, viruses, and protozoa so they won't infect you on your adventure or afterward. The Prefilter screws onto 63mm-thread bottles, creating a tight seal that removes particles and debris from the water.
Takes between 45 and 90 seconds to treat a water bottle
Each lamp will treat up to 8000 bottles of water
Prefilter fits standard 63mm-thread water bottles and uses a 40 x 40 micron screen to remove particulates from the water prior to treatment
Requires four AA batteries (not included)
Colder temperature will reduce the number of doses per battery (we suggest keeping your batteries warm in cold temperatures to extend their life)
Ships with a neoprene carry case and user guide
Share your thoughts
What do you think of the
Hydro Photon
Steripen Classic 3 Handheld Water Purifier w/ Prefilter Bundle Pack
? Share a...
Peace of mind, easy to carry.
Small and easy to carry. I use it mostly for peace of mind when drinking slightly questionable water while traveling. So far it hasn't let me down.
Potable Water in My Pocket
Familiarity:

I've put it through the wringer
I've put my steripen through the ringer-- backpacking, car camping, and traveling throughout the world. It's never let me down no matter the water source. I had a crack on one of the small plastic lips that kept the lid on, returned it to Steripen where they replaced it for free.
A backcountry Lightsaber.
Gender:

Male

Familiarity:

I've used it once or twice and have initial impressions
Thanks to Steripen and Backcountry dot com for selecting me to review this Jedi tool for the Community.

While the summer backcountry may be free of avalanches, the threat of stomach destruction remains all too present in most areas where you actually want to go. So you could pack tablets like Heyduke from The Monkey Wrench gang and end up as surly from drinking the revolting mixture that remains. Or you could pump your way back to the early nineties and use the time you spend scrubbing the filter as an opportunity to think of all the other things you could be doing. Or, and this is the best part, you could bring A FREAKING LIGHTSABER with you to keep the intestinal party animals inert.

Like something out of Star Wars, Steripens work by killing or scrambling the DNA of the nasties floating in that pristine looking stream. Literally, you press a button. Then wait. Then drink. Better even than that last dumb app you downloaded. Easier than whatever complex thing you're attempting to backcountry cook for your significant other. And let's not forget--the choice here is either feeling like the poo that you drank, or using a Lightsaber. So not actually a choice at all.

Other reviewers have covered the prefilter well, so I'll mention the winter backcountry utility. One huge downside of pump filters is that, no matter how hard you try, you can't get all the water out. Mid-winter or during frosty spring trips, this can freeze the filter and leave you right screwed for drinking. Enter the Steripen. Instead of a frozen pump, you have a lightsaber. So chop a hole in the ice, fill up, zap the bastards, and carry on. Or if you're persnickety about melting snow, cook it down, then zap instead of boiling to save on fuel.

Easy? Yes. Safe? Yes. May the pen be with you.

Note: bacteria were harmed in the creation of this review.
A backpacker's best friend!
Familiarity:

I've used it once or twice and have initial impressions
We love to backpack, and over the years we've tried a variety of ways to purify our water and make sure it's clean and safe to drink. I feel like every type of system has it's pros and cons:
Purification tablets: bottom line....they work--I've used them and never gotten sick from the water, but let's be honest......they taste GROSS. I keep them in backpacks for emergency situations only--they are never ever my first choice.
Pump Systems: They work great! I love that they really get the "river" out of the river--no sand or particles, just crystal clear water. But--they are often bulky and take up space in my pack, and the pumps I've used don't always work in every environment. For example, if your water source contains leptospires (teeny teeny tiny bacteria--commonly found in Hawaiian waters) many pump systems can't filter out this tiny organism--Ultra Violet light or tablets are the only way to go in this case.
UV light. We've been using a UV light for water the last couple of years and while the results were always great, there were still some issues. The system we previously used only worked with ONE specific bottle. This is annoying and not at all practical. While it killed the bacteria in the water, it still left us with sand and sticks in our teeth from time to time.

Enter the Steripen Classic 3!! All the benefits of every other system, and Steripen has worked out all the kinks and flaws......and then added even more bells and whistles.

Let's talk about how small this little guy is-- it comes with a case and slips much more easily into your pack than any pump--you'll hardly realized it's there (in the case it measures just 7.5 inches long and 2.5 inches wide at it's widest). The Steripen can be inserted into any container you have--just hold it there for a few seconds (48 seconds for 1/2 liter, 90 seconds for a full liter to be exact), and VWALLA! Clean, bacteria-free water (with a light indicator to tell you when it's done). But wait....there's more! There is also a screw top "pre-filter" that fits on top of your bottle to keep all the little floaties out of your water and insides.....it's perfect!

The Steripen Classic 3 is battery powered--4 AAs--check out battery recommendations here:
http://www.steripen.com/uncategorized/video-battery-recommendations-for-steripen-products/

and scroll down to John Ross's review for more battery info.

oh! and it's watertight--for all you klutzes who like to drop your stuff in the river occasionally--you can rest easy. All of these extra features are great, but most importantly, it WORKS. It makes your water safe to drink so you can enjoy your time on the trail and under the stars instead of curled up in the bushes with your insides churning. I was so happy to partner up with SteriPen and Backcountry to review such a great product that is bound to make all of our adventures more enjoyable.

First choice for daytrips.
Gender:

Female

Familiarity:

I've used it several times
This year I hiked the upper St. Joe in search of adventure and trout, I came home with something the lab couldn't identify and a resurgent interest in water purification. Thank you Backcountry.com and SteriPEN for having me review the SteriPEN Classic 3 for the BC.com community.

The unit is well-constructed, the battery door is not waterproof but it is tight. The cap over the lamp is also tight, it resists pulling but is easily removed by twisting – between the cap and the soft sheath, I'm not worried about breaking the SteriPEN during transport.

I had plain alkaline batteries on hand when the SteriPEN arrived; I've treated 6 liters of water on 4 occasions and I've been too lazy to remove the batteries during storage, I still have juice. Sure, lithium is probably the way to go but it's nice to know that I could rob the TV & DVD remotes and head out.

Operation is straightforward, attach the pre-filter to a Nalgene, open the vent, dunk the bottle while taking care to keep the cap out of the untreated water, then remove the vent from the pre-filter, and use the SteriPEN to treat the water.

One issue I have with the SteriPEN system is collecting the water. It's easy enough when the bank of a lake/river drops off sharply but so many water sources are less than ideal. It seems to me that I'll do a lot more bending over and get wet feet than I would with my trusty water pump – those hoses reach a long way and I don't have to submerge my bottle in untreated water.

I'm too lazy to carry my 14oz pump for day trips, I carry all the water I'll need or risk the beaver fever (probably not after this summer though, ugh). SteriPEN to the rescue! Less weight and less space than my pump, I can't wait to take it hunting and especially kayaking – it'll be really easy to collect water from the kayak.

The Classic 3 has performed flawlessly thus far. I'm excited to have a lightweight treatment option that isn't drops or tabs (foul taste). SteriPEN made a believer out of me.
it works!
Familiarity:

I've used it once or twice and have initial impressions
or at least, it sure seems to! No signs of giardia three days post-Steripen'd water consumption for this girl, yet... I used this on an overnight trip in the Zion Narrows and it worked out really well. The prefilter fits my .75L Camelbak bottle, and made it super easy to collect water from the river (which is downstream from a cow pasture and is trampled through by lots of humans every day) and gave me some peace of mind that I wouldn't be consuming silt, sterilized cow pie and other debris along with my filtered water. Only downside is that the green/red, morse code-esque blinky indicator light system is going to take some time to learn (so I'm gonna pack along the instructions for the foreseeable future) - but other than that, this is a pretty neat little solution for filtering water!
Impressed
Familiarity:

I've used it several times
I didn't know these existed until a 26 mile day hike back home in the Adirondack's. My buddy pulled this out of his pack and we used it 3-4 times over the course of the day. Never had the dreaded "beaver fever". Needless to say I will be picking one up prior to next hiking season. Very quick and easy.
Will this work on a 1.8 l hydration...
Will this work on a 1.8 l hydration bladder?
Best Answer
Hey Connor,

These work best on smaller quantities of water and as you can see the recommendation for 1 liter of water is two 45 second cycles with this tool. The larger the quantity of water and the more cloudy it is the less effective this pen is at sterilizing the water as the bulb cannot effectively illuminate the farther reaching points within your container.

Personally when I use my SteriPEN I make sure to cycle the water in a Nalgene bottle and carefully switching into another container if need be.
Powered by four AA lithium batteries, using ultraviolet light, the Classic purifies an incredible 200 half-liters of water with a single set of batteries. Whether you?re hiking or camping in the wild, you'll be confident that you?ll have access to safe drinking water.
This is great for day hikes and longer trips alike! Just fill your water bottle, press the button, and swirl the light around in the water. About a minute later and Preto! You've got some delicious clean water! You might need to strain the water through a bandana or something to get the sand particulates out.