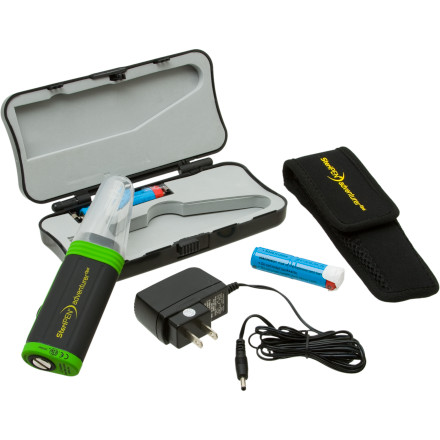 Detail Images
That clear-looking water is most likely harboring microbes that could ruin your trip, so use the SteriPen Adventurer Opti Ultraviolet Water Purifier, which includes a solar charging case, to neutralize them. UV light wipes out most waterborne pathogens including dysentery, diarrhea, cryptosporidium, and giardia without the use of chemicals. For adventurers who are off the grid for long stretches of time, the included solar charger lets you recharge the purifier's batteries within hours. The purifier also includes a new, integrated feature: a built-in flashlight.
New integrated flashlight saves space in your pack
Purifies one liter in 90 seconds
Lightweight for international, off-the-grid travel, and high-altitude expeditions
Two recharged CR123 lithium batteries can be recharged in few hours (depending on the solar conditions) with the integrated solar panel, or using an electric outlet
Lamp lasts through 8,000 uses, or 2,000 gallons
I have one. I did not get the solar charging case. So I don't know what benefit that feature provides. This device seems to purify the water, .i e. I have not gotten sick.

I like its small size and lightweight. I find the flashlight feature to be of marginal benefit. The light is small and not very bright. It is ok for around camp but that is about it.
The batteries are not long lasting. I would recommend carrying an extra set. Also the batteries are expensive. Buy them on line and you can save a lot of money.
Does the case have a clip on the back so...
Does the case have a clip on the back so you can clip it on top of your pack and let it charge during the day?
apparently - Yes - From the website -


Simply clip the charging case onto a backpack or set it on the ground and aim it towards the sun to recharge the double-cell battery; empty charging case weighs 6.8 oz.
Unanswered Question
Anyone out there know if they fixed the...
Anyone out there know if they fixed the rechargeable battery issue?
How long does one charge usually last?
I have an older adventure. The good. Clean fresh tasting chem free water. Immediate results. No pumping, no cleaning, no wet pump and filter bag in your pack. Light easy and really cool. With the new flashlight feature (although I use a headlamp) multi-purpose is always good. Great for out of country trips.

The not so good: (batteries and no sun means no clean water so a redundant system is almost always necessary) I camp with Boy Scouts... who always want to use my steripen. It really does not do well when needing 30 liters of water at one time. Has problems some times with not so clean water and cold water.

I for one love not tasting chemicals in my water after 4-5 days on the trail. It goes with me.
gotta love this technology! just to clarify, i only got one battery with this set up even though it looks like two in the picture
Unanswered Question
Does the Steripen Adventure Opti work with...
Does the Steripen Adventure Opti work with non-rechargeable CR123 batteries? What is the weight of the solar charger?
I'm finding other reviews along the same...
I'm finding other reviews along the same line as Lau... Un-Re-chargeable Battery issues (fixable with new batteries). I would buy this if I knew for sure it would come with RECHARGEABLE batteries as advertised. unfortunately REI is still having issues as of January 15th, 2011. Does anyone know if BC has a new batch with working rechargeable batteries?
just got one from REI with my dividend...battery is the rechargeable type, but i can't say for backcountry.com.
Unanswered Question
Can a backcountry.com employee verify if...
Can a backcountry.com employee verify if they sell a set from the said defective batch? See this google online review:
Solar Charger Does not work
By thinktank - Sep 18, 2010 - Full review provided by REI
Pros: Easy to clean; Good filtration; Lightweight; Low maintenance; Easy to pump
The Pen Works great with regular batteries but using the solar function with recharageables is a complete fail. I've tried every way to charge these batteries using the Solar Function with BAD results.1 day in the sun. . . No Charge. 2 Days in the Sun and no Charge. 3 Days in the sun and it still doesn't work. Finally I called SteriPen and they aren't very helpful either. Apparently they know about the problem and say it's due to a bad batch of batteries. With this info I go out and buy another brand of rechargeable batteries to see if they will work. COMPLETE FAIL. STERIPEN - FIX YOUR PROBLEM AND GET BETTER ENGINEERS FOR YOUR SOLAR CHARGER.