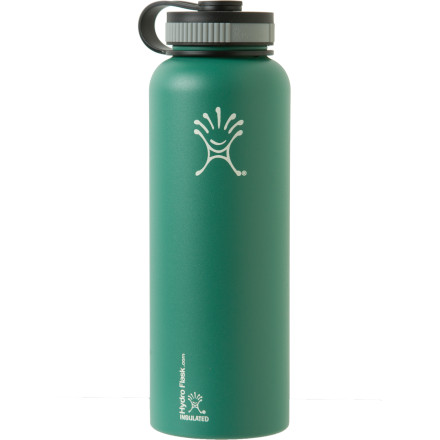 Detail Images

Community Images
The Hydro Flask 40oz Water Bottle isn't messing around when it comes to ample hydration. This girth-some bottle ensures you have plenty of H2O for a day on the trails, and the food-grade stainless steel material keeps funky odors at bay. This double-wall vacuum insulated flask also keeps cold items cold for at least 24 hours, and hot items hot for twelve.
Share your thoughts
What do you think of the
Hydro Flask
40oz. Wide Mouth Water Bottle
? Share a...
Best thermos ever
Familiarity:

I've put it through the wringer
My son and I were introduced to Hydro Flask in Red Rock Canyon, NV. A woman on the climbing trip had a black HF. After being in the desert sun all day, it was almost too hot to touch on the outside, but still full of ice inside. We bought two. My son boiled water for his, which stayed almost too hot to drink the first day and was still plenty hot to make tea with the second day. These are great.

It's a transportable tea pot!
Familiarity:

I've put it through the wringer
So I'm a huge fan of the 18 oz. size but it just wasn't enough! I bought the 40 oz and it's perfect! I use it to make myself tea while at work/home/while out and about. Just put hot water and let the bags steep for a bit and voila! several cups of HOT tea, for the WHOLE day! It also keeps drinks cold all freaking day! I'm looking forward to using it for summer time camping . Although I would never bring this on a hike it does make road trips, glamping (glamorous camping) and cramping (car camping) a lot nicer :D
Hot soup at the top of the mountain
Familiarity:

I've put it through the wringer
Nothing is as dreamy as a cup of hot soup at the top of a mountain after a cold, grueling hike. This Hydro Flask makes that dream a reality!

I've frequently filled this bad boy up with hot soup when I go out for long winter hikes. The coldest day was probably 15*F with wind chills clocking in at about 0*F. I filled the flask up with hot soup around 7am, and after prep time and climb time, I was eating this soup around 2pm (7 hr time period in the flask). When I opened it up to indulge, the soup was HOT. And I don't mean warm, I mean smoking hot.

The only down-side is the weight (I think the empty bottle is around 16oz). If you're looking to do lightweight hiking, this isn't for you. But if you're willing to sacrifice some weight for some mouth-watering deliciousness and warmth, this is definitely for you.

I haven't used this for cold beverages yet. I'm loyal to my bladder and don't think the extra weight would be worth the extra cool water, but if I'm ever hiking in the desert, maybe I'll bring this along.
5 Star Dewar
Familiarity:

I've put it through the wringer
I follow Jeff Guest for gear ideas and he didn't let me down on this well crafted and durable Dewar. It does just what you want in each season; keeps heat in cold and cold in heat. After several drops and pretty good hits in my backpack, only minor scratches in the paint.

Here's my 40oz in action @ 25 degrees around empty Moab. Don't you love offseason?
I've used this bottle all summer working on a fuels crew. It is a great concept. Using a vacuum to insulate- best idea ever. The problem I found was that I would drink all of my water and only have ice left. It wouldn't melt fast enough! This was super nice when we had to camp on the fire line, however. I would have ice for the first two days, assuming I didn't pour water in that was too hot and melt all of my ice. It's a good quality product. It does dent pretty easily though, so be careful. I haven't seen a loss of functionality since I dropped mine twice.
Cold water when you need it
Familiarity:

I've put it through the wringer
I live in a desert.
I'm active outside.
I LOVE a dose of cold water hydration after a long stupidly-hot summer bike ride.
I leave this full of cold water in my car.
It gets hot enough to fry eggs on the hood.
I return after HOURS on my bike and the water is still VERY COLD.
Awesomely refreshing.
It's amazing.
I wold love to see a 24 and/or 32oz wide mouth version.
I wold collect them all.
You should, too.
Just too great.
Familiarity:

I've used it several times
I think everyone could do with a few of these. Hydroflask has outdone themselves with all of their products, but this one in particular is fantastic. 40 oz. is a great size to keep you hydrated for almost every activity (I say almost because it may be slightly large for a quick hike up your backyard trail, but they do have smaller bottles for that!). I'd say that the water I've put into, without ice, has stayed VERY cold for easily 24 hours and manageably cold for much longer, granted I didn't leave it in the sun all day. The coffee I've put into it has stayed hot until it's gone, which is usually max 4 or 5 hours. The one time I did leave it for the whole claimed twelve hours, it stayed mostly hot bordering on very warm.

I'm a big fan of the matte finish, especially in black. It provides a nice grip in your hand, and looks nice. The cap has held up well and confidently seals the mouth.

I'd say that you need more than one of these.
Works great!
Familiarity:

I've used it once or twice and have initial impressions
I've only used it once, but it worked great! Also, the nice fellow at my local growler shop gave me the 32oz price to fill it up, bonus 8oz!
I am a believer.I am a believer.
I just picked up one of these. I wasn't sure how well it was going to work keeping things insulated.

It works really well. I made tea first thing in the morning and because this things holds so much liquid that I kept filling my other insulated mug throughout the day at the job site. The tea was still hot even after 6pm on my way home.

I didn't expect it to be such a great Thermos.
I didn't see that Backcountry does carry the accessory lids for these, they have two kinds of lids for this thing. There is one with a flip up spout that has straw that extends down to the bottom of the bottle and also a flip top lid like you see on normal insulated coffee mugs. I got both and they are really handy to use depending if you are sipping hot liquids or cold liquids. If you get one I would highly recommend either of those lid tops.


AWESOME Product!! You have to try it!
Gender:

Male

Familiarity:

I've put it through the wringer
This is a quality stainless steel product and keeps beverages cold for DAYS. It FAR exceeded my expectations. It does not keep hot liquids hot as long as it keeps cold liquids cold (and I mean ICE cold... just the way I like them). But it does keep coffee or hot liquids hot for SEVERAL hours which is great. It's better than ANY old plastic item. Yes, it's expensive but in the long run... its STILL better than old plastic. My wife and I both are extremely pleased with this product. I have even bought some for several friends and they love them.
The bottle is made very well. Love the matte finish, and temperature retention. I also love that the mouth is wide. Would definitely buy again.
I want another one!
Familiarity:

I've put it through the wringer
I had a couple of the smaller ones, and upgraded to this thing. I thought it was going to be a beast, but it is really handy. I use it a couple of times a week, and everyone else seems to want one too. I had a problem with the lid getting busted up in shipping, but the customer service was amazing. No questions asked, just send use your address and it will be in the mail.
awesome!
Familiarity:

I've used it several times
best bottle ever
awesome!
Familiarity:

I've used it several times
best bottle ever!
I absolutely LOVE my Hydro Flask(s)
Familiarity:

I've put it through the wringer
I use Hydro Flask bottles every day and for everything (except cycling due to weight) - these bottles are tough. I've dropped mine multiple times and haven't had a problem. I am able to put ice in my bottle in the morning and still have cold water that evening. This bottle is absolutely worth the money and will not disappoint. To top it all off, Hydro Flask has by far the best warranty in the business.
Fair heat retention
Familiarity:

I've used it several times
I purchased the 1.1 liter ( 40 oz ) hydroflask to replace a vacuum thermos ( stainless )I have been using.

I was looking to find a lighter weight and more streamlined " thermos " for winter hiking / camping. I like the fact that the cap is attached and there is not an additional cup / cap that covers it. The weight is also a plus. It's way lighter than my old thermos which has a screw top cap that is covered by a screw on cup.

I tested this out using the pre heat method. My tea was only kept warm for about three hours or so. My old thermos would keep liquids VERY hot for at least five hours and sometimes longer.

One thing I noticed is that when putting hot liquids in the bottle the outside of the bottle got very warm. I tested this vs. hydroflask's growler and my old thermos. The growler and my old thermos when hot water was added did not get warm or hot on the outside of the bottle. I'm wondering if this bottle had / has a vacuum leak or is perhaps defective? By other reviews here it seems like my experience is not the norm. Has anyone else experienced this?

Overall, a good solid product. Well made and stylish. The five percent back is a great thing as well. Performance is fair. By the end of three hours my tea was drinkable but not hot and as I said the outside of the bottle was warm.
Just like a dream!
Familiarity:

I've put it through the wringer
Just like the 18oz bottle, this thing kicks some serious ass! I love that I can load it up with cold water, take it into hot yoga and still sip on my cold water through the heat. The size is a little awkward at first, but it's nice not having to always refill.
Keeps my water cold in the car
Familiarity:

I've put it through the wringer
This is my second year using this bottle and I think it is great my uses. During the summer when I go down to the Utah desert to do some slot canyons I fill this thing full of ice and the rest with water and it will last a good 48 hours before getting to room temperature. Did I mention I leave it in the hot car all day? I love my cold water so this is a great bottle! I hear I doesn't hold Hot stuff as long, but for my use I'm giving it 5 Stars!

The cap does have a Lifetime warranty through Hydro Flask, so If you ever drop the bottle and break the cap just contact Hydro Flask and they'll send you a new one for free!
How much does the empty 40 oz bottle...
How much does the empty 40 oz bottle weigh?

According to this guy it comes in at 16.4 ounces. Ouch. (http://woodtrekker.blogspot.com/2012/12/hydro-flask-40oz-insulated-bottle-review.html)