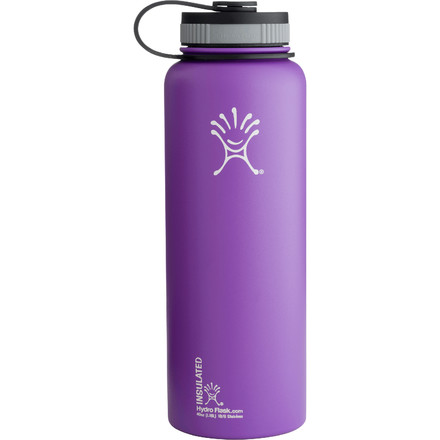 Nothing quenches your thirst like a 40, the Hydro Flask 40oz Wide Mouth Water Bottle, that is. The wide-mouth opening works well for ice-cubes and easy pouring, and double-wall vacuum insulated construction means your stuff stays hot or cold.
Large (wide mouth) opening
Double wall vacuum insulated
Keeps hot up to 12 hours
Keeps cold up to 24 hours
BPA-free
18/8 stainless steel
Signature powder coat
Annoyingly wide mouth.
Familiarity:

I've put it through the wringer
I like this bottle for a lot of reasons. But aside from being slightly easier to clean, i dont much like the wide mouth. I like to drink stuff while in a moving car or while walking, and its messy (or painful if its coffee) with such a massive opening. The narrow mouth versions can still fit most ice cubes and still be cleaned.
Perfect for everything
Familiarity:

I've used it several times
This thing is close to one of the best things that has ever happened to me, the key to success with this thing is putting in liquids at the temperature you want them to be when you are ready to drink. If you put in too much ice to keep everything cold it will never melt, and if you put in boiling hot water it will still be boiling hot when you are wanting to drink it.
Hydration at it's best
Familiarity:

I've used it once or twice and have initial impressions
For me the best part about drinking water is it's cool refreshing feeling. This Hydro Flask insures that. It's an insulated bottle, as well as cap. Your water will stay cold for hours on end , thanks to the vacuum technology in this awesome water bottle. I've never enjoyed a nice cold sip of water more.
Love it!
Familiarity:

I've put it through the wringer
I love my 40 oz. hydroflask. I have 20 oz. bottles for my girls, but I needed something bigger. The 40 oz. is perfect for all day hikes in hot weather. This sucker keeps my water ice cold all day long, even if I'm in the sun all day.

I seriously never go anywhere without it. Best water bottle ever.
Awesome Bottle
Familiarity:

I've put it through the wringer
I cant say enough good things about Hydro Flask. This company has perfected how to make a proper water bottle. These things keep their contents cold or hot for hours. I can put coffee in it in the morning and come home from work that night and it is still hot and steaming.... Pretty incredible.
Mise en Place
Familiarity:

I've put it through the wringer
This bottle is the best water bottle that I have ever owned.
durable and fun
Familiarity:

I've put it through the wringer
love this item; have been happily surprised about the durability as it's been dropped on straight rock and barely a dent.
Hydro Flask 40oz Hydro Flask 40oz
Great for long days in the sun because it keeps the ice frozen and keeps your drink cold.
Great for the Big Folks in Arizona
Keeps liquids cool even in the Arizona summers
Hydro Flask 40oz
Familiarity:

I've put it through the wringer
Great water bottle for short trips since it does have added weight for the insulation. I will take on the extra weight if I am spending the day fly fishing with the shorter hike from the car to the river but if I am going for a longer day hike I generally fill it with ice and water and leave it in the car so I have extremely cold water for my return and just use either a hydration bladder or nalgene for the hike. I purchased the smaller 18oz for my morning coffee or sometimes fill it with hot cider during fall hikes. Interchangeable lids is also a great feature!
Best Bottle
Familiarity:

I've put it through the wringer
This bottle is worth the price for me. I use it every day, and it goes with me everywhere. I fill it twice a day at the office, take it on hikes and long drives, and even use it on my hardtail mountain bike with an Arundel Looney Bin Cage. It insulates well, is pleasantly substantial to hold, and makes water taste great.
Keeps drinks cold for long days outside
Familiarity:

I've put it through the wringer
This is the perfect water bottle to bring on longer day hikes and outings. Its bigger than most and if you fill it with ice in the morning before setting out, chances are your water will still be very cold by the end of the day. Its very durable. Only downfall is it is a bit heavy.
Java Monster
Familiarity:

I've used it several times
If you're looking for a beast of a water bottle, look no further. Seriously, this thing is ginormous in the best way possible. At first I had doubts about the size, but I'm glad I purchased the 40oz. I fill it full of cold water when I go car camping along with my Nalgene or Camelbak so that I have plenty of water for drinking and prepping tea and coffee. This bottle also serves as my daily java holder for those 6 am shifts and keeps everything hot throughout the day. Lately I've been taking it to coffee shops and having them fill up my hydro instead of wasting paper or plastic cups and later letting them collect dust in my car. I love my hydro flask! I will probably purchase a smaller size for backpacking, because the 40 oz is definitely too bulky for that. Otherwise really happy with this purchase.
Love This!
Familiarity:

I've put it through the wringer
I really love this water bottle! It comes on all of my bouldering trips with me. I have beat it up and it still hasn't leaked once and only has a dent or two in it from dropping it from high up on accident. The only bad thing about this water bottle is that is it a little heavier than the standard plastic water bottle. But if you love having cold ice water like I do it is perfect!
Cold cold cold water
Gender:

Male

Familiarity:

I've put it through the wringer
I have been using this all summer long with pleasing results.

In Salt Lake I usually fill with ice once a day and then keep adding water as needed. Water stays cold cold cold.

When climbing and canyoneering in central and southern Utah, this has sat in the car (100°+ weather) and still kept cold with ice from the day before. On these trips I love having ice cold water waiting. Again, add more water as needed. It will be chilled and ready to drink almost immediately.

A nice way to keep cold water without the space of a larger cooler. As long as you start with it full of ice, you will get plenty of cycles.

I'm not entirely sure how long ice will stay; but, I have kept ice in the water for at least 24 hours in a vehicle including hot sun during daylight hours.

Cons: $$$. Daaaaang they're expensive. By the time you add a straw lid, tax and possibly shipping ...you're looking at almost 50 bones.

For some, wear and tear might be a con. Not integrity, just cosmetics. Scratches and such show up quickly ...at least on white. Doesn't bother me; but, it might bother some who don't want to baby it.

Expensive; but, IT WORKS!

The only stars I would deduct would be for the high price. Seeing as it works exactly how it is hyped to and I knew the price going in ...I give it 5 stars anyway. Just the same, I'll buy more during sales.


Keeps Water Cold Forever
Familiarity:

I've used it several times
Ok, maybe not forever... but a really long time. I'll fill this up in the morning before work, and the water is still nice and chilly at the end of the day.
Favorite liquid holder, ever
Familiarity:

I've put it through the wringer
This bottle is great. I agree with all the other reviews. I got the purple and it is so pretty. And no one has it, so easy to identify. The size is great, too, I got the 40 oz. I personally prefer a different hydroflask lid that I use on all my hydrofloasks. I couldn't find at backcountry when I purchased this so I picked it up at REI. It is called the hydroflask wide mouth lid with straw. It is really easy to drink out of which keeps me plenty hydrated. I take this bottle with me everywhere. Love it!
Gets it Done!
Familiarity:

I've put it through the wringer
It keeps the hot stuff hot and the cold stuff cold, for a long time. Boom!