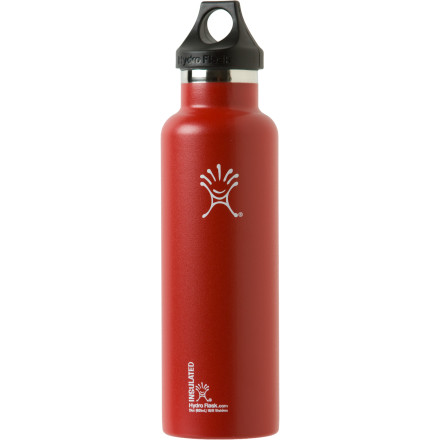 Detail Images

Community Images
Grab the Hydro Flask 21oz Water Bottle when you've got a hankerin' for some liquid refreshment. The food-grade stainless steel material won't retain odors, while the double-wall vacuum construction keeps cold items cold for at least 24 hours, and hot items hot for twelve.
Share your thoughts
What do you think of the
Hydro Flask
21oz. Standard Mouth Water Bottle
? Share a...
Awesome bottle/thermos
Familiarity:

I've used it several times
What makes this bottle so great is its versatility. It keeps cold cold and hot hot for hours on end, I even got ice cubes in water to still be frozen over 12 hours later. Super durable bottle, easy to drink from and easy to clean.
Best water bottle ever
Familiarity:

I've put it through the wringer
At this point in time my partner and I have three different Hydro Flask bottles and we love all of them. If you are trying to cut down on weight then you might not want to grab this bottle but if that is not an issue then this is a must. I have had everything from boiling tea to ice cubs with some water over it and no matter what the task it has excelled. It has a few dings in it after two years of being shoved in packs and dropped on forest and rock floors but it has held its shape and does its job. My biggest pet pieve with water bottles is when the cap doesn't thread on nicely. Sometimes my cap gets a little hitch in its step but compared to all other threading tops it passes my pieve test with flying colors.
Biggest Complain is it works too good...
Familiarity:

I've put it through the wringer
Hydroflask's are amazing. Never before has there ever been a product that works so well that it's actually the only pitfall. Ice stays ice for seemingly forever, hot drinks stay hot for so long you wonder if they'll ever be a time you can actually drink it. "Well I'd put my coffee in my hydroflask to take to work, but I wouldn't be able to drink it until this evening" is a thought I've had on more than one occasion.

In all seriousness this really is the very best flask for temperature retention, and the stainless steel construction is about as durable as it gets. This is a flask you could purchase and literally use for the rest of your live. All around amazing product.
The Best.
Familiarity:

I've put it through the wringer
I love these, nothing is more awesome than a cold drink of water in the desert or some hot tea on top of a wintery peak. These little guys make that possible. I have had a large 40 oz. Hydroflask for a year or so, and loved it, just bought two of these so I can pack them around easier than the big guy. I love the smaller opening, on these. Its really easy to drink from and big enough to fit ice cubes in or to pour a hot liquid into without scalding your hands and spilling everywhere in the process.

I have found great success with these keeping stuff hot or cold all day. You can pick one up that has been in a hot car or out in the sun and the outside will burn your hand but inside the water is just as cold as when you put it in. That plus the fact that these are all stainless steel so they will never get all nasty smelling is worth every penny.
How much does the water bottle itself...
How much does the water bottle itself weigh?
In an age where we want everything in life to be stimulating, Hydro Flask stepped up to the task with drinking liquids. These are durable and extremely scratch resistant and taking a sip of water becomes an actual experience. I use mine for water mostly, and the water stays ice cold for hours and hours. I don't know where they got their claim of 12/24 hours, but regardless the water stays about the same temp for 6+hours. Haven't messed with hot water as much, but know I can leave it in my car with hot water and come back for lunch and it's still really hot. Definite recommendation
This thing Rocks!
Familiarity:

I've used it several times
I just got this thing last week and it is amazing. I put in ice cold water with a few cubes and it stays cold FOREVER, i even wanted to test it out so i left in inside my hot cot in direct sun while grocery shopping and came out and the bottle felt warm to the touch but the water was still ice cold on the inside. I like this thing so much i bought 2 more in different colors.
Best. Bottle. Ever.
Familiarity:

I've put it through the wringer
Holds temps. used in desert and cool water all day. Use my smaller one for coffee. No sweating. Great hand feel. Sturdy, though I put my new one in my luggage near the outside of bag and it got a dent in bottom and chip in coating during my recent flight. Wonder how I didn't know about this for so long.
no sweat
Familiarity:

I've put it through the wringer
Doesn't sweat..perfect for desks.
Keeps liquid the temp you want..for a long time.
I've used the regular stainless steel without the double wall vacuum and I don't know why I put up with that for so long. Material is a great feel on the hand too, you don't notice the interior temperature on your hand, only when you are drinking the beverage.
My husband and I received your 21 oz...
My husband and I received your 21 oz Standard Mouth Hydro Flask bottles. We love them, but we would like to get different lids? My husband would like a flip type lid, and I would like a straw type one preferably. Is this possible? Thank you for your reply.
Best Answer
Options are limited for narrow mouth bottles:

http://www.hydroflask.com/categories/caps-lids


is the whole thing dishwasher safe?
is the whole thing dishwasher safe?
Illinois,
Hydro Flask recommends that you do not wash the21oz. Standard Mouth Water Bottle (or any of their flasks really) in the dishwasher.
That said, I didn't know that and I've been washing mine for at least a year and it seems fine. It's all steel, so I'm not sure what the issue is.
Amazing Water Bottle
Familiarity:

I've put it through the wringer
These are hands down the best water bottles we have ever owned.
It keeps hot liquids hot, and cold ones cold. I love that it can be filled with ice on a blistering hot day, and the outside of the bottle doesn't get condensation on it. Everyone in the family has at least one, and are requesting the different sizes for different events.
Hydro Flask: hot water test
Testing the heat retention of the double walled vacuum sealed Hydro Flask 21 oz. Water Bottle.
Worth every penny!
Familiarity:

I've put it through the wringer
I drink a lot of water, and I've gone through a lot of water bottles over the years. I used Nathan brand water bottles but a friend of mine had a Hydro Flask and recommended it. I love that it's insulated, and the water stays freezing cold for hours. By far the best, look no further!
Love it
Familiarity:

I've put it through the wringer
I use this bottle everyday. In the morning its used as a water bottle while working in the warehouse, then when I get home it turns into a thermos for coffee to get me through my school day. At the warehouse, through an eight hour day the water feels as cold as when i poured it, and at night during classes, the coffee stays as hot as when it was brewed for 2.5-3 hours, then it slowly cools off, and I mean EXTREMELY slowly.