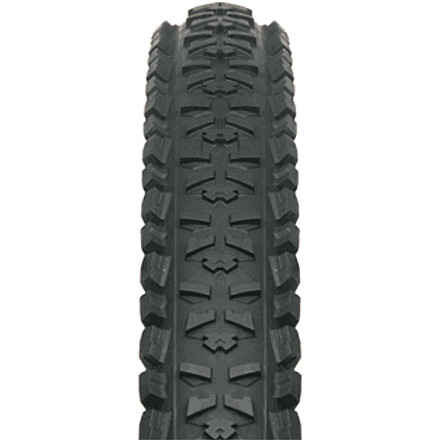 Hutchinson shaved the Piranha XC Air Light Mountain Bike Tire's weight to a minimal 450g and added low-profile center tread for decreased rolling resistance. This tire makes a solid choice for weight-conscious cross country riders on hard-pack terrain. And definitely make sure you have these Hutchinson tires for your next lap on the Slickrock Trail.
What do you think about this product?
Have questions about this product?
I originally bought this to run in the front of my 98' FRS. Grips great and seems to have a lot of life in it after hundreds of miles. I have since ran it on my ridged single speed and it has plenty of dampening qualities. This tire for the price is a great AM tire.
I recently picked up the piranha air light (in 26x2.3) from chain love for a steal, so I was pretty amped about that, but once I pulled them out of the box, I realized that they were not the super-light tire I was looking for. They do roll extremely fast and corner just as well. Also, the low-profile tread in the center of the tire does a pretty good job climbing, even up slick rocks. Furthermore, they are terrible in mud (but then again, thats not what they're made for) All in all, they're great handling tires, but not as light as expected. I'll probably go back to medium-knob specialized after this.
I have the Enduro Piranha on the front, and the Air Light on the rear of a 2006 Santa Cruz Blur. I used this steed on days 2 and 3 of the Bend Big Fat Tour. This event was the weekend of 10/17/2009. The trails offered a variety of situations, from buff, to rocks, to roots, to mud, to snow. My biggest opponent in any situation was my own incompetence. Consequently, the review title refers to the tire, not the rider. The tires handled everything well. There were so many technical features along the way, especially on Day 2, that you actually got better during the course of the ride. The low resistance of these tires kept me rolling, yet still provided great traction.