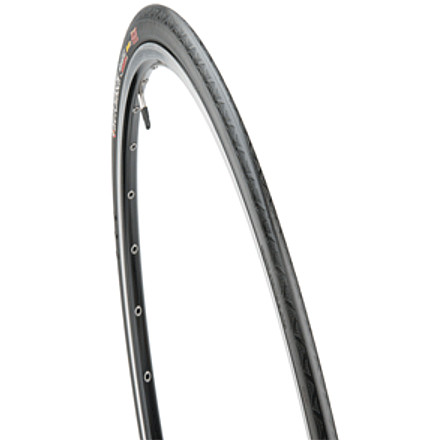 Detail Images
The Hutchinson Intensive KEVLAR®+Hardskin Road Tire easily handles 6000km of riding before you have to even think of replacing it, and it's still incredibly sticky. These tires take on long-distance races and everyday training rides with equal ease and provide the performance you need to leave everyone else in the dust.
6 months of daily commuting on these tires and they are great! My commute takes me through some business park areas with some rough pavement and debris. One flat so far from a needle-like piece of sharp wire. Otherwise rolling through roadside glass and junk has been no problem. They are smooth and fast.
Just replaced my Conti 4000's with these and some ultra-light tubes, about 50g heavier per wheel, but much smoother riding. Hopefully they will be as durable as advertised!
DOES ANYONE KNOW WHAT THE TPI IS ON THESE...
DOES ANYONE KNOW WHAT THE TPI IS ON THESE TIRES. I HAVE FOUND SOME INFO THAT STATES THEY ARE 66 TPI, IS THIS RIGHT

THANKS
I recently purchased a pair of these tires in size 700x25c from Real Cyclist, and they are 66 TPI. I purchased a pair of 700x23c from another supplier, and they are 127 TPI. I am new to Hutchinson tires and not familiar with this discrepancy. Hutchinson's website states that both sizes are 127 TPI. Therefore, I suspect that these 66 TPI tires may be last year's model.
Not much to add to what's been said - I put a pair of these on last fall and have over 1100 miles on them commuting to work without any flats.
This tire performs as advertised. I got these tires 2 days before a triathlon because a got a flat on my previous tires while training. Although I was worried that I didn't get a chance to train in the new tires, everything turned out well. These tires rolled well and smooth and although they have kevlar are not any heavier than the tires I replaced. I am very happy with them.
I bought these tires for my commuter bike and have had no punctures at all. I ride 12 miles to work through industrial areas and am constantly facing broken glass, rocks, potholes, train tracks and the infamous Goat Head Thorn... With my old tires, I was patching them about once a month. I have been riding on these tires now for about 3 1/2 months and have not had a single puncture. In fact, I haven't even had to air them up at all. The tires are very lightweight and fast, as well. I would definitely recommend these to anyone who rides rough terrain and is concerned about getting flats.
Installs Easily, rides very well, tough as the Kevlar that it's made of. Highly recommend.
Team RadioShack just ordered a ton of these
Lance put in an order for a bunch of these tires for his team to train on in the 700x25c version. Lance himself will be riding the Fusion 2 with the yellow striping on the side 23c to train on. I'm not sure what they will race on though it will be a Hutchinson tire. If they are good enough for Lance's boys I'd say these Intensives are good enough for you.
Better sidewalls than Gators and Fusion2s
The road shoulders on my rides are debris fields. I flatted Conti Gators and Hutch Fusion2 Kevs through SIDEWALL punctures, esp. the Gators. The Hardskins don't suffer from sidewall punctures (knock on wood .... actually, Kevlar). The 15 additional grams is well spent, and the price here is almost always the best on the Net.
I need to buy replacement tires for an...
I need to buy replacement tires for an old, old road bike with 27 x 1 1/4 tires. I have crawled google to convert that to an equivalent 32-630 ISO, but an mystified by the size system realcyclist is using (I cannot find any explantion of it). Can anyone help me convert to the tire size I need to find? Thank you!
A 32-630 is 32mm wide tire for a 630mm diameter wheel. Almost all road tires on Real Cyclist are 700x## which are 700mm tires in ## width. These will not work for your old ten or twleve speed.

Sheldon Brown is always where I go for a vintage job like this.
http://www.sheldonbrown.com/harris/tires/630.html
Ride on the right side of the shoulder with confidence!
Although a little heavier than normal road tires, these thicker tires seem burlier. Great for the so-called 'paved' mountain roads of the West, which are usually pretty rough, in need of repair, and covered in tiny rocks and seeds. No worries with these tires.
I Recently replaced the stock Maxxis Columbire tires on my Cannondale Synapse Carbon 3 bike with a pair of the Hutchinson Intensive Kevlar Hardskins. These tires weigh about 15g more then the Maxxis. However, the Hutchinson's have a much smoother and quieter ride. Traction and high speed stability on dry roads is very good. I don't have enough mileage on the Hutchinson's to rate the mileage claim (6000km) or puncture resistence. However, so far I like them very much.

8/10/10 Update - I have been riding the tires for 8500+ miles and have not had a single flat! I have been getting about 5000 miles on the front tires and 2500 on the rear. Had one rear tire that got a snake bike (likely a sharp rock) in the sidewall that had to be replaced early. The tire didn't blow but must have damaged some cords in the sidewall enough to create a bulge. Great training tires though! Maybe a little heavy for racing.
goatheads got nothing on em