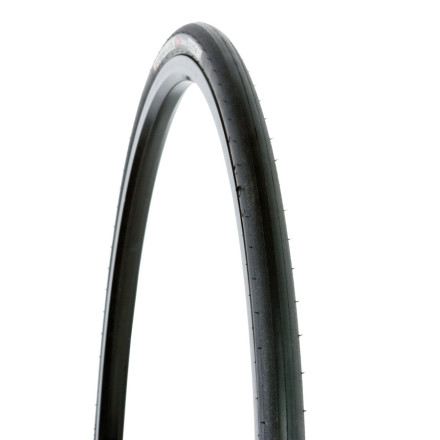 Colors

Detail Images
Mountain bikers have been embracing tubeless tires for years, but roadies have been a little bit slower to leave their tubes behind. Whatever the reason, tubeless technology is now almost too good to resist, and Hutchinson's Fusion 3 Tubeless Road Tire is a tough, light, and reliable tubeless offering that's perfect for riding on rough roads.
Why is the Fusion 3 better on bumpy roads? Because its supple and firm 127 TPI casing lets you ride at lower pressures, which conforms to the road and absorbs bumps rather than skipping off them like a traditional road tire, which actually slows you down. Hutchinson also designed the Fusion 3 with a carbon bead, rather than traditional Kevlar, which sits more strongly on your rim to prevent burps and pinch flats. The triple-compound rubber is highly durable, with softer side sections for grip and a harder, smoother center section for fast-rolling, race-winning speed.
Triple-compound rubber
127 TPI casing
Carbon bead
Ok, but no Conti 4000s
Familiarity:

I've put it through the wringer
These tires have worked out ok, I'm still trying to find a great tubeless tire, I just wish Conti would make a tubeless 4000S! The 23C worked better than the 25C that I used before, I got a lot more flats with the 25C, but honestly I couldn't tell the difference between them ride wise. Even though these worked ok, they are much better than the Schwalbe One, which was a terrible tire.
Not a fan anymore
Familiarity:

I've used it several times
Soft tire, punctures easy, leaks down fast. Not a fan
Love the Hutchinsons
Familiarity:

I've put it through the wringer
They roll incredibly smooth and grip incredibly well even descending fast on mountain curves. While others get pinch flats, I always keep rolling. Incredible system. That said, I get six months out of these tires in the desert southwest. My previous set up was Continental Gatorskins and those would last over a year, but when you compare the ride, there simply is no comparison. They end up costing almost twice as much but I get the return in comfort, handling and speed. Never had the defects they describe in over four sets so far. Won't go back to tubes.
I had been running a set of Fusion 3 on my Fulcrum Racing 0 wheels for around 4000 miles with no issue other than air loss after sitting a day in my rear tire. So I replaced the tire and found the slow leak in the process. However, I've now been through two more rear tires and both have had the same issue. They are defective with sidewall cracks. I even purchased the tires from different shops so it's not like it was a bad batch. Both shops have taken them back under warranty. My original front tire is still going strong. Therefore I'm giving them a mixed review. If you get a good tire they are great long lasting with a nice feel, but if you get a bad set look out for sidewall cracks.
I tried Fusion 3 tubless on Fulcrum Zero 2-way rims on a Pinarello Paris. They provided a comfortable ride, however, being a lower pressure tire, my rims took a beating. I think that the rubber is softer as well, and the tires themselves became pock-marked, and eventually went prematurely flat and unusable. They don't measure up for me. I'll try them again when the Fusion 5 comes along. My favorite tire with high performance and no problems is the Continental Attack/Force combination. Now your talkin....