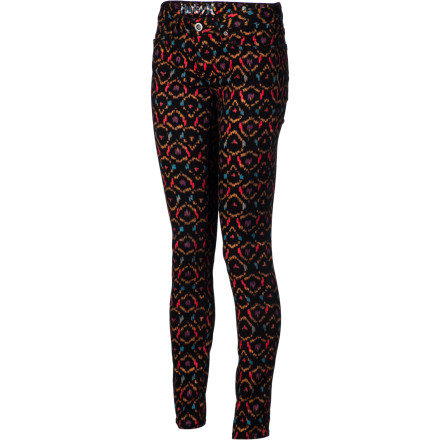 Detail Images
What didn't happen in 1981? Ronald Reagan was shot shortly after being sworn in as President of the United States. The space shuttle challenger missions began and so did the career of the country's first female supreme court justice. MTV started (and actually played music videos). The brightness of clothes steadily increased, as did the tightness of pants and bigness of hair. The Hurley Women's 81 Skinny Legging is like a tribute to what crazy times the early eighties really were.
I bought these pants in Azetec red and they fit great! I do need to hem them still though as I'm only 5'4" but they should fit you then if you are tall. Soon as boot season is over I'll be sure to have them shortened.
I got these in the "black 12" color and I love them. These are very much a legging jean, form fitting and stretchy. I get complements and quirky remarks about optical illusions every time I wear these.

It's hard to see in the picture but these are actually a zigzag/chevron pattern.
I love these jeans! I got the red ones and love em. they fit so well and are super comfy. Treat ur bad self and get a pair of these, you won't regret it!
These jeans are awesome. They are made with stretch denim, so it's pretty true to size while still rocking the skinny look.