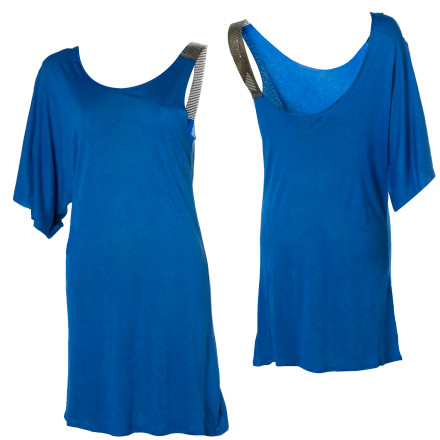 Detail Images
Hurley designed the Mars Landing YC Dress with a little edge and a lot of style. Flowing fabric drapes over your body and contrasts with an industrial chainmail shoulder strap. The look is, at once, feminine and tough.
I wanted this for New Years, but it just didn't look right on. I would say it runs true to size, but I'm short (5'1") and curvy (32D, 115 lbs), so the flowy material didn't work all that well. I tried to belt it at the waist, but it didn't work, so I had to send it back. I think it works best on taller girls without a lot of curves.
It's not the greatest but...
I love the material. I got it in Slate which I think is a little darker than the pic lets on. Soft and flowy, kinda like your fave tee. I did have to re-cut the neckline as it is raw & looked asymmetrical. I'd like it more if the underarm opening on the silver side wasn't as low as it is. I make it work though. Also on the sleeved side there's a sewn-in grip strip so the sleeve doesn't slide off your shoulder. For some reason mine was sewn on with 2 different thread colors & unevenly at that. Fix that & I'm good to go. It'll look great on me while I'm on my cruise next week.