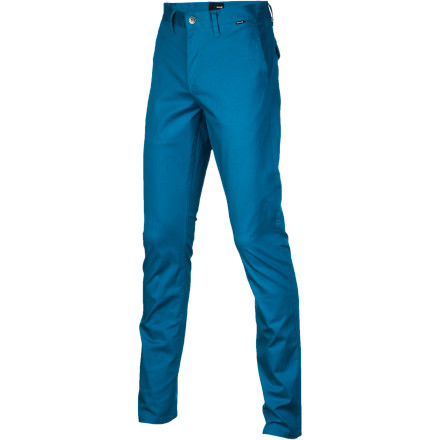 Detail Images
You have enough jeans, already. Try something a little different. The Hurley Corman 2.0 Pant has the same slim fit that you like in your jeans, only it's not so denim-blue.
What do you think about this product?
Have questions about this product?
Right after I bought these, I wore them for almost a week straight! They are super comfortable and are awesome for skateboarding in! Strechy pants are great! The fit is true to size.
I'm 5'7", 145 lbs, so purchasing pants online or in a store becomes very difficult for me. I prefer a slim fit, and technically wear a 29x29, but rarely can find this size. If I do, there are baggier than what I want. I usually end up having to buy some obscure Euro pants/jeans, or something from H&M. I stumbled upon Hurley's pants, however, which go down in waist size to a 28. I ordered the size 29 Corman 2.0. Overall, these are great pants. Lightweight, pseudo-stretchy material, which is great for me, since these will become my primary climbing pants. The fit is quite slim, which I do not have a problem with. The only con would be the pants' length, which presumably, is at least a 32. For me, this was not a major setback, since I roll my pant legs anyways, but I could imagine it being a problem for most buyers. Enjoy!
It depends on the size you order. On average, they have a 32 inch inseam.