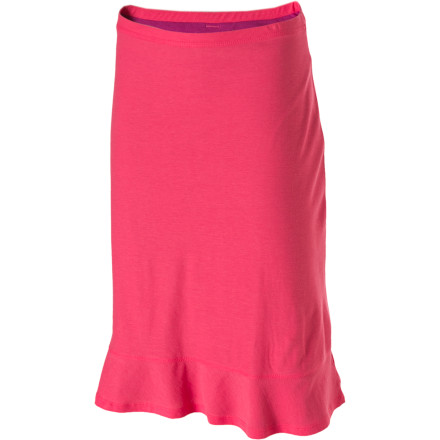 Detail Images
Yes, yes, the Horny Toad Women's Wind Skirt is cute. Wide waistband, figure-friendly A-line cut, a hem flounce for kicks. But the real newsflash is that it's reversible. Hello new favorite travel companion. Wear one color to go get drinks with your surf instructor, then wear the other color the next night to grab fish tacos with the hottie from the scuba shop. Both sides are made with Foxtrot knit fabric, which stretches, feels extra smooth, and resists wrinkling.
I love these skirts.. They have style and are extremely comfortable. These skirts Amy be too comfortable because I rarely wear shorts anymore... And I could but I am addicted to these skirts..I want the horny toad company to make white ones again...please...
I love this skirt. It is super comfy, soft, and cute. I am planning on buying another in a different color.
This skirt is soft and easy to wear. Looks great on, and feels good too!
I got this in Atlantis and it has been my go-to summer skirt. Comfy and cute and the perfect length.
I originally purchased this skirt in black and fell in love the with comfort and fit... have since bought one in every color. I love it! It has a very flattering a-line cut that floats away from my hips. Also love the little kick flounce at the bottom which adds a very feminine touch.
There is still a tag on the inside, which may show when worn in reversed style. The reverse of the black was a kind of blah gray, wish it would have been a darker gray.
I had just received this skirt and had to go to Arizona emergently. I wadded it up - literally - in my suitcase and off I went. I dressed it up, dressed it down, and found it to always be comfortable. I found the fit to be just right - maybe just a bit of room in the waist, but just right in the hips. I want more colors now!
I thought this fit really strangely. It was loose on the waist and tight on the hips, so not very flattering. The fabric was nice and so was the reversiblity option, but I didn't find it very flattering and I tried on all the sizes (normally i would wear a small)
This skirt says that it's a slim fit. Can...
This skirt says that it's a slim fit. Can anyone tell me how slim? I really like this skirt but feel like it might hug my hips a little too much.
It is fitted at the top and through hips. It is not tight, you are still able to move around in it. The fit graduates to a slightly A-Line hem with a flounce at the bottom. It's flattering!
This skirt is the best! It is so soft and comfortable and flattering. I love that it is reversible-2 skirts in one! Perfect with a t-shirt to wear every day.
Great versatile skirt, two awesome, reversible colours. I travel extensively and its like having two skirts literally wrapped into one. Saves valuable space for traveling. Great for hot, humid weather, looks good with sandels and its light weight and breathable without being flimsy and see through. Rolls up in my back pack without permanent wrinkles. I am about 5'3 and the skirt hits me below the knee.
Material is soft next to my skin with a lightweight feel. Small works well for me. 5'3" 120ish lbs.Have yet to try it reversed as I'll need to take the time to carefully remove the inner tag without compromising the material but it will make a great 2nd skirt for my collection.
I bought one in the smoke color that fit amazingly well! I wear it all the time. So I bought the Ajax color. It was literally 2 inches smaller around the waist. I love the quality of Horny Toad - but have had some major size consistency issues lately with their stuff.
Is this a lightweight skirt...that would...
Is this a lightweight skirt...that would be good in hot weather?
In my opinion, yes. I bought it to wear in the summer and the material is thin and comfy. I've been wearing it during our 80+ degree days here!
really comfy, goes with any t-shirt and perfect to wear around busy kids. on the casual size. bought a size S, I'm 5'4"/ 120 - fits great!
I loved the concept-A-line, below the knee, light, comfortable. But it is not well made! Although a possible fluke, my hem was uneven and the right seam "pouched" out to make me look like a I had a saddlebag on that side. Attractive. I loved the smoke color--by the way the reverse color is a lilac--so I might return it to see if I get one of better quality this time.
Fantastically soft and comfy. Love the reversible option too.
It says this skirt is reversible but doesn't...
It says this skirt is reversible but doesn't specify which color is on the reverse side. Can you tell me what color is on the other side of the blue skirt?
, ☃bcs_badge_alumni_label☃