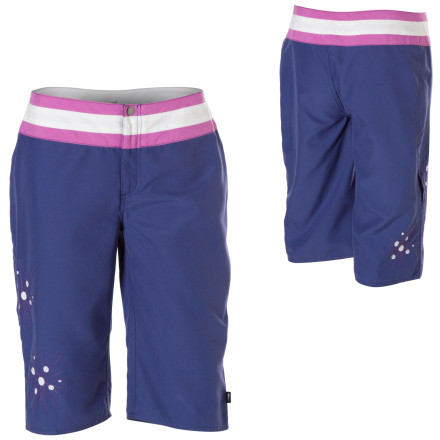 Detail Images
Unanswered Question
i need the lagoon or turquoise horny toad...
i need the lagoon or turquoise horny toad long board short in size 4..your web site shows no size 4. will you be getting this size in soon?
Do you carry in of the board shorts that...
Do you carry in of the board shorts that are 26 inches long the ones that come below the knee. In Womens or Jr.s
I'm not sure of the exact length, but these are pretty long for boardshorts. I guess it depends on how tall you are, but the average girl will probably have these come down to their knees. And they are womens.
I found the styling very unattractive on me. Returned them and bought the Oakley Tanker Board Shorts, which looked great on me (in addition to flawless performance; I posted a review of those, if interested).
These are the bomb-diggety!
Finally! I have found what I have been looking for. After 3 buys and 3 returns, I am now satisfied with these shorts and SO glad I don't have to look any more. Wanted past the knee length - these do it; wanted it to give me a little bit of room at the hips/thighs - these shorts do it; didn't want the bulky draw string to deal with - these board shorts are without. Giddy up! BTW, fit seems pretty much on par...I usually wear 8 or 10; ordered 10, and they fit just right.
These are great! The material drys very quickly and it comfortable to wear all day. I love them.
Unanswered Question
How long are these shorts?
How long are these shorts?
Love these for their coverage. Ordered a 4 and probably could have fit into a 2 but guess I would rather them be loose than too tight. I'm normally anywhere from a 0-4 in pants (depending on maker, etc) so this probably falls right in the middle.
They do stay on in strong waves. Nice color and fabric. The fit is o.k., but could be better. For me a size 4 did fit well around the waist, but was tight around the thighs. Size 6 was good around the thighs, but had quite some room around the waist. Thus they sit lower, making for a bit of a soggy, hanging rear when you come out of the water. But hey, it's all about catching waves!
I like the snap closure, love the length...the fabric is soft, doesn't make "sounds" when you walk in them. Seem to run a little big and poke out "a titch" through the hip seam area...other than that...great short.
light, long, cute short-long short that is. Ride well on the hips, and I like the snap closure, rather then the string.
These shorts have a wonderful fit and feel great as well. They also dry really fast which is great too. The length on them is perfect. I liked them so much I bought another pair in a different color. The best thing is their diversity. You could wear them swimming, then to a casual lunch, then a movie and all in one day. The sizing is very close. I am a size 3 or 4 usually and I bought these in a size 4. They are a bit loose but they are comfortable this way as they are very easy to move in. I would definitely recommend them.
do this com in small medium and large or...
do this com in small medium and large or in actuall sizes what is i am b/t sizes?
, ☃bcs_badge_alumni_label☃
, ☃bcs_badge_alumni_label☃
great fit
I wear between a size 9-11 and I got this in a size 10 and it fits perfect!
Great length, really comfortable and he movement in them is great. The material is not a still polyester like some other boardshorts. This is a great short you can wear in the water or causally.