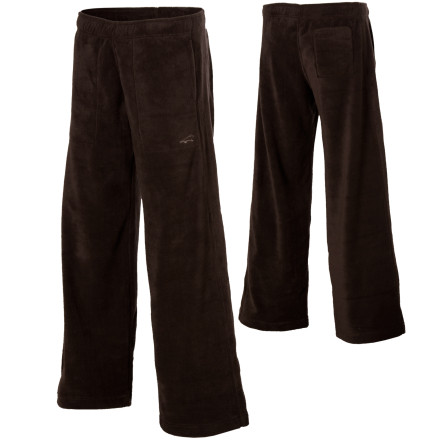 Detail Images

Community Images
So i bought one pair, cuz they looked cool. then i went back and bought two other pair. I have all three colors. I pretty much pack the kitchen sink and move into these pants during the winter. I love the flare of the leg (bootleg style) at the bottom of the pant. I love that they drape well- i have hips and well rounded back side, these pants show what needs to be shown and hide the rest. Thank you. I bought a pair for a friend. she moved into hers. If you live somewhere cold, these pants are your friend. you can run errands and still be "super cute!". yes. buy them. if they were $150 bucks a pop, i would still buy them. in all colors.
These are the most comfortable pants in the world. Once you put them on, you will never want to take them off. The sizes run a little large and the pants are a little long. The perfect pant to put on and curl up by the fire. I would also recommend the hoody for complete bliss.
These are the most comfortable pants ever! They feel like silk against your skin, but they're toasty warm. The fit is perfect: not too high, nor too low. While they're perfect for lounging around the house, they also have enough style that you can wear them to run errands and not feel like you're traipsing around in your old ratty sweat pants. And...they have POCKETS! That's an absolute necessity for comfy lounging pants. Bottom line: these pants ROCK!
i dont care who you are, you need these pants. they are so soft and comfortable. i wear them in my dorm and around campus and they work for everything!!
I love pretty much everything I buy from Backcountry, so a lot of my reviews are 5 stars, and I can't make an exception for these pants. They are cozy, cushy, and so comfortable! They're not just any fleece, they're made from a fabric called Cashmoore. I love the slim pockets and stretchy waist band. I usually wear an 8 or 10 pant but have big hips, so I got a large in these and they fit great. Just the right length too (I'm about 5'6"). They are super warm, good for cold nights at a cabin in the mountains. They're a little thick, so I wouldn't consider using them for layering under anything. Hurry and get them while they're on sale.